Founded: 1841
Incorporated: February 2, 1856
Founded by: John Neely Bryan
Population (2019 estimate): 1,343,573
Official City Website: https://dallascityhall.com/
Total City Area: 385.8 sq mi (999.3 km2)
Counties: Dallas, Collin, Denton, Rockwall, Kaufman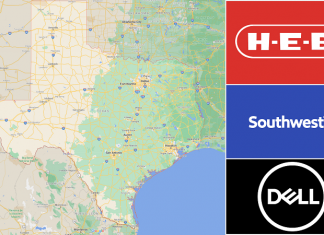 Forbes has put out their annual report on the best employers in each state. The list was compiled by surveying thousands of Texans that...
Dallas is one of the largest cities in Texas in both square miles covered and population. It serves as the anchor of the massive Dallas – Fort Worth metropolitan area (often called the Metroplex). The city is filled with amazing people working to improve their communities, world class restaurants, incredible sports and concert arenas, art galleries, museums, and parks. Here we discuss the latest good news about the city of Dallas, Texas the great deeds being done by the people who live there, the awards and accolades bestowed upon the city, and the amazing places and businesses that call the city home.