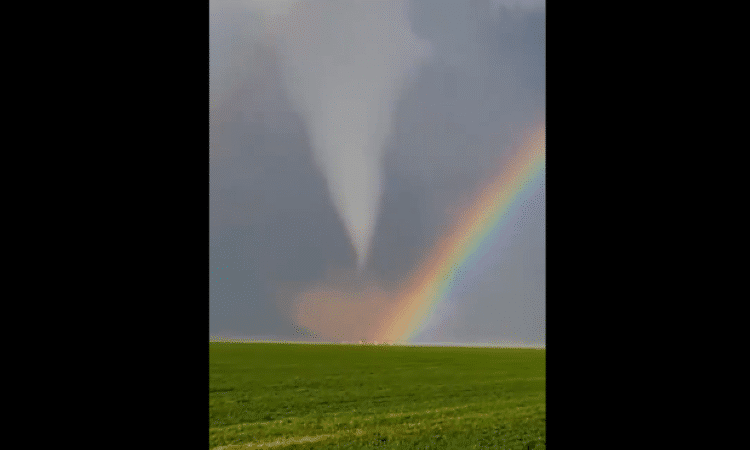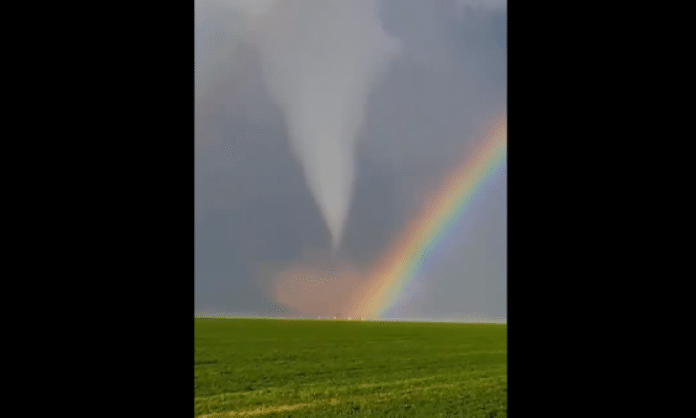 So far this year in Texas, we've had our share of extraordinary tornadoes with a twist including a snow tornado (snownado) and twin tornadoes. Now, we're adding rare rainbow tornadoes to the mix – yes, really.
The stunning sky scene was captured by multiple storm chasers in Vernon, Texas near the Oklahoma border and shared on Twitter. The dangerous and brutal tornadoes juxtaposed against colorful and beautiful rainbows are marvelous sights to behold.
The first rainbow tornado, which was caught on video, happened to be a double-rainbow tornado – an even rarer phenomenon.
Here's the video of the double rainbow shot! Also was able to get a great time-lapse of this tornado, coming soon!@ARstormHunters @Osterhout15 @Ok_Twister @ReedTimmerAccu #txwx #rainbow #tornado pic.twitter.com/eTzp77hQsz

— Tornado🌪Allie (@akemp_47) April 24, 2021
Another rainbow tornado was captured by storm chaser, Greg McLaughlin:
Somehow I overlooked this photo when doing a quick edit last night. This is my new all-time favorite photo I have taken. Still trying to process the awesomeness that happened yesterday.#txwx #tornado #rainbow #ExtremeWeather#severeweather @StormHour #Canon #canonphotography pic.twitter.com/tbhcKayRdI

— Greg McLaughlin (@GregMc_wx) April 24, 2021
The next photo was shared by storm chaser and tornado & storm chasing guide for Silver Lining Tours, Ryan Shepard. For those who are interested in participating in one of these storm & tornado chasing tours, you can pay $3500 to participate under the guidance of experienced storm chasers like Shepard.
Today was alright, near Lockett, TX #TXWX pic.twitter.com/SLPKwkBHm4

— Storm of Passion 🌪 (@AStormofPassion) April 24, 2021
According to weather experts, this rare phenomenon of a simultaneous rainbow and tornado has not been captured since 2004. Thankfully, Texas had many talented storm chasers to capture this phenomenal moment. Here are some final amazing shots from Friday's set of tornadoes:
Intercepted at least 5 tornadoes in northwest Texas. What an incredible chase!#txwx@StormHour @jamesaydelott #ExtremeWeather #TexasWeather #SevereWeather pic.twitter.com/kJsTxcvxBn

— Greg McLaughlin (@GregMc_wx) April 24, 2021
_________________________________________________________
Featured image is a screenshot of Allie Kemp's video on Twitter