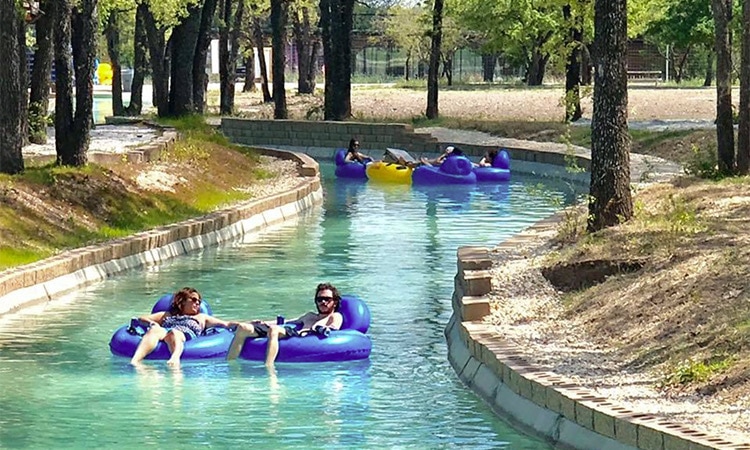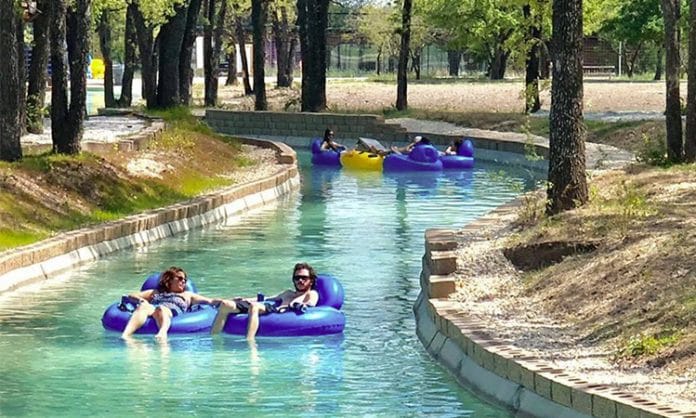 Updated August 1st, 2022 to confirm no changes to pricing from previous year and add blurb about accomodations
Updated March 22nd, 2022 to update name of park and new pricing for summer 2022
Updated June 5th, 2022 to update pricing and hours
Did you know that the longest lazy river in the world is right here in Texas?
The lazy river at Waco Surf (formerly BSR Cable Park & Surf Resort) in Waco is an incredible 5,280 feet long, or one whole mile making it the single longest lazy river in the world. Hell Yeah! Texas. That is a whole mile of clear blue water to float down while getting your lazy drink on. It's also one of the best ways to beat the legendarily hot Texas summers.
You are almost guaranteed to have a great time lounging in the water in your inner tube with your friends. Similar to tubing down the Guadalupe or Brazos but a little safer. Of course do not forget to bring some cold drinks, bbq, and sunscreen with you.
The huge lazy river isn't all the Waco Surf has to offer. It also has a gigantic water slide with ramps called The Wedge (formerly called "Royal Flush") that catapults you through the air and into the water. It's the perfect place to work on your cannonball!
Waco Surf also has a manmade beach you can suntan on and a surf park with huge waves for those who like to get radical.
Waco Surf won't open until June 1st, 2023.
The park is open all day from 11 AM to 7 PM [on weekends, see hours below], so you'll have lots of time to enjoy all of these different attractions.
Accommodations:
If you're traveling in from out of state or just want a getaway for a couple of days, Waco Surf offers a variety of on-site accommodations including their own hotel the Waco Surf Hotel, cabins by the cable park lake, houses with a private entrance and pool access, RV hookups, and new for 2023 a lakehouse and roadhouse.
Pricing:
A pass for the World's Longest Lazy River and The Wedge water slide costs $39 per adult on weekdays and $49 per adult on weekends/holidays and $15 per kid all days of the week. (note: Adult weekend passes went up $10 from 2021)
Or, you can get a family pass for $99 that includes 2 kids and 2 adults.
You can get a lower price pass for $30 if you only go on weekdays from 4pm to 7pm. (note: the sunset pass went up $5 from 2021)
Hours and Location:
Website: https://www.wacosurf.com/
Address: 5347 Old Mexia Rd, Waco, TX
Lazy River Weekday Hours: 12:00pm-7:00pm
Lazy River Weekend (and holiday) Hours: 11:00am-7:00pm
Map to Waco Surf:

Frequently Asked Questions:
Question: Can I bring my dog to the lazy river?
Answer: No, dogs are not allowed at the lazy river.
Question: Is there a bar there?
Answer: Yes, Waco Surf offers a bar and grill.
Question: Can I take drinks on the lazy river?
Answer: Is there any other way to lazily drift through a river?
Question: Can I bring my smoker or charcoal grill?
Answer: New owners took over earlier in 2021 and they have a new rule that only allows propane grills on property.
Question: How long does it take to float the lazy river?
Answer: It takes approximately 45 minutes to complete one lap around the Waco Surf lazy river.
COVID Safety:
A version of this article published in 2020 listed restrictions at the park, we are unaware of any restrictions due to COVID-19 at this time.
---
Original publish date: June 30th, 2020
Summer 2021 update: June 14th, 2021 to include new pricing, info, and rules
Summer 2022 update: March 22nd, 2022
Summer 2022 update 2: June 5th, 2022
Featured photo courtesy of Waco Surf (formerly BSR Cable Park & Surf Resort)