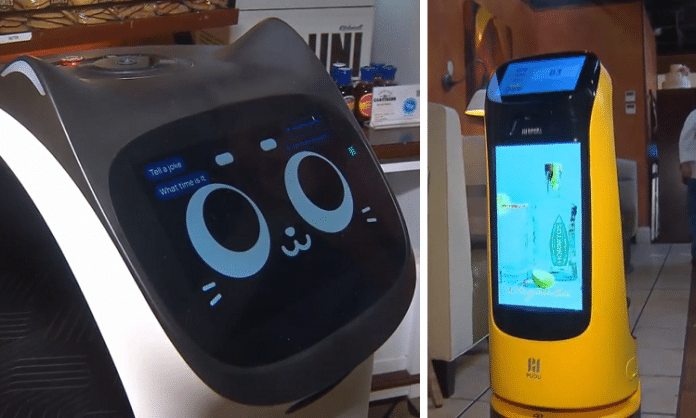 A robot hostess and two robot food runners are making things run smoother at this Latin Cafe. To see the robots in action visit the restaurant or watch the video at the end of this article.
Editor's note: According to Mr. Taco Borga the robots used by La Duni are sold by Plano-based American Robotech which you can reach at 214-864-4930 (ask for Jackie Chen). The robots are made by China-based Pudu Robotics. Similar robots are also made by Richtech Robotics of Austin, TX and Las Vegas, NV.
La Duni Latin Cafe, a restaurant in Dallas, is tired of the ongoing labor shortage that is gripping the industry. To help their other human staff cope and keep things moving smoothly they have turned to technology for help in the form of 3 robots.
The robots currently employed by La Duni are named Alexcita, Panchita, and Coqueta. The robot servers glide around the restaurant smiling with their cartoonish faces, carrying drinks and food on their shelves, and sometimes even flirting with customers a little. The robots fill 2 crucial positions in the resturant: hostess and food runners.
Co-owner of the restaurant Taco Borga says the robots aren't replacing human workers because like many other restaurants, La Duni is struggling to find human staff right now. Taco told CBS 11 in DFW that the robots are really helping the human workers who bother to show up to work.
I don't know about you, but this makes me want to check out La Duni now to see the robots in action. If you're looking for things to do in Dallas, watching robots slowly take over might be something you want to add to your list.
Address: 4620 McKinney Ave, Dallas, TX 75205
Website: https://www.ladunihub.com/
Map to La Duni Latin Cafe:

CBS 11 DFW Video about the robots:

Thanks Y'all
This article was based partly on the article "Dallas Restaurant Turns To Robots To Help Manage Labor Shortage" by Nicole Nielsen of CBS 11 DFW.
---
Featured image a compilation of screenshots from the CBS 11 video embedded and linked to above