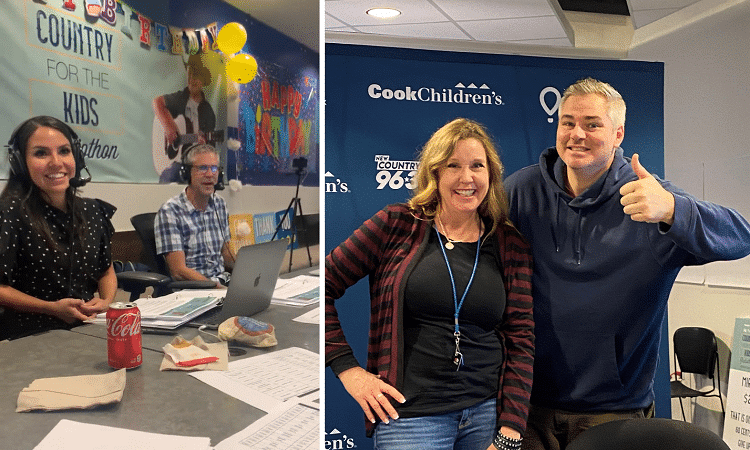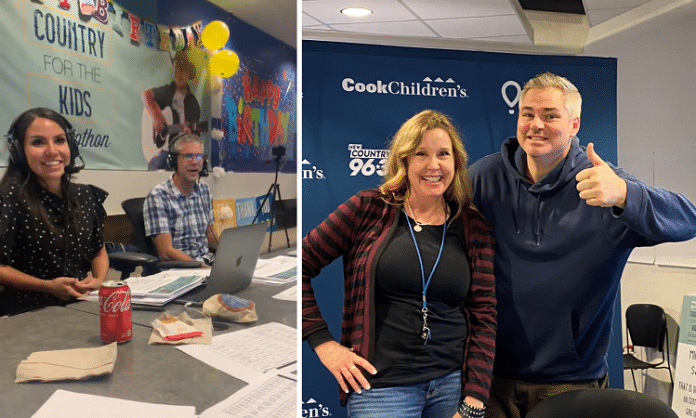 Texas country loves the kids
Two of the most popular Texas country radio stations are both in the Dallas – Fort Worth area, 96.3 KSCS and 99.5 The Wolf. Every year the two combine forces for two days to raise money for Cook Children's, a free health care system for kids in the Dallas – Fort Worth area that dates all the way back to 1918. The annual event is called the "Country for the Kids Radiothon" which often features guest appearances and performances by country music artists.
Last year during the first year of the pandemic the two raised a historic amount of $443,757 for the non-profit medical system using video conferences to stay socially distant.
This year they outdid themselves and set a new fundraising record amount of $630,000 smashing through the half-million mark for the first time ever.
Incredible 2days raising over 630k for @CookChildrens with @963kscs #CountryForKids! Thank you to all of our miracle makers who made this happen! #TexansHelpingTexans @EECUdfw @CornerStoneDFW ❤️ pic.twitter.com/yIU86Xpn44

— 99.5 The Wolf (@995thewolfdfw) December 11, 2021
Nothing but love these past 2 days!! 🙏❤️✨ INCREDIBLE! We cannot say thank you enough! $630,000!!! 🙏@CookChildrens @HawkeyeOnAir @michrod @RachelRyanRadio @farbtweets pic.twitter.com/4uvnL2i5Oy

— New Country 96.3 (@963kscs) December 11, 2021
The Radiothon has all kinds of events over the two days including a silent auction where listeners can bid on items from country music artists such as Mitchell Tenpenny.
Just 1 of the silent auction items you can bid on for our Country 4 The Kids Radiothon for @CookChildrens a signed jean jacket from @m10penny and all the COUNTRY FEST ARTIST!

➡️ https://t.co/xkPU5sFMtW
🔊 https://t.co/SWeEMAUEBM pic.twitter.com/3Zeq8e8kNp

— New Country 96.3 (@963kscs) December 9, 2021
During the radiothon event some local businesses matched donations live, showing how powerful local businesses can be in our communities. Here are the local businesses we know of that showed suppport.
CornerStone Staffing – $25,000
Cutting Edge Haunted House – $12,500
Tom Thumb / Albertson's – $3,000
Aflac – $2,500
Dave and Buster's – $2,000
Sun & Ski Sports – $1,000
Andretti Indoor Karting & Games in The Colony – $1,000
Other businesses that sponsored the event or matched donations include Freeman Toyota, McDonald's, and EECU.
Missing from the roster of last year's supporters is Whataburger 🙁
---
Editor's note: KSCS and 99.5 The Wolf are both owned by the same company, Atlanta-based Cumulus Broadcasting
Feature photo a compilation of screenshots from the KSCS 96.3 and 99.5 The Wolf Twitter accounts