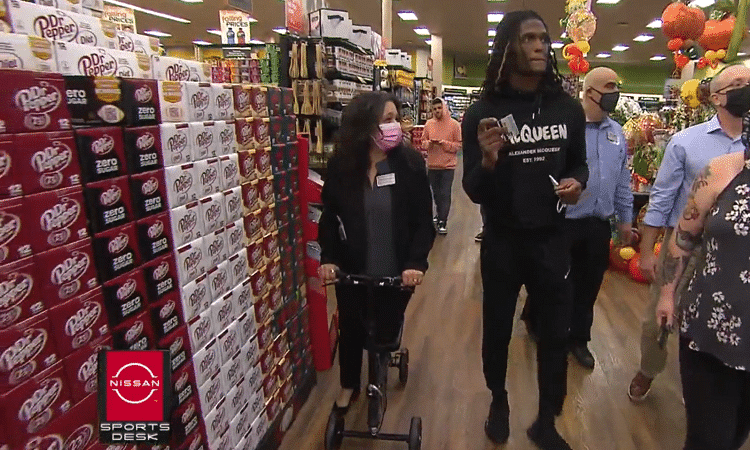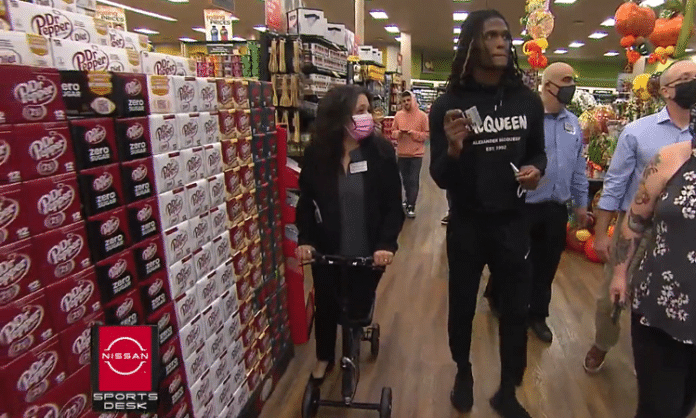 The Dallas Cowboys leading receiver this year so far is CeeDee Lamb. In only his second year as a Dallas Cowboy and an NFL player CeeDee is becoming a local household name. As his star rises on the football field and among Cowboys fans, he's starting to give back as well. On Tuesday of last week CBS 11 followed CeeDee as he walked around a Tom Thumb grocery store in Dallas, TX handing out $100 gift cards to shocked shoppers.
"giving back is just as important as playing football. And I'm a person just as well as an athlete" – CeeDee Lamb
CeeDee wasn't wearing any Cowboys gear or his number 88 jersey, but was wearing a black Alexander McQueen hoodie just in case you thought you saw him but weren't sure. Some fans recognized the star when he removed his face mask and took photos with him in shock that the NFL star was giving them money for groceries.
While there is no official number on how much CeeDee gave out during his visit we counted at least $800 during the video made by CBS DFW and there was probably more handed out.
The surprise gift card handout was part of an awareness campaign for Tom Thumb's "Nourishing Neighbors" drive which seeks to help the underprivileged purchase the groceries they need this holiday season at a time when inflation is driving higher prices for many food staples. Tom Thumb is owned by grocery giant Albertsons which also owns various other grocery brands in Texas including Randalls, Amigos, Market Street, and United Supermarkets. Tom Thumb was originally founded in Dallas in 1948.
Video by CBS DFW

There's a chance that CeeDee's random gift card giving most likely was paid for by Tom Thumb / Albertson's instead of coming out of his pocket personally. Still, it was a really nice gesture of him even if he was paid to do it and probably brought quite a bit of joy to those he surprised (especially if they were Cowboys fans).
Thanks Y'all
This article is based on a video (embedded above) and article by CBS DFW's Keith Russell which covered the CeeDee Lamb giftcard hand out. Read the original article here: Dallas Cowboys Receiver CeeDee Lamb Gets Into Holiday Spirit Giving Away Grocery Store Gift Cards
---
Featured image a screenshot from the DFW CBS video embedded above.