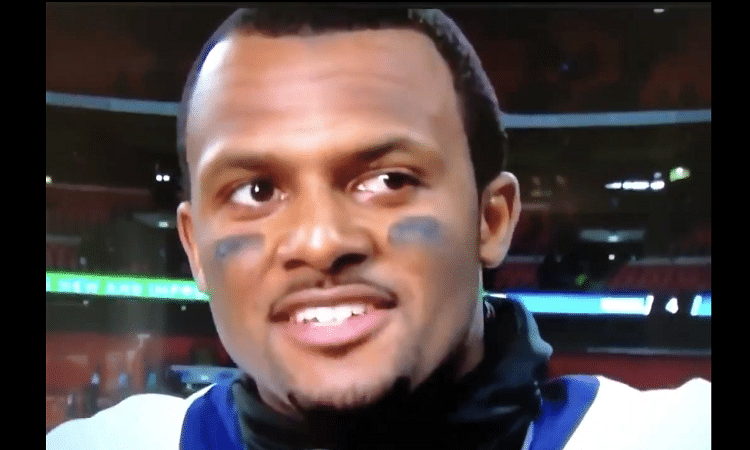 After crushing the Jacksonville Jaguars in London this morning 26 – 3 and going 22/28 for 201 yards and 2 touchdowns with 37 rushing yards, the Houston Texans quarterback was giving an interview about his game when the subject of last week's kick the eye came up. Last week Watson was kicked in the facemask while trying to make a play and his eye was hit by the cleats, he still completed a pass for a touchdown on that play.
This week his eye looked much better and appeared to be a non-factor in his play. So what did he do to heal up so fast? He told the reporter all credit was due to the Popeyes spicy chicken sandwich which he had been eating. The sandwich had been sold out in Texas and across the USA for weeks, so who was his sandwich hookup? or was this just a little post-game sarcasm?
The key to DeShaun Watson success: Popeyes spicy chicken sammiches 😂 pic.twitter.com/DyK3sAL3Xb

— Josiah Johnson (@KingJosiah54) November 3, 2019
"Eye is great," Watson said. "You know, I got some ⁠— I'll tell you the key. The key is it was the Popeyes spicy chicken sandwiches that I ate this week that helped the eye." – Deshaun Watson
Ironically (or not) the spicy chicken sandwich was returned to stores today, Sunday November 3rd. Could Watson be getting sponsored by Popeyes now or is he trying to get their attention?
Y'all…It's Sunday. 🏃🏃‍♀️ pic.twitter.com/al3Qb05lAM

— Popeyes Chicken (@PopeyesChicken) November 3, 2019