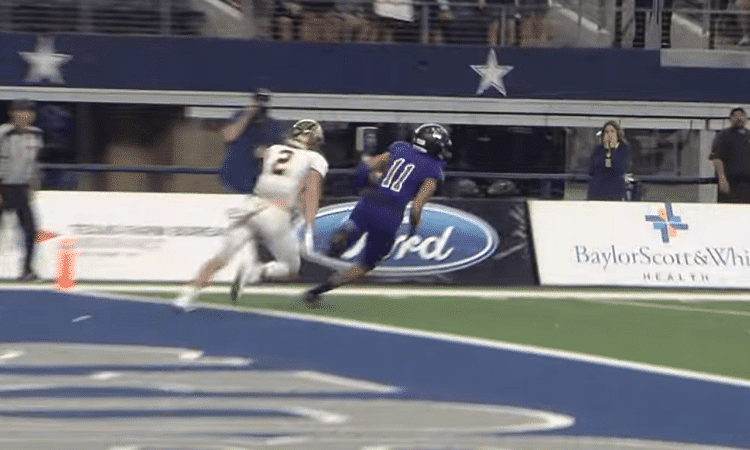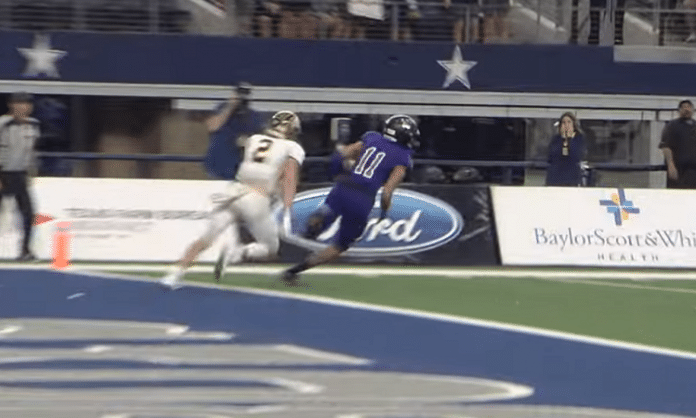 Did that seriously just happen?
You have to see this play to believe it.
The Stephenville Yellowjackets quarterback (Ryder Lambert) threw a pass near the endzone but instead of the intended touchdown the pass was intercepted by an LBJ Jaguars defender (Noah Baker) who started to return the interception for what appeared to be a good gain. As he was crossed the 5-yard line though the ball was knocked loose from behind by the originally intended Yellowjackets reciever (Coy Eakin) and was then caught in the air by one of his Yellowjackets teammates (Kallan Kimbrough) who took it 10-yards for a touchdown.
The Stephenville Yellowjackets would go on to win the game 38-21 to become 4A State Champions.
Here's a field level view of the play by Jeff Power TV Productions on YouTube:

Here's the play as seen on the big monitors at Jerry World (aka Cowboys Stadium aka AT&T Stadium) via ESPN's TikTok:
---
Featured image a screenshot from the YouTube video by Jeff Powers TV Productions embedded above