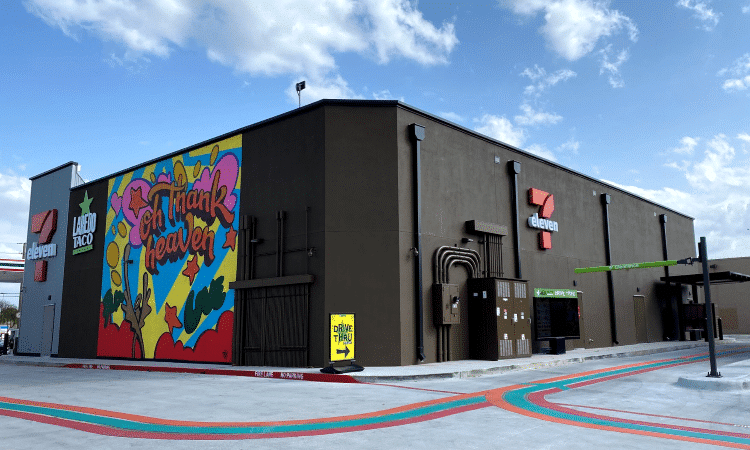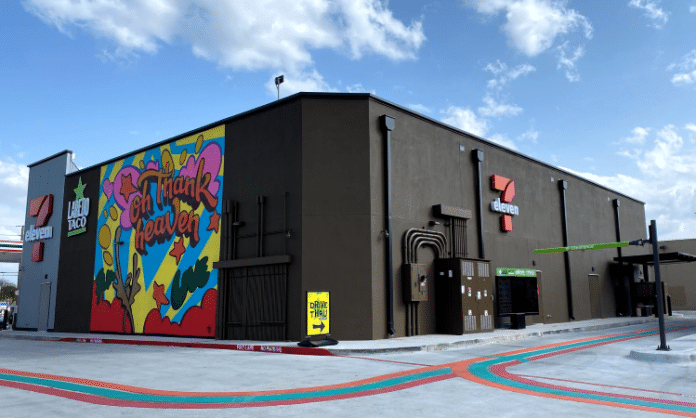 Yes, you read that right. You can now order a Slurpee drink with tacos, all while in the comfort of the driver's seat (or couch seat). 
Have you ever wished you could get tacos and Slurpee's delivered from the comfort of your home or while on the go through the drive-thru? Imagine you could do this all while supporting a Texas-native business. Well now you can do all of that if you're in the Dallas area with 7-Eleven's newest location designed as an "evolution" store.
The first-ever Laredo Taco Company drive-thru opened at the newest 7-Eleven, Inc. Evolution Store in Dallas, Texas, located at Park Lane and Abrams Road. Whether you go through the drive-thru or still want to get down to visit the store, you can now pay on your phone, a feature from the 7-11 app. Delivery is available through 7NOW® delivery, bringing you what you need, straight to your door, and let's be honest – who hasn't craved a Slurpee and taco at home when you're already in your slippers and pajamas?
These tacos ain't your regular 'ol gas station or fast food tacos either. Laredo Taco Company is known for its delicious, high-quality Tex-Mex tacos served on handmade flour tortillas, made from scratch every day in its restaurants. It also has a fresh salsa bar, a wide selection of salsa's and pico de gallo, with specialties including authentic beef barbacoa, carne asada, carnitas, chorizo, and breakfast tacos made from fresh eggs. If you find it difficult to choose a drink when going out to eat, then good luck. They offer a selection of over thirty drinks ranging from freshly brewed coffee and aguas frescas, to Slurpee's. 
"the convenience of grabbing a taco paired with a Slurpee drink through a drive-thru … it's a match made in heaven."

– Chris Tanco 7-Eleven VP & COO
This is the newest Evolution store, being the third in Dallas and sixth in the USA. Two years ago the first Evolution lab store opened in Dallas, less than 2 miles from the original Southland Ice House in Oak Cliff, home to the original 7-Eleven, Inc. location. Each Evolution store is a testing ground for the store format, whose individual design and product mix is based on customer feedback and shopping habits. By nature, no two stores are exactly alike and each is made just for the community it is located in.
When you visit this newest 7-Eleven evolution store, make sure to check out the amazing artwork inside and outside the store done in collaboration with Tex Moton –  a native Dallas muralist and co-founder of Infinite Crew, a graffiti artist group.
_____________________________________________________
Featured image courtesy of @madisonrnbw on Instagram.