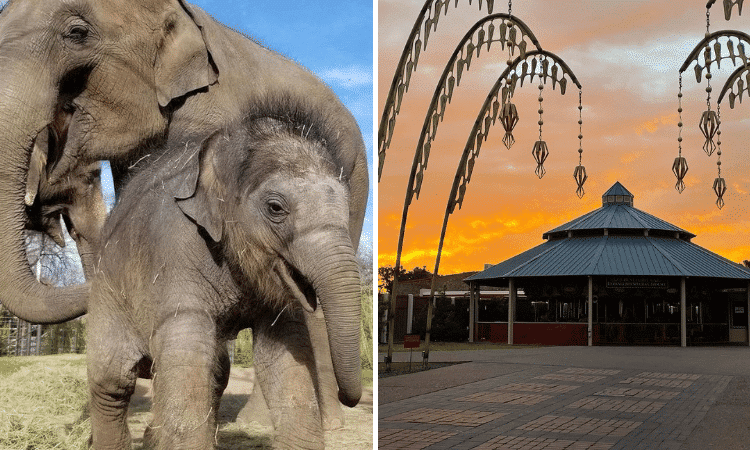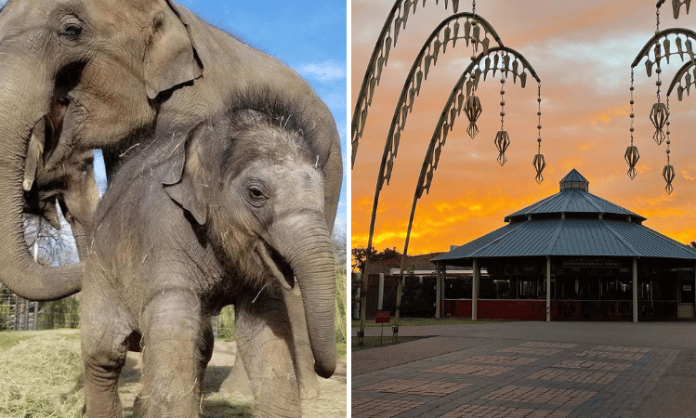 Armadillos, longhorns, and rattlesnakes – oh my!
If you live close to one of the following zoos or are visiting nearby, take some time to bring the whole family or go with friends to experience some great animal adventures.  No matter which zoo you pick, it'll be a win for everyone.
Please note, that this list does not include aquarium-only experiences.
1. Fort Worth Zoo
1989 Colonial Pkwy, Fort Worth, TX 76110
Highlight: Voted best zoo in America
Voted the top zoo in America, the Fort Worth Zoo is a must-visit destination if you are in the DFW area. The Fort Worth Zoo is home to almost 7,000 animals from over 500 species including endangered and rare animals such as Malayan tigers, Houston toads, Louisiana Pine Snakes, and more.
In line with its mission to provide fun, diverse education and promote the protection of wildlife, the Fort Worth Zoo also offers other attractions and activities like the Safari Splash, Swinging Swamp Bridge, Outdoor Learning Theater, Tasmanian Tower, Yellow Rose Train, Children's programs & camps, and so much more for the whole family. Ticket reservations aren't required but they are recommended.
2. Houston Zoo
6200 Hermann Park Dr, Houston, TX 77030
Highlight: 2nd most visited zoo in America
The Houston Zoo is the 2nd most visited zoo in America for many reasons. This zoo is 55 acres with an extensive collection of over 6,000 creatures representing more than 600 species. Other attractions include the Bug House, Reflection Pool, Reptile & Amphibian House, Children's Zoo, a carousel, and more fun! You can visit this zoo knowing that you are supporting the Houston Zoos' 49 wildlife conservations across 27 different countries and supporting its leading environmental educational resources.
3. Dallas Zoo
650 S R L Thornton Fwy, Dallas, TX 75203
Highlight: Largest & oldest zoo in Texas
Founded in 1888, the Dallas Zoo is the largest and oldest zoological experience in Texas. It has over 2000 animals representing over 400 species across its 106 acres.
You can get up close and personal with some of these animals in the zoo's Encounters and Experiences led by experienced animal handlers. Or, head over to the Africa exhibit to see elephants & lions, or even feed the giraffes. There's also a children's area with a petting zoo, a splash play area, bird feeding opportunities, and more for you to explore.
4. San Antonio Zoo
3903 N St Mary's St, San Antonio, TX 78212
The San Antonio Zoo houses more than 3,500 animals representing over 750 animal species across its 56 acres. Over a million people a year visit this zoo to admire its array of critters including rainbow lorikeets, giraffes, hippos, and rhinos to name just a few. While you're there you can also enjoy a 4D theater experience, giraffe feedings, a ride on the zoo train, or get up close and personal with some of the animals like the kangaroos, hippos, and rhinos.
5. Caldwell Zoo (Tyler)
2203 W Martin Luther King Jr Blvd, Tyler, TX 75702
The 85-acre Caldwell Zoo is located in Tyler and houses over 3,500 animals from across the globe. Wildlife is spread across its exhibitions – the Reptile House, the Wild Bird Walkaround, North America, East Africa, and South America – and include some notable animals such as alligators, squirrel monkeys, penguins, and raptors to name a few. If you want to go behind the scenes, you can experience a personal animal encounter with the penguins or black bears. Get ready to amaze and educate the whole family!
6. Cameron Park Zoo (Waco)
1701 N 4th St, Waco, TX 76707
This often overlooked but still excellent zoo sits on the banks of the Brazos River in Waco and houses over 1,700 animals representing 300 species. One of Cameron Park Zoo's unique features is its array of interesting areas to explore like the Bald Eagle Habitat, South American Exhibit, the Asian Forest, the Salt Water Aquarium, and the Butterfly Garden.
While you're here, be sure to visit the 50,000-gallon Shipwrecked Spanish Gallion Salt Water Aquarium and adventure through Brazos River Country. You'll see coastal shore birds, alligators, beavers, and even more creatures.
7. El Paso Zoo
4001 E. Paisano, El Paso, Texas 79905
The 35-acre El Paso Zoo houses over 220 species across its 4 main exhibits – Africa, Asia, the Americas, and last but certainly not least, the Chihuahuan Desert. They house critically endangered species such as the Aruba rattlesnake and Amur leopard and even worked with the endangered Grey Wolf which has helped preserve these species.
During your visit, check out the daily shows at the sea lion exhibit or check out its newest exhibit, Animals of Africa, which has a train and features giraffes, lions, and zebras.
8. Gladys Porter Zoo (Brownsville)
500 E Ringgold St, Brownsville, TX 78520
Finally, we have the Gladys Porter Zoo, an animal oasis settled right in the heart of Brownsville. There are about 28 acres of tropical lush plants and around 1600 animals which represent more than 377 species. Within its 4 zoogeographic regions – Asia, Africa, Tropical America, and Indo-Australia – over 377 species of animals are represented.
So, what's your favorite Texas zoo? Let us know in the comments below!
Methodology
We gathered information from each zoo's official website, social media pages, and company business pages (i.e. Google Maps listing) to review, rate, and rank each of these zoos based on the factors below.
Number of animals & species
Size of the zoo (walkable space and areas to explore)
Availability of other attractions and services
Awards, nationally acclaimed, recognitions
Recent ratings and reviews
Bonus points for caring for unique, rare, or endangered animals
---
Featured image credit: (Left) Fort Worth Zoo Facebook, (Right) El Paso Zoo Facebook, both embedded above