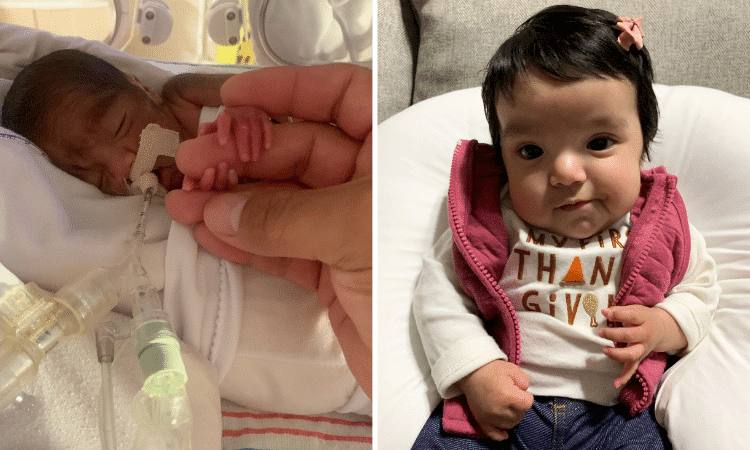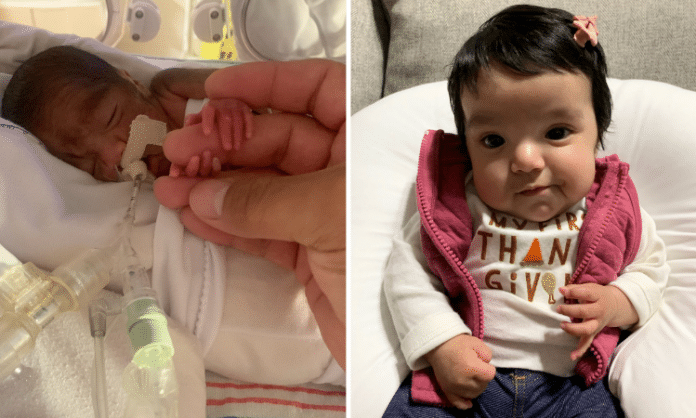 A newborn who weighed less than 2 pounds at birth has made a miraculous survival after almost 4 months in the ICU.
Born 18 weeks early, Jimena "JC" Macias had overcome the odds of her premature birth after her mother Juana Gallegos gave birth at only 22 weeks on April 29, 2021 at Memorial Hermann The Woodlands Medical Center.
At 1 lb 9 oz and 11 inches long, baby JC was very much lighter and tinier compared to full-term newborns which by comparison, average about 7 lbs 2 oz and 20 inches long. After 112 days spent in the ICU, she was given the okay to go home just in time for Thanksgiving and Christmas. This Thanksgiving was no doubt, and extremely thankful one for their family.
Baby "JC" was born 18 weeks early. The micro preemie weighed 1 lb 9 oz. at birth. She spent 112 days in the NICU.

She went home from the hospital in time to spend Thanksgiving with family.

Doctors call this sweet baby a miracle.

Can't wait to share her story at 4!#khou11 pic.twitter.com/U4BiaMXCWA

— Stephanie Whitfield (@KHOUStephanie) December 2, 2021
"They pretty much told me they weren't going to be able to resuscitate her or be able to do anything for her if she was born there, at that time, that early," Juana claims. To give Jimena a chance at life, she was immediately moved from the Houston hospital to a Level III Neonatal Intensive Care Unit at Memorial Hermann The Woodlands Medical Center. There she was given a ventilator for breathing and an IV in her umbilical cord to sustain her nutrition. Their hard work paid off and baby JC can now enjoy the holidays with her family.
Thanks y'all (source): KHOU
---
Featured image credit: from Stephanie KHOU tweet embedded above