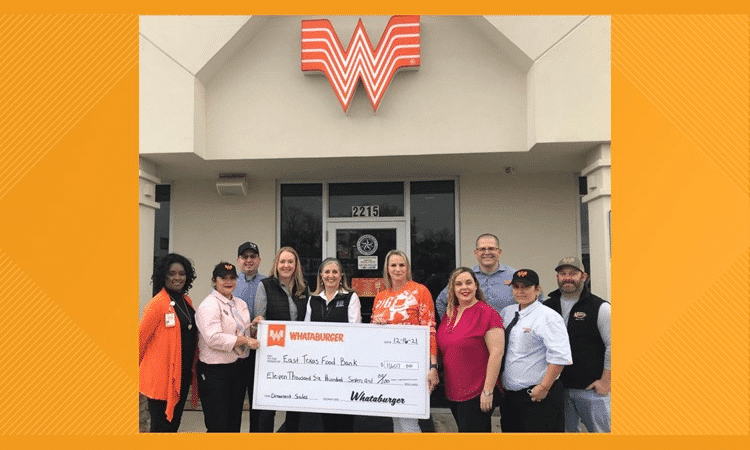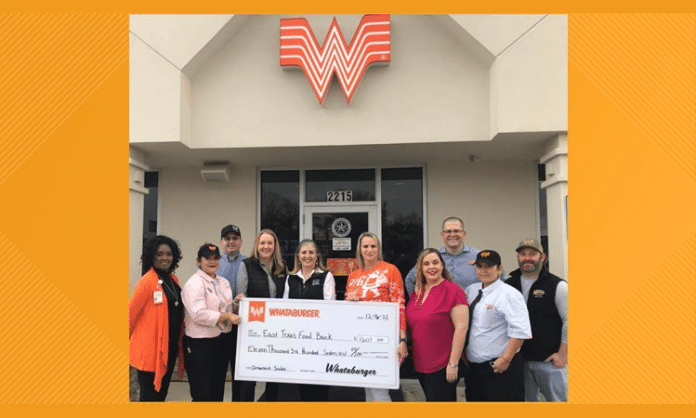 Whataburger stores in Tyler, TX owned by one of the chains franchisees, DKT Investments Ltd., raised $11,607 from their customers to donate to the East Texas Food Bank.
According to the East Texas Food Bank the monetary donation will provide about 95,000 meals to Texans hungry and struggling in the East Texas region.
The Whataburger franchisee also gathered 2,518 pounds of canned food items which were donated to the food bank.
Great job DKT and Whataburger's of Tyler!
Now's a great time to remind y'all that we also donate funds to East Texas Food Bank and other food banks. $1 of each shirt sold in our shop (yes even when using a coupon code or discount) is donated to a food bank somewhere in the state of Texas. That means $1 from every single one of our Texas shirt designs, $1 from shirt designs about food, and even $1 from shirts inspired by Texas sports teams / athletes – all help us donate to local Texas food banks.
We track our donations on our Texas is Caring page.
Thanks Y'all:
This article was made possible by reporting originally from Zak Wellerman of the Tyler Morning Telegraph. We used facts and data from Zak's article to write our article on this donation. You can read Zak's original article on TylerPaper.com here: https://tylerpaper.com/news/business/local-whataburgers-donate-over-11-000-canned-foods-to-east-texas-food-bank/article_aebcddda-61d7-11ec-8532-fffa075d016f.html
---
Featured photo courtesy of DKT Investments Ltd.