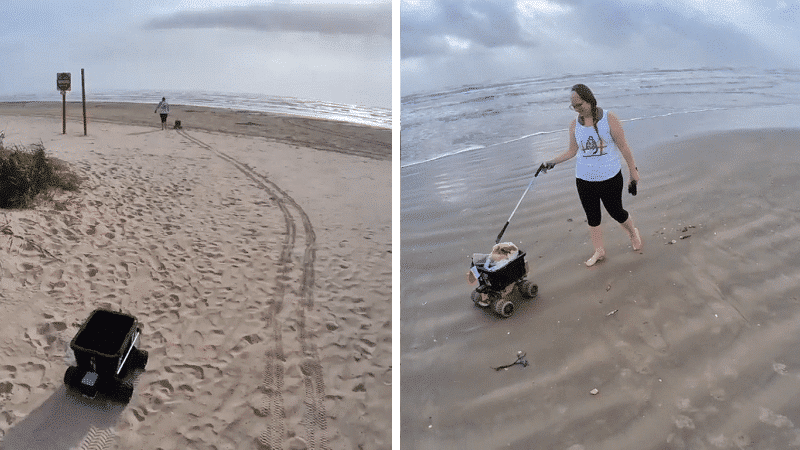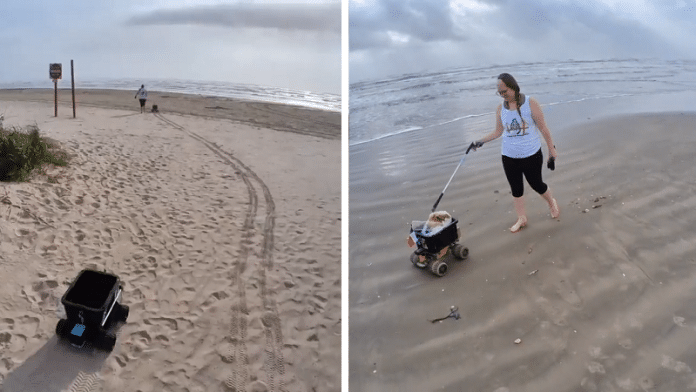 Y'all need to stop messin' with Texas beaches!
Dedicated Texas-born Reddit user Glenn Morris, who goes by /u/g713 on the site, recently added a a video to the /r/Texas subreddit (find other great Texas subreddits in our list of the Best Texas Subreddits) of him using what appears to be a remote control vehicle to help carry trash from around Galveston beach to nearby trash cans.
Watch the video here:
Removed 24 gallons of trash off the Galveston Beach this morning. It's a sad thing. from texas
The video got our attention and after digging we discovered that this isn't the first video Glenn uploaded to Reddit of a beach trash cleanup. In fact he is a frequent poster to Reddit showing beach clean up in the Galveston area with his wife Thea sometimes joining in and helping out (that's her in our featured photo).
Glenn uses custom built trash grabbers and custom built rc cars he calls "LitterBuggies" to make the clean up more efficient, easier, and even a little enjoyable.
Since last year his efforts have removed a whopping 4,603 gallons of trash from the beaches or approximately 115 full trash cans (40 gal.).
His videos of the trash clean ups are also addictive to watch.
Here is his biggest clean up to date, 130 gallons of trash from the beach near Seawolf Park

Here's a huge beach trash cleanup of 48 gallons earlier this month in Galveston:
Evening of April 16, 2022. Between Central city Boulevard and 45th St. Galveston TX. 48 gallons removed. from DeTrashed
A massive trash clean up from March of 78 gallons:
Here's one from Feburary of this year where he cleaned up 20 gallons of trash:
And here's his 2021 recap video where he cleared over 3,600 gallons of trash from Texas beaches!
Welcome to 2022. This is just south of Galveston on 01.01.22. In 2021 we removed 3600 gallons from the Texas coast. We aim to do better in 2022 from texas
On behalf of the great state of Texas and all who love her beaches, thank you for everything you do Glenn! You are freaking awesome.
---
Featured photo a compilation of screenshots from the videos embedded above