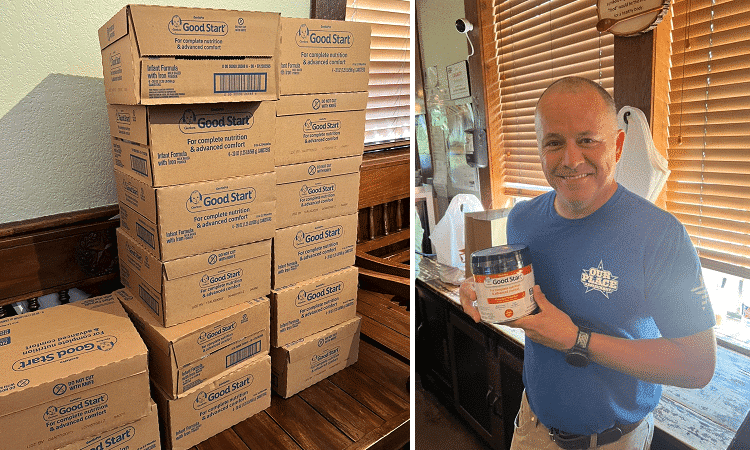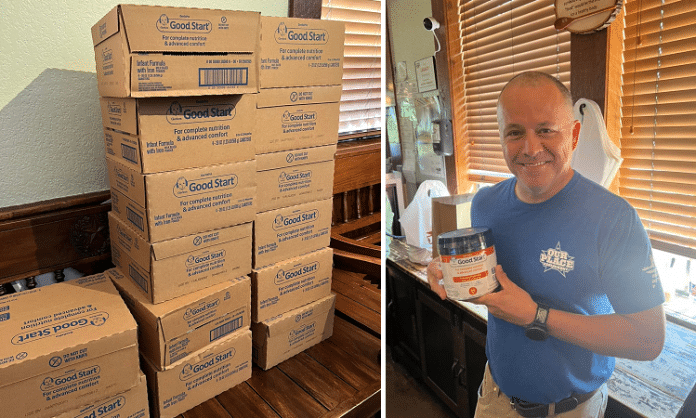 This Texas restaurant is giving away baby formula to local families in Mansfield and Burleson
This story is about how a Texas family owned restaurant and its owner are helping the communities of Burleson and Mansfield tackle the baby formula shortage together.
When the national baby formula shortage hit the news, Our Place Restaurants and their owner Benji Arslanovski decided to step up and take action. The restaurant's owner realized they were able to order certain types of baby formula from their commercial food distributor and had several boxes shipped. After reading about how families were struggling the restaurant decided to give away the formula to local families, one can per family.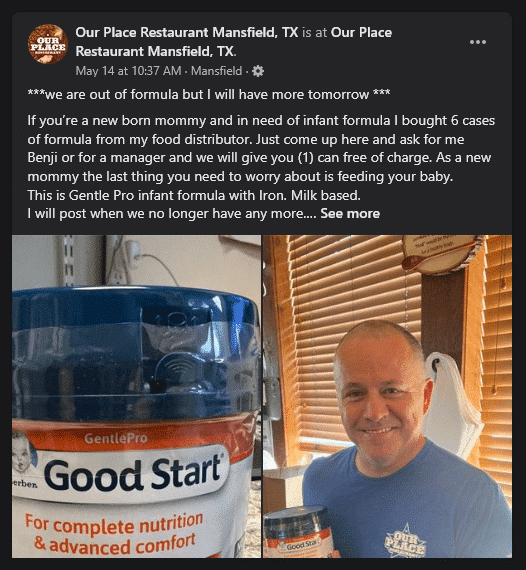 According to an interview with Spectrum News (see video below) the restaurant's owner Benji started off by ordering 6 cases of baby formula from his commercial supplier US Foods when he realized it was just sitting there in a warehouse without anyway for parents to order it themselves. Now, what started out as one man's mission to "Treat People Good" has turned into an inspiring community-wide effort to make sure local Texas babies get the formula they need. During the Spectrum News interview a man arrives at the restaurant to deliver the one can of baby formula he has at his house for his grandson.
Every city in Texas needs an Our Place restaurant.
Watch Benji's Interview with Spectrum News Here:

If you are a parent in the Mansfield or Burleson areas you should follow the Our Place restaurant on Facebook where they post when a new shipment arrives or they have dropoffs.
Mansfield: https://www.facebook.com/Our-Place-Restaurant-Mansfield-TX-222395274934/
Burleson: https://www.facebook.com/OurPlaceRestaurantBurleson
Our Place is a home style restaurant known for their chicken fried steak and their collection of Texas books you can borrow and read while dining. Established in Burleson, Texas in 1986 by the current owners family, they opened their Mansfield location in 2008.
To Benji and the entire staff at Our Place restaurants, thank you for all you're doing for your fellow Texans!
Map to Our Place Restaurant in Mansfield, TX:

Map to Our Place Restaurant in Mansfield, TX:

Thanks Y'all:
This article was partially based on a video interview by Lupe Zapata (seen above). Thanks for taking the time to make this video and highlight a Texas business doing something great for their community Lupe!
---
Featured photo a compilation of images from the Our Place Mansfield Facebook page