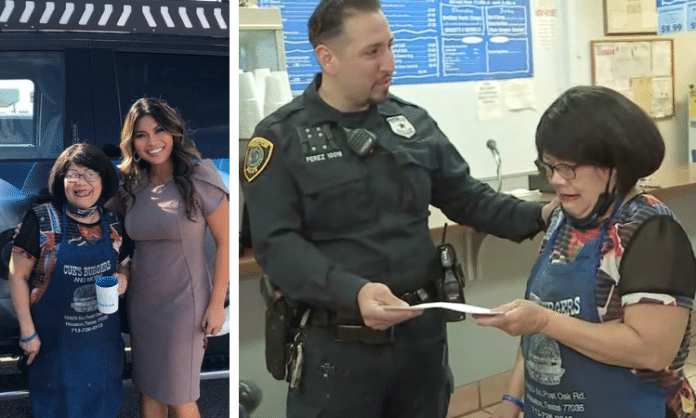 In Houston, Texas, police officers helped a small business owner after experiencing vandalism in her restaurant.
Recently, vandalism was created in Cue's Burgers when suspects got inside through the windows, and unfortunately this was not the first time that vandalism was done inside the restaurant. Houston police officers noticed this and prepared something exciting for Momma Cue. An amount totaling 2,000 dollars was raised by Houston police officers for Momma Cue. The amount covers all the expenses to fix the windows and have a camera system.
Cue's Burgers is located on Post Oak, Southwest Houston and has been up and running for 33 years already. It's owned by the famous "Momma Cue," a small business owner known by all Houston police officers for taking care of her local officers. Cue's Burgers opens early in the morning and closes very late during the evenings to cater to Houston police officers so they conveniently have a place to eat and drink coffee before and after their shifts.
Another fantastic thing that Momma Cue does, is that she lets the Houston police officers have a spare key to access the restaurant to make their coffee when they need it. Momma Cue does this for the sake of her beloved Houston police officers. The walls of Cue's Burgers are also filled with images of Momma Cue and Houston police officers.
"[Mama cue] always invites and supports, but doesn't ever ask for it. [Houston PD] want to go above and beyond what we typically do because she deserves this," – local Houston Officer
In an interview with ABC, while Momma Cue cried tears of joy, she said that "Any hurricane, any storm, I will be here for my officers." The Houston police officers felt that Momma Cue deserves all of the love because her dedication to serving them is unmatched.
You can visit Cue's Burgers for breakfast, burgers, BBQ, and more at the address below!
Thanks y'all (source): ABC 13
---
Featured image credit: (left) ABC Instagram as embedded, (right) screenshot of ABC 13 video linked above