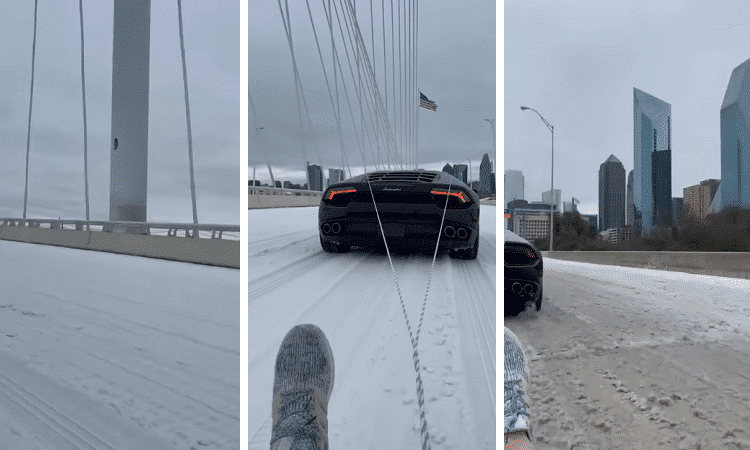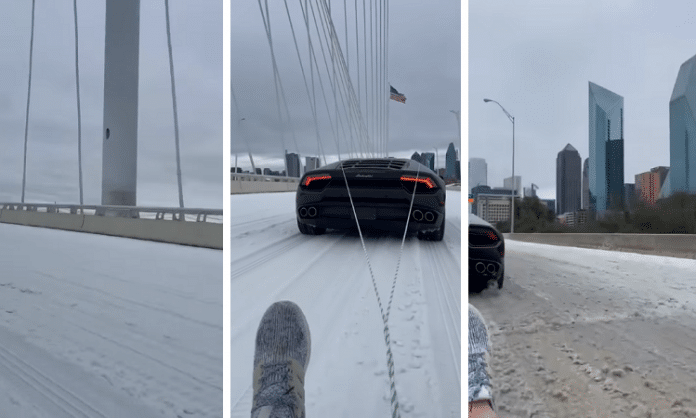 What good is a Lambo if you can't take it sledding every now and then?
When the freezing rain and snow settled in Dallas it left a city frozen in terms of both cold weather and lack of movement. That left city streets and highways wide open for anyone who wanted to have a little fun.
Our story is about two Texas guys who happily took advantage of the mostly empty roads. They asked to be identified by their Instagram handles, @tonykrossv12 and @benjaminbreier_.
According to Tony Cruz who sent us the video (i.e. @tonykrossv12) the two made their Lambo money in precious metal dealing and YouTube stuff – respectively. If you're looking for something to do in Dallas and hoping to replicate this during the once-a-year snow we get in Texas, step 1 is to have a Lambo – or a friend with a Lambo.
"…We own Lamborghinis and thought it would be fun to go out there and drive our cars in the snow and spice things up a little…" – Tony Cruz aka @tonykrossv12
Watch on Facebook here:

Watch on YouTube here:

Watch on Twitter here:
Meanwhile in Dallas… pic.twitter.com/hW0VrjhUD4

— Texas is Life (@txislife) February 4, 2022
The pair claim to have 'gone viral' on Instagram, but we're not sure how many views their video has. Easy to believe though based on the internet being the internet and how well the video is doing on our Facebook page so far.
---
Featured image a compilation of screenshots from the featured video on Facebook sent to us by Tony Cruz