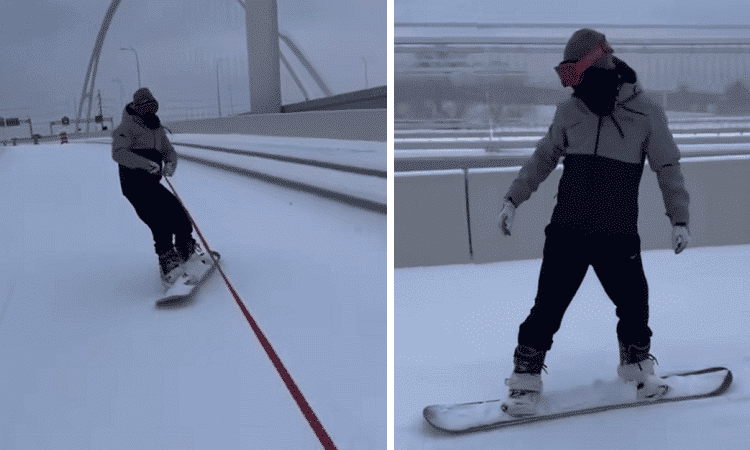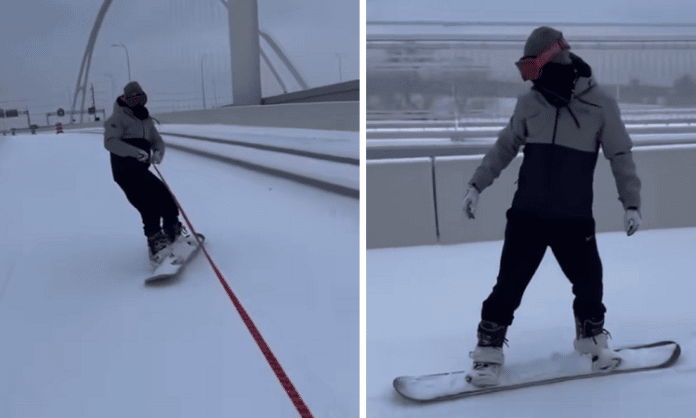 Shreddin' ice pow on Dallas streets
It isn't often that Dallasites get to break out their winter sports gear without leaving the city, in fact the opportunity might only come once a year if that. One Dallas-area man didn't want to miss this rare chance and broke out his snowboard to shred up the city streets of Dallas.
The video has been shared across social media and is racking up hundreds of thousands of views.
Watch the video on Facebook here:

The video is similar to the video from last year's snow/ice storm that shut the city down. In that video a man goes sledding in Dallas being pulled behind a lamborghini. In this video we aren't sure what vehicle it is, but he is being pulled behind a vehicle of some kind at first to get momentum and then lets go and starts shreddin' the street. It also appears to take place in almost the exact same spot – Margaret Hunt Hill Bridge. At this rate "Dallas Man" might start to take on its own colloquial meaning like "Florida Man" but instead of doing unhinged stuff, it would be doing winter sports events in weird places like a city street in Dallas.
---
Featured photo a compilation of screenshots from the above embedded video