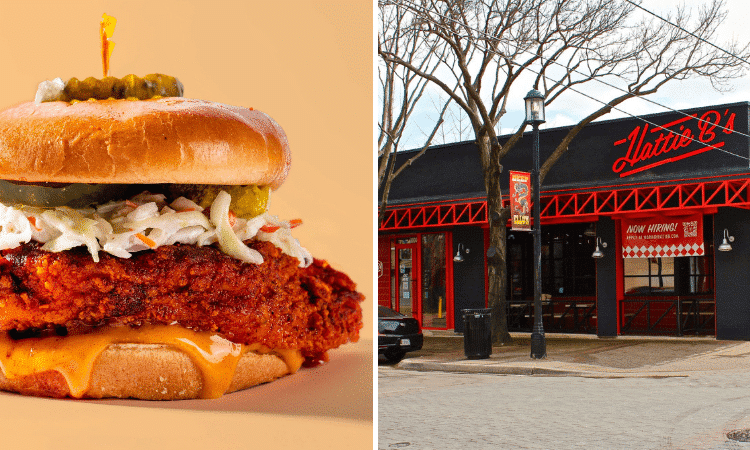 Originally announced in October 2020, Nashville's Hattie B's Hot Chicken finally opened its doors to Texas foodies on February 23, 2022.
Since the Nashville hot chicken trend has made its way to Texas, there is surely a decent amount of eateries to choose from. But in a crowded market, Hattie B's chicken is one of the few who do it best. Anyone looking for some spicy hot chicken and some cold bubbly drinks by Hattie B's within Dallas will have to go to Deep Ellum – its first Texas location.
With a simple menu, Hattie B's Hot Chicken focuses on quality and customer service. The (short) menu includes chicken pieces (tender or bone-in) atop white bread with pickles. Waffles with syrup are available to add on and you can always choose your spice level, which ranges from no heat to "Shut the Cluck Up." Don't forget your sides of course. You can wash this delicious goodness down with their booze menu with beer on tap or wine.
A food business that has been in operation for at nearly a decade, Hattie B's Hot Chicken rose to popularity after having been discovered by Food & Wine and Bizarre Foods America. Since then, the brand has become an icon that had people queuing up an hour to satisfy their tummy (and their curiosity) with good old' Tennessee chicken dish.
Check out Hattie B's Hot Chicken in Deep Ellum at 3000 Main, Dallas, TX 75226. They are open Monday – Thursday 11AM -10PM, Friday & Saturday 11AM-11PM, and Sunday 11AM – 4PM.
---
Featured image credit: Hattie B's Hot Chicken Facebook as embedded above