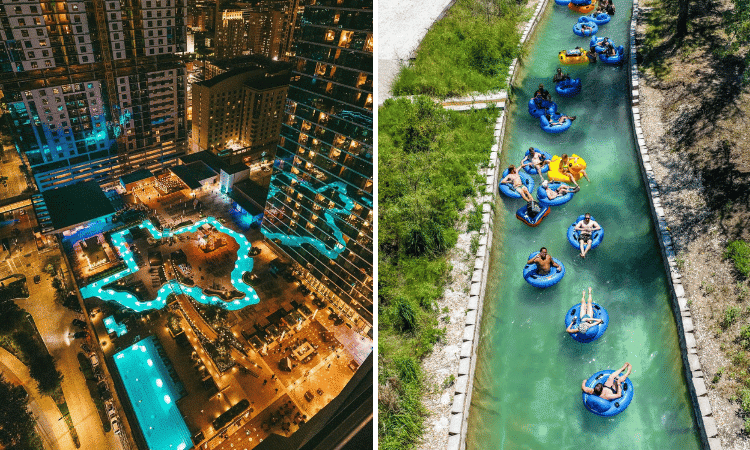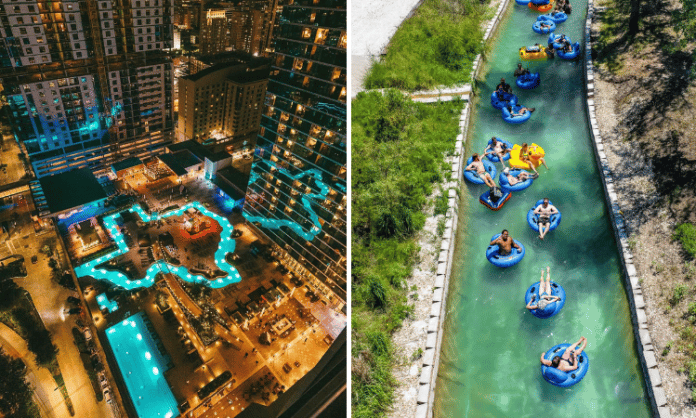 One of the best and most fun ways to cool off from the scorching Texas heat is taking a relaxing float in a lazy river. Thankfully, we have no shortage of lazy rivers here from water parks, hotel rivers, and even some natural ones. But, how do you know which ones are actually worth the trip?
We've done our research so you don't have to and have brought you the 10 top lazy rivers in Texas. So grab your swim tube and bathing suit and get ready to take a trip to one of these awesome local lazy rivers.
1. Waco Surf (formerly BSR Cable Park) – Waco
Waco Surf, 5347 Old Mexia Rd, Waco, TX 76705, USA
Noteworthy Highlight: Longest man-made lazy river in the world
At one mile long (5,280 feet) Waco Surf (formerly BSR Cable Park) is the longest man-made lazy river in Texas the world and takes about 45 minutes to complete one lap. It's hands-down one of the best ways to beat the infamous Texas heat this summer. You can also cool down with other park water attractions like the gigantic Wedge Water Slideswater slide with a ramp and a manmade beach.
Tickets to Waco Surf start at $39 for individuals and $99 for a family pass for 2 adults and two kids (ages 6-16), giving you access to the water slides and lazy river for the day. Kids 6 and under are free making this the perfect family-fun getaway! There are also other ticket options if you want access to more of their attractions.
2. Schlitterbahn Waterpark – New Braunfels
400 N Liberty Ave, New Braunfels, TX 78130
At this iconic water park, you're just steps away from all-day water park fun. Kick back on the not-so-lazy lazy river which is named the Torrent River for its fun surprises and tidal waves around every turn. Afterward, head over to one of the other attractions like the tube shoots, activity pools, raging rapids, manmade beaches, and even a nature trail.
Fun fact: This Schlitterbahn location was used in the Spy Kids 3 movie.
3. Marriott Marquis Houston
1777 Walker St, Houston, TX 77010
Noteworthy highlight: Heated Texas-shaped river on a rooftop
One of the coolest, most Texan lazy rivers in the world is at the Marriot Marquis Houston. Not only is it the only Texas-shaped lazy river in the world, but in true Texas-esque fashion, this lazy river is also Texas-sized with a volume of 6,500 square feet and sits on a rooftop at 110 feet above street level. This heated rooftop will take you around the state's border in about 22 minutes.
The biggest "con" is that you must be a hotel guest (go figure) which makes this a pricier option than other lazy rivers on this list. At the time of writing this article, the lowest price for a 1 night's stay was $489. Maybe grab a few buddies and split the bill.
4. The Comal River – New Braunfels
New Braunfels, TX 78130
Noteworthy Highlight: Natural, wide, warm river and the cheapest option on the list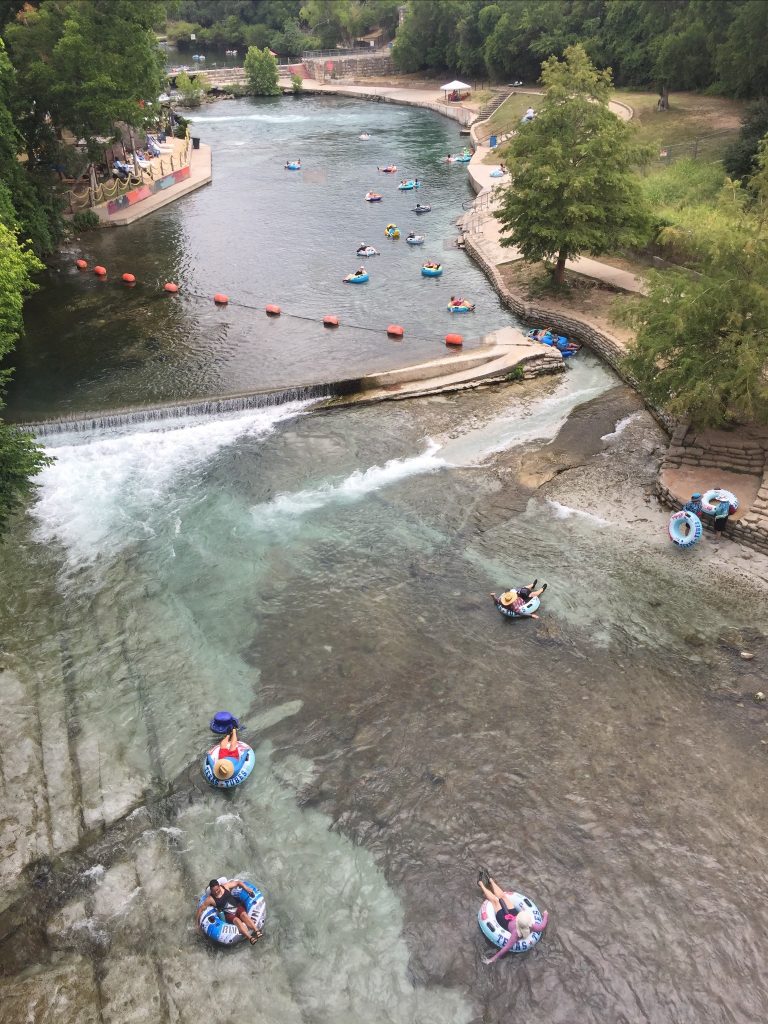 The Comal River in New Braunfels is the shortest river in Texas (just 2.5 miles long) but it makes for a great, simple lazy river experience. Flowing with natural flowing spring-fed water, this river boasts gentle currents, wide stretches, no borders or rapids, and a nice cool (but not too cold) temperature of 70-72°F.
This simple and natural river starts near the Wurstfest grounds, then passes through Downtown New Braunfels floating past Schlitterbahn Waterpark, and finally connects with the Guadalupe River.
It's free to go if you bring your own tubing but for rentals, you can expect to pay about $15-$22 per person for a shuttle, tube rental, and other fees. Luckily, there are several New Braunfels river shops that offer tube, canoe, and kayak rentals for visitors.
5. SeaWorld Aquatica  – San Antonio
10500 Sea World Dr, San Antonio, TX 78251, USA
This 1,200-foot-long lazy river is enhanced by tunnel jets, foam shooters, and misters for a relaxing and extra "lazy" experience. You'll also get the unique experience of wandering through the scenery of underwater life through a tunnel with translucent ceilings. While you're there you can also check out the other attractions like the huge wave pool, a kids activity pool, the kid-friendly, Kata's Kookaburra Cove and so much more!
Season passes and combo tickets for Seaworld & Aquatica are available. Still, if you're just looking to relax in the lazy river and hang out in the rest of the waterpark, a simple single-day Aquatica ticket should do just fine.
6. Great Wolf Lodge Water Park – Grapevine
100 Great Wolf Dr, Grapevine, TX 76051
Noteworthy Highlight: Indoor 80,000-square-foot waterpark
This indoor lazy river is the perfect choice for any weather like when it's hot enough to bake cookies on your car hood or when it actually gets a little chilly outside. The lazy river isn't the only entertainment at the 80,000-square-foot park though. There are also water slides, tubes, cabanas, hot springs, dining options, and more.
7. Hyatt Regency Lost Pines Resort and Spa
575 Hyatt Lost Pines Rd Cedar Creek, TX 78612
Located on 405 acres along the Colorado River, this is one of the best family-friendly resorts and it has a temperature-controlled pool with a lazy river. The 1000-foot-long lazy river has beautiful, scenic views and connects to all pools, some slides, and a beachfront pool with a riverside bar so you can have all-day fun without having to get out of the water.
8. Castaway Cove Waterpark – Wichita Falls
1000 Central E Fwy, Wichita Falls, TX 76301
Enjoy floating down the lazy river at this 15-acre tropical-themed paradise. The lazy river is connected to other water attractions like the water parks beach and wave pool. Castaway Cove is relatively cheap compared to other lazy rivers on list and starts at $22.99 for anyone over 42″ tall and starts at $11.99  for those under 42″.
9. Six Flags Hurricane Harbor – Arlington
1800 E Lamar Blvd, Arlington, TX 76006
Noteworthy Highlight: Lazy river winds around the whole park
This lazy river winds around the whole park so you can check out the rest of the slides and attractions and decide what you want to try next. This river is slow-moving and shallow which makes for a relaxing, wind-down experience for the entire family. Don't forget to check out the other water attractions too.
10. Hurrican Harbor Splashtown Houston/Spring, TX
21300 Interstate 45 Spring, TX 77373
Finally, we can't forget to mention SplashTown, one of the state's most popular parks. Splashtown is Houston's largest waterpark featuring over 40 attractions including a lazy river called "Paradise River". In addition to the relaxing lazy river, there are also thrill rides, an interactive play area, rides for the whole family, plus plenty of shade and other water features.
Methodology
Recent online reviews, official company websites, and photos from several sources (i.e. Google Business, official company sites, Facebook, Yelp, and others) helped us determine how to score each lazy river. We reviewed and ranked these Houston patios based on several factors:
River length and time to complete
Location, atmosphere, uniqueness (welcoming, liveliness, views, other features)
Price (In relation to other rivers on this list)
Service quality (based on recent online reviews)
Other included amenities
Editor's Note: These opinions are our own. We did not and do not receive money from any of the above companies for links clicked or tickets purchased. 
---
Featured image credit: (Left) Mariott Marquis Houston Facebook, (Right) Waco Surf Facebook