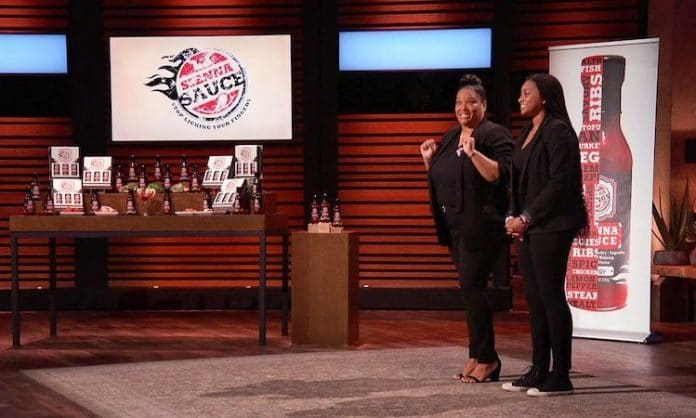 Tyla-Simone Crayton is a 17-year-old Texan and the business savvy CEO of Sienna Sauce who just landed a $100,000 investment from a fellow Texan on Shark Tank. This investment came from the one and only Kendra Scott, who got 20% equity of the brand in return.
The Austin-based jewelry mogul raved over the creativity and drive shown from Crayton in the tank. Kendra related to Crayton's hustle – the journey of starting a business at home with her mother and building it from the ground up. Although Crayton originally asked for $100,000 for 10% of her company, she settled to give 20% to Kendra Scott because Scott can provide distribution, shelf space, and help build Sienna Sauce's brand in a very competitive market.
View this post on Instagram
Crayton's inspiration to become an entrepreneur actually came from watching Shark Tank at just 8 years old. While she was building her business mindset by watching entrepreneurs go on Shark Tank and make deals, Crayton was also innovating in her personal life. During that time, her favorite wing spot had closed down so she decided to try and recreate the flavor at home with her mother. It was during this attempted recreation that Crayton and her mom created their original tangy flavor. From there they began" wing Wednesdays" at home with the family which eventually turned into a full-blown enterprise aka Sienna Sauce.
Crayton officially launched Sienna Sauce at just 14 years old and has gradually built it into a 6 figure business in just a few years. Crayton also tries to give back to the youth in her community by talking to them 3-4 times a month to inspire them and show that entrepreneurship is a viable option if it is coupled with dedication.
View this post on Instagram
Sienna Sauce offers 3 individual flavors of sauces, a variety pack containing all 3 flavors, and even an electronic cookbook that contains a variety of amazingly delicious recipes. The 3 available sauces are spicy, lemon pepper, and the original sweet and tangy. The best part about their sauces is that it is not exclusively meant for wings. The sauces can be used on meat, seafood, grilled vegetables, and so much more. It is also important to note that the sauces are gluten-free and have no high fructose corn syrup in them. Crayton created her sauces gluten and corn syrup-free to ensure consumers had the healthiest alternative sauces possible for her customers to enjoy without worry. 
__________________________________________
Featured photo from Sienna Sauce's Instagram account.