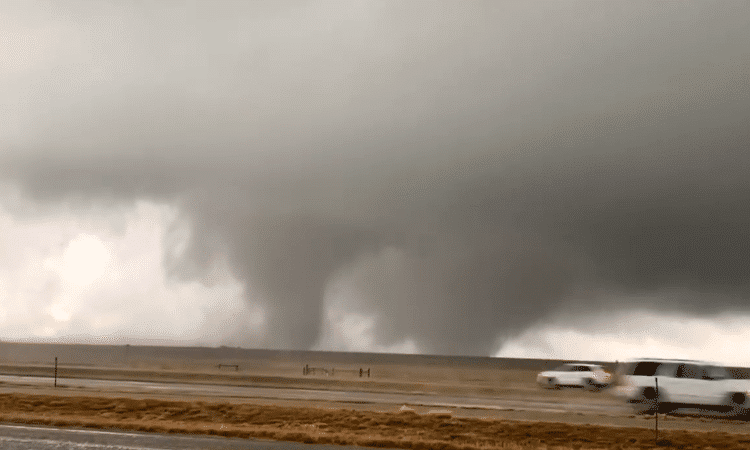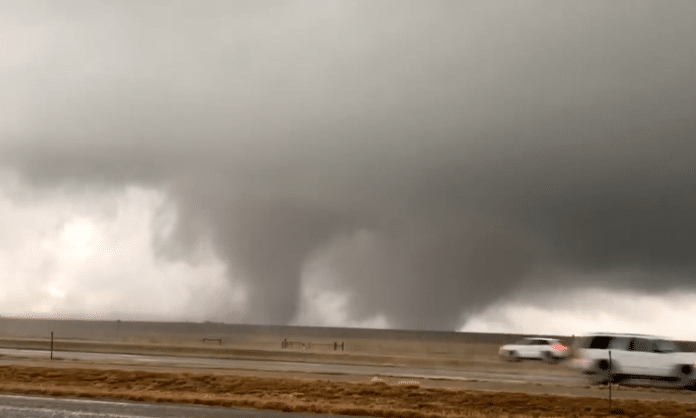 Just a week ago on March 13, Texans in the panhandle were served tornado warnings for more than six straight hours. Multiple tornadoes touched down including twin tornadoes that were caught on camera. I guess Mother Nature decided that after decades of creating regular ol' tornadoes, one at a time just wasn't enough anymore. 
The footage of the twin tornadoes was shared by Kara Naegeli, a teaching assistant at Texas Tech University with her smartphone. This set of tornadoes was filmed 19 miles south of Amarillo near Canyon. 
2 MASSIVE TORNADOES SOUTH OF CANYON, TX 3:33pm #txwx pic.twitter.com/NzzFiOiEAg

— Kara 🛰🪐🚀 (@ka_ruhh) March 13, 2021
Another tornado was spotted nearby just 35 miles south of Amarillo – just one this time thankfully. This giant wedge tornado was filmed by Ian Shelton.
@NWSLubbock @NWSAmarillo Confirmed Tornado near Happy, TX. pic.twitter.com/ehZv1uf9tO

— Ian Shelton (@IanShelton1997) March 13, 2021
Finally, the Amarillo NBC News team was able to capture what ended up being the most destructive tornado of the bunch.
Video from @MelissaTheMet of the tornado that was 2 miles NW of Happy today. Incredible.@KAMRLocal4News #kamrwx #phwx #txwx pic.twitter.com/ah8QumLlBN

— Judd Baker (@juddbakertv) March 14, 2021
Featured photo a screenshot of the video tweeted out by Kara Naegeli