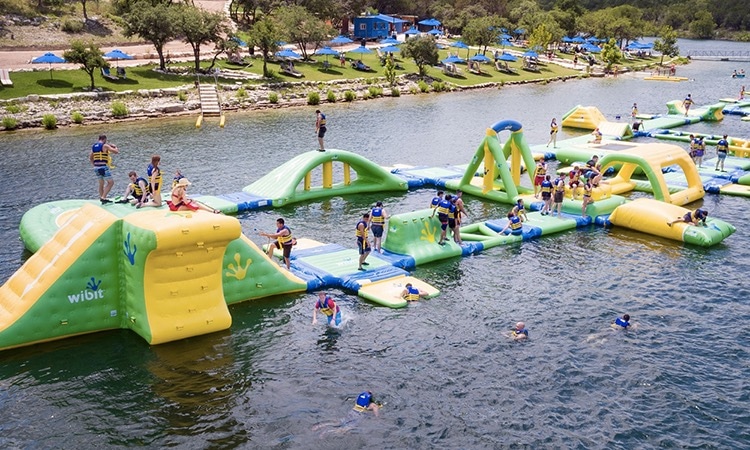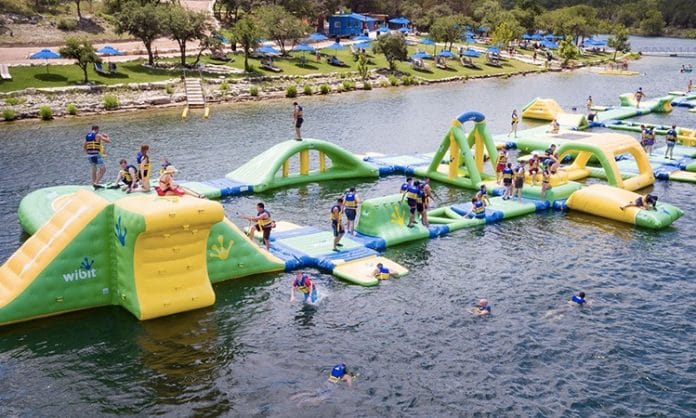 Updated July 14th, 2022 to update pricing and restrictions
If you're searching for a way to cool down this summer, you should check out Waterloo Adventures near Austin, TX! It's a floating inflatable water park on Lake Travis, that takes up an incredible 1,500 feet of water splashing fun (that's the size of 5 football fields) [editor's note: this measurement comes from the shoreline of the lake that Waterloo Adventures takes up].
This is an awesome staycation idea for Texas families or groups of friends looking to get wet, cool, and have a good time during the brutal Texas summer. Since you're near Austin you can spend a day at the Waterloo Adventures beach then head to restaurants around Lake Travis, go explore the Hill Country, or hit up Austin's famous night life just a 30 minute drive away.
The park has over 21 different inflatables, including obstacle courses, waterslides, and trampolines. There are even towers that you can jump off of to see who can make the biggest splash in the water! And even floating picnice tables.
If you get tired of scaling the obstacles and swimming around, you can relax on one of the park's hammocks, floating picnic tables, or chaise loungers. You can even grab a beer from the cabana bar or hit up the on-site food truck to get a snack. It has classic American fare like hot dogs and pizza rolls that both adults and kids will love!
Waterloo Adventures also has a sister company called Lake Travis Zipline that operates a zipline that goes right over the lake. They claim that it's the longest and fasted zipline in Texas, so you're sure to have a great time speeding down it!
Heading to this water park is the perfect choice if you want to have an adventure filled day while staying cool. Admission costs $63 and includes access to four standalone inflatables plus a 45 minute session on the 600 foot obstacle course.
Kids have to be 7-years old or older and 45" tall or taller to enter
If you want to zipline, tickets cost $135 for a 3 hour guided tour. Make sure you book your tickets for the water park and zipline tour at least 24 hours in advance, or else you may not get your desired time slot!
Vitals:
Waterloo Adventures website: https://www.waterlooadventures.com
Lake Travis Zipline website: https://ziplaketravis.com/
Address: 14529 Pocohontas Trail Suite A, Leander, TX 78641
Map to Waterloo Adventures:

---
Featured image courtesy of the Waterloo Adventures FB page
Original publication date: Jul 23, 2020 at 16:43
Update 1: Jul 14, 2022 at 10:32