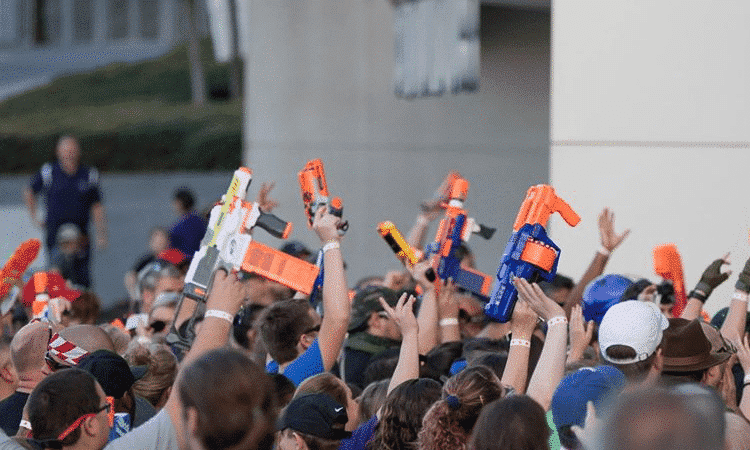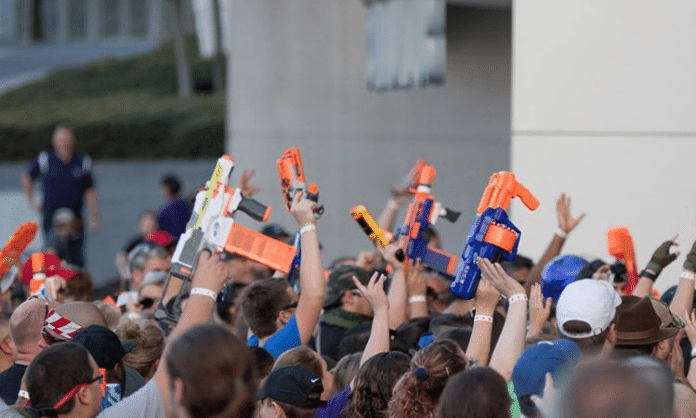 If you loved playing with Nerf guns as a kid (or still do as an adult), then you can't miss the 5th anniversary of Jared's Epic Nerf Battle that's coming to an NFL stadium near Dallas next month!
AT&T Stadium in Arlington is hosting the largest Nerf / toy gun battle in the world on March 21st. As many as 4,000 people of all ages are going to be there having an absolute blast!
The event earned the Guiness World Record in 2016 and hasn't been challenged yet, with each year getting bigger and better. This is a perfect event for parents with kids or even just kids at heart.

The battle takes place on the football field at AT&T Stadium, which is the fourth largest stadium in the NFL, so it has plenty of room for everyone to run around.
The field will be kitted out with huge inflatable obstacles that you can use to take cover, which makes the battle so much more fun.
To participate in the fight, you'll have to bring your own Nerf gun, ammo, and protective eyegear. So if you don't have your old childhood gun, you'll have to splash out for a new one, plus a $32 ticket. But it's definitely worth it…
Just look at how much fun everyone is having!

Your ticket also comes with a free self-guided stadium tour, which is a $22 value. After the battle is over, you'll be able to tour the locker rooms and see where America's team gets ready for games.
You'll get to meet YouTube Nerf celebrities
You get hands on with prototype Nerf blasters and you get to see Nerf products not even announced yet.

You're also encouraged to enter the costume contest, which has over $1,000 in cash prizes. So make sure you come to the battle dressed up and decked out!
Website: https://www.facebook.com/events/1026001007741269/
Tickets: https://www.eventbrite.com/e/jareds-epic-nerf-battle-5-tickets-83283502197
Address: AT&T Stadium (Cowboys Stadium)
1 AT&T Way, Arlington, TX 76011