Sadie Keller is a young girl from North Texas who was diagnosed with acute lymphoblastic leukemia at age 7 in 2015. While fighting her cancer Sadie became worried that Santa wouldn't be able to find other kids who were in the hospital fighting cancer and that it would keep them from getting toys on Christmas. That year Sadie, along with her supportive family, began a toy drive with the goal of collecting 300 toys they could give to kids in area hospitals, instead they ended up getting 1,300 toys donated.
From there, Sadie's Sleigh (the name of her annual toy drive) took off.
By 2018 over 36,000 toys had been donated and dozens of area businesses had signed up to become collection locations.

Video by our friends at Dallas is Awesome telling Sadie's story going from cancer patient, to cancer fighter.
Each year the toy drive keeps growing and expanding.
This year Sadie's goal is to collect 20,000 toys during the toy drive.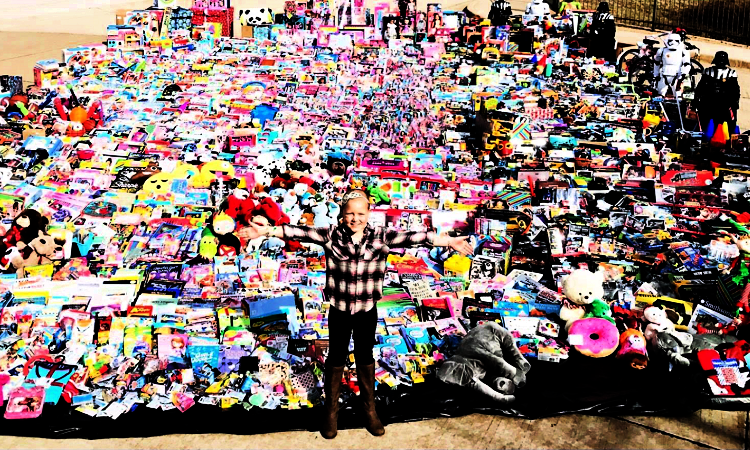 This year's toy drive ends on Friday the 12th when Sadie's team of elves (adults helping) will go around to pick up the toys and start getting them wrapped and ready for Christmas.
Being a kid and fighting cancer is hard enough, but having to do it at Christmas time is probably even worse. You can help bring a smile to a child with cancer's face this Christmas by joining in and donating a new, unwrapped toy for Sadie's Sleigh.
Here's all the places in Texas where you can donate.
Dallas Area:
Common Table Uptown: 2917 Fairmount St., Dallas TX
White Pants Agency: 2528 Elm Street, Dallas TX
The Dallas Conservatory: 7979 Inwood Road, Dallas TX
Joe Youngblood SEO & Digital Marketing Consulting: 16135 Preston Rd Ste 110A, Dallas TX
XOXO Social: 3121 Ross Avenue, Dallas TX
The 23 Apartments: 2370 Victory Avenue, Dallas TX
The House Condominiums: 2200 Victory Avenue, Dallas TX
Stir: 2803 Main Street, Dallas TX
Vidorra: 2642 Main Street, Dallas TX
Rolex: 2601 N. Harwood, Dallas TX
F45: 1775 Payne Steet #150, Dallas TX
Mimi's Pizzaria: 6807 W Northwest Hwy, Dallas TX
Trunk Club: 333 1st Avenue, Dallas TX
Empire Exotics: 15051 E. Beltwood Pkwy, Dallas TX
Prive Salon & Med Spa: 5207 Bonita Avenue, Dallas TX
Pound Labs: 901 Regal Row, Dallas TX
North of Dallas Area (Frisco, Plano, McKinney, Carrollton):
Bright Horizons Childcare: 6100 West Parker Rd, Plano TX
Dallas Running Company: 7200 Bishop Rd D-12, Plano TX
Starbucks Reserve: 7600 Windrose Ave Ste G140, Plano TX
Legacy West Ugly Sweater Exhibit: 7700 Windrose, Plano TX
Quiroz Chiropractic: 3630 N. Josey Lane #110, Carrollton TX
Yoozy: 4320 Marsh Ridge Rd., Carrollton TX
E-Car One: 1875 N I-35E, Carrollton TX
Hidden Cove Park: 20040 Hidden Cove Park, Frisco TX
The Dallas Conservatory: 6016 Frisco Square Blvd, Frisco TX
Cheer Athletics: 6155 Sports Village Rd, Frisco TX
Frisco Dodge: 9640 TX-121, Frisco TX
The Common Table: 6740 Winning Drive, Frisco TX
Frisco Winter Wonderland: 9215 John W Elliott Dr., Frisco TX
One Preston Events: 50 Whispering Winds, Gunter TX
Fort Worth and Southlake Area:
Fort Worth Running Co: 2401 West 7th St, Fort Worth TX
Stir Fort Worth: 3028 Crockett St, Fort Worth TX
Essence Maserati: 555 NE Loop 820, Hurst TX
Kendra Scott Southlake: 321 Grand Ave W., Southlake TX
Facial Plastic Surgery Institute: 521 W. Southlake Blvd, Southlake TX