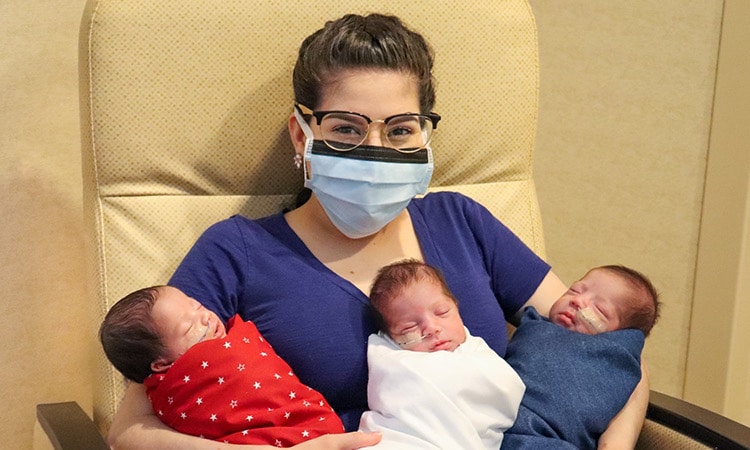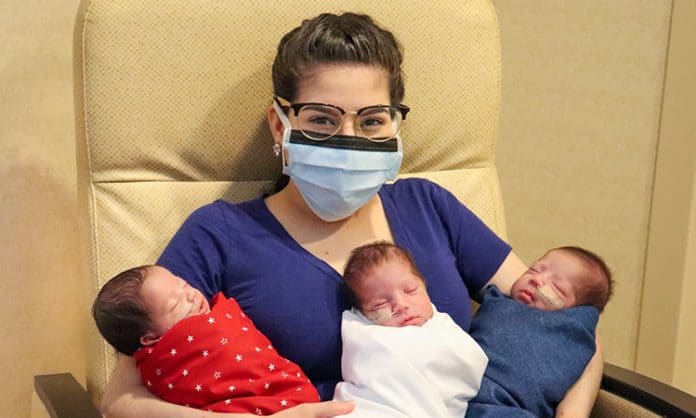 When Maggie arrived at the Woman's Hospital of Texas in Houston to be monitored in the antepartum unit, they gave her a COVID-19 test as a precaution.
Because she was pregnant with triplets, she had been carefully quaranting at home since March 23, so it was unlikely she actually had the virus.
To everyone's surprise, Maggie's test results came back positive 48 hours later. Her biggest concerns were the health of her unborn triplets and her husband and son who were back at home.
Despite how difficult Maggie's situation was, her nurses said she had a positive attitude and a fighting spirit.
The nurses made sure her stay was comfortable and would often sit with her for an hour at a time to keep her company.
After a few weeks, Maggie finally beat the coronavirus and tested negative. Unfortunately, there were still more challenges to come.
When Maggie was 32 weeks pregnant, she found out that a cord was wrapped around one of her baby's necks, requiring an emergency C-section.
Maggie's husband wasn't able to be present for the surgery because he tested positive for COVID-19. Luckily her mother was there as her support person.
Her dad also called her before the surgery to pray with her and give her the strength she needed to get through the procedure.
Maggie delivered three healthy babies that day and was discharged a few weeks later. She now visits her triplets in the NICU every day.
Maggie's incredible resilience has inspired us all. We hope that her family stays health and her triplets can come home soon!
Featured image from The Woman's Hospital of Texas Facebook page (see embed above)