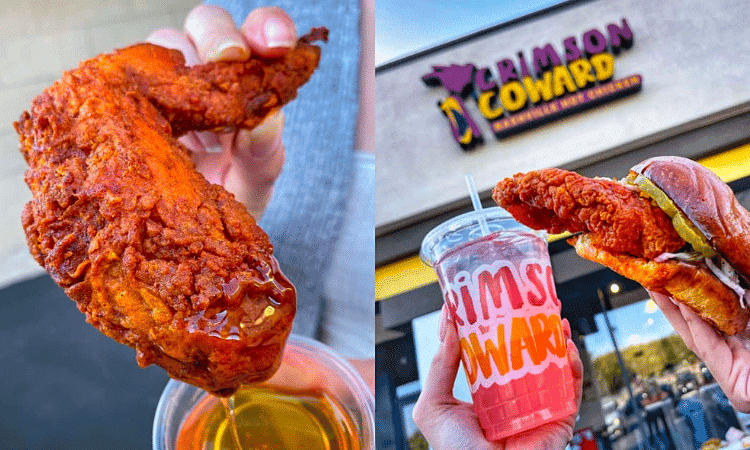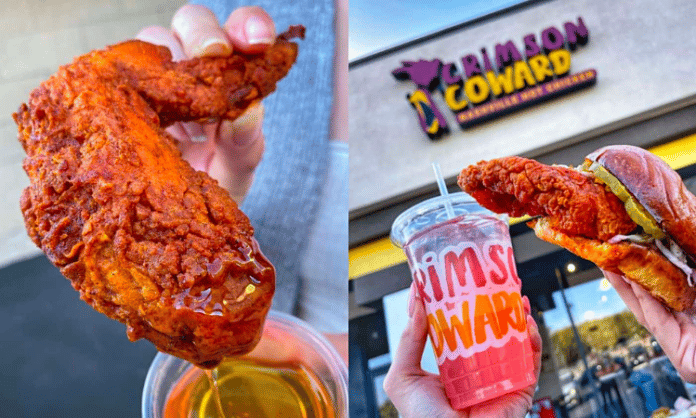 The Nashville Hot chicken craze continues to build momentum in North Texas with another small chain opening
As if the Nashville Hot Chicken craze couldn't surpass our expectations any higher, Texas is welcoming a new restaurant in the genre. "Crimson Coward" is set to open its first Texas location in Frisco, Texas and will be serving up chicken tenders, chicken sandwiches, chicken wings, and even a couple of options for vegetarians.
Now many people have tried Nashville Hot Chicken restaurants all over the country and the natives and lovers of the unique dish seem to always complain that it's missing something or it's not comparable to the original. However, Crimson Coward's founders took the time to meet with real Nashville Chef's and create the masterpiece that we know today. The unique touch comes in with their heavy use of garlic, and they even offer a Crimson Chicken pressed on a tortilla wrap with pickles and garlic sauce, or the "Garlic Twister." The menu is made up mostly of variations of chicken that range in heat levels of:
No Heat
Mild
Medium
Crimson-Hot
Burn, Baby, Burn
You can enjoy your choice of hotness on tenders, wings, boneless chicken breast, chicken sandwich, and the garlic twister.
The chicken is sourced from highly reputable farms, and Crimson Coward only serves premium, halal, all-natural, non-GMO, hormone-free poultry that is made fresh to order. Patrons from all backgrounds can come and enjoy a meal! Of course if you're not a meat eater, Crimson Coward offers a few options:
Grilled cheese on toasted bread
Potato Salad
Mac and Cheese
Cole Slaw
Salad
The establishment will be located at 3246 Preston Rd., #510 in Frisco Texas. Founder Ali Hajazi and Co-Managing partner, Hassan Bawab, a multi-founding entrepreneur decided to join his brother-in-law in spreading the Crimson Coward franchise and is looking to open a second location in the Dallas area soon.
Vitals
Price – $4.00-$30.00
Website -https://www.crimsoncoward.com/
Address -3246 Preston Rd #510A, Frisco, TX 75034
Map to Crimson Coward in Frisco, TX

---
Featured image via Crimson Coward Blog Website