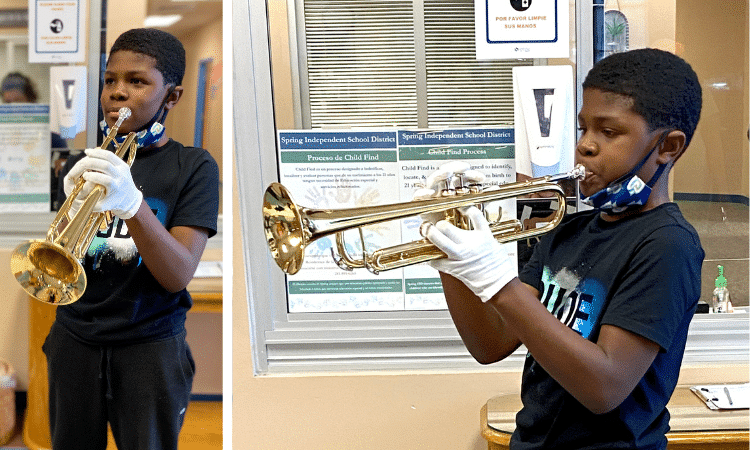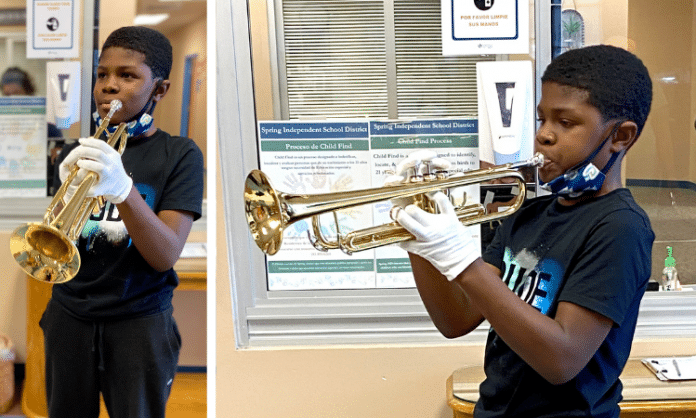 Jaron Collins, a fifth grader from Ponderosa Elementary School in Houston, now has a new trumpet and a new honorary membership to his favorite college marching band.
It all started when Collins posted a YouTube video of himself using a Nerf toy gun to pretend to play the trumpet along with the Southern University band's music while never missing a beat. This video surfaced on social media which his music teacher, Charlotte Hatley, took note of along with an anonymous district employee. This video inspired a random act of kindness from that anonymous Spring ISD employee who decided to buy Jaron Collins a brand new trumpet. This act of kindness shows just what it means to be a good Texas neighbor and shows why Texas is known as "the friendly state".
So excited that this champion shared his love for music and dream to march with the Southern University band one day. He was gifted with a trumpet to get him started on his journey. #sisdpva #champions pic.twitter.com/3UW5FZRx8V

— Ponderosa Elementary (@PES_Spring) January 20, 2021
The anonymous employee surprised Collins with the trumpet while he was at school with his mother. No doubt this gift was unexpected as beginner trumpets can cost up to $1200! To no one's surprise, upon receiving the trumpet, Collins immediately slipped on the gloves, put the instrument together, and marched in the reception area.
Shout out to an anonymous @SpringISD employee who bought @PES_Spring 5th grader Jaron a new trumpet after seeing him pretend to play on social media using toys. Jaron's dream is to march in the @SouthernU_BR band 🎺 🎶 #khou11 pic.twitter.com/Hta2nUdKsx

— Jason Miles (@JMilesKHOU) January 26, 2021
It was known by many close to Collins, that he would often spend time in his room pretending to play along to songs with make-believe trumpets, his mother knew this most of all.
"The first time I noticed he was into the trumpet was about third grade … Ever since, he's been into it." – Jaron Collins' mother
Collins says his interest for the trumpet started at a young age after his family took him to his first Historically Black College / University at Southern University. Collins immediately knew he wanted to go to school there and join the "Human Jukebox" band. Shortly after receiving the new trumpet, Jaron Collins was named an honorary member of the SU's 'Human Jukebox' band. The president of SU alumni, who also lives in Houston, also announced he would be paying for Collins' private trumpet lessons. Talk about Texas kindness.
---
Featured image courtesy of Spring ISD.