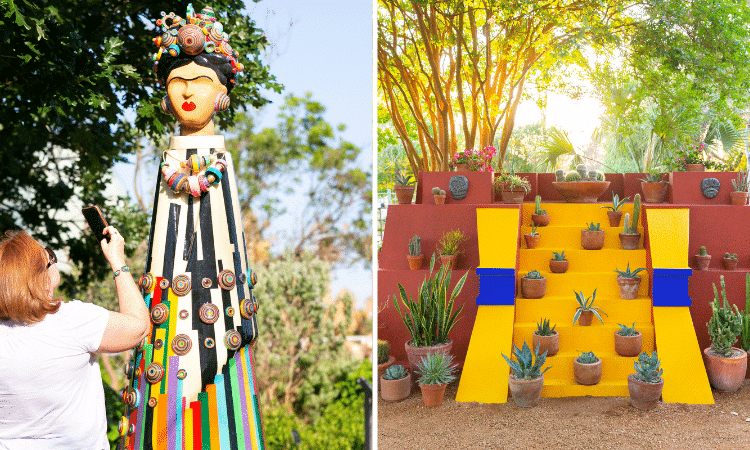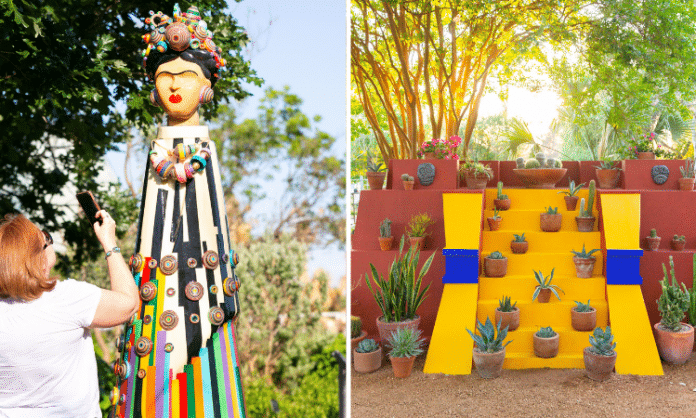 The newest exhibition at the San Antonio Botanical Garden, Frida Kahlo Oasis, brings the essence of Kahlo and post-revolutionary era of Mexico to Texas. Throughout the San Antonio exhibit you can see and feel Frida Kahlo's bold expressionist artwork and self-portraits from the post-revolution era in Mexico which continues to inspire people worldwide. The Frida Kahlo Oasis will be on display in Texas until November 2, 2021 along with special tours, art history lectures, culinary and cocktail workshops, and adult and family events made to accompany the exhibition.

The San Antonio Botanical Garden includes an interpretation of La Casa Azul, Kahlo's famous home where she was born and raised by her mother, Matilde. She later married the famous muralist Diego Rivera and they lived in that same blue house where she died in 1954. Afterwards, the famous blue home was transformed into a museum by Rivera in Kahlo's honor.
We are very proud to finally be able to open this exhibition. between colors, plants, animals, textures and memories. Oasis Frida Kahlo. pic.twitter.com/4xeEmR3khT

— PHANTASUS Taller Ensamble (@PhantasusMX) May 10, 2021
The Frida Kahlo Oasis also contains interpretations of the famous landmarks of her garden at La Casa Azul, such as the pyramid displaying replicas of Diego Rivera's pre-Colombian artifacts collection, the frog-themed fountain, and Kahlo's desk and easel. The exhibition also features six animals specially sighted throughout the garden which often appear in Kahlo's artwork including a Dog, Deer, Monkey, Butterfly, Parrot, and Hummingbird. You can make a game with your friends or family to see who can find each animal statue first!
Frida Kahlo had many birds in her home, Casa Azul. Her favorite was Bonito, a yellow-headed parrot whom she painted in several of her most famous self-portraits. This sculpture is made in the style of burnished earthenware from Tonalá, Jalisco, México. pic.twitter.com/YMBcETzGEN

— San Antonio Botanical Garden (@sabotgarden) June 30, 2021
Frida Kahlo Oasis occupies 2,100 square feet at the center of the Botanical Garden and is blended with the green landscape that impacted Kahlo's influential art. The incorporated native Mexican vegetation depicts the connection to the natural world that is often seen in Kahlo's art. At the exhibition you will get to see tropical foliage and desert plants, such as elephant ears, bougainvillea, agave, and marigolds.
How long is the exhibit going on?
The Frida Kahlo Oasis exhibition is already open and will go until November 2, 2021.
How much are tickets and where can I get them?
Tickets are $13 for adults, military personnel, and students, $12 for children 3-12 and free for kids under 3. You can get them here.
Is this a family-friendly exhibit?
Yes! Your whole family will enjoy this beautiful exhibit just be sure to bring sunscreen, walking shoes, and water.
___________________________
Featured image courtesy of the San Antonio Botanical Garden.