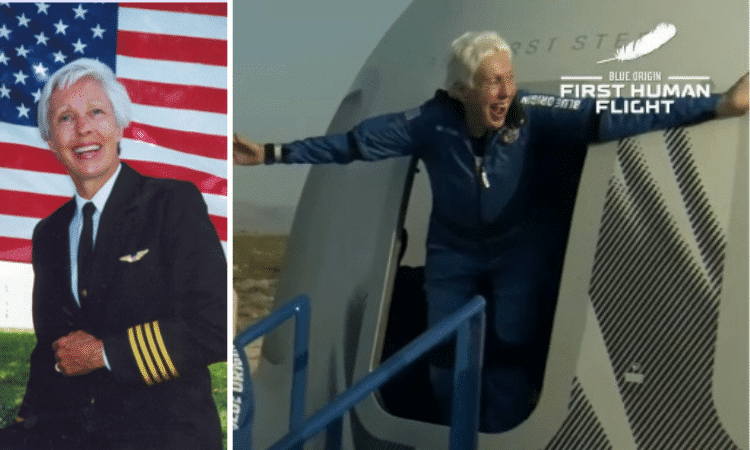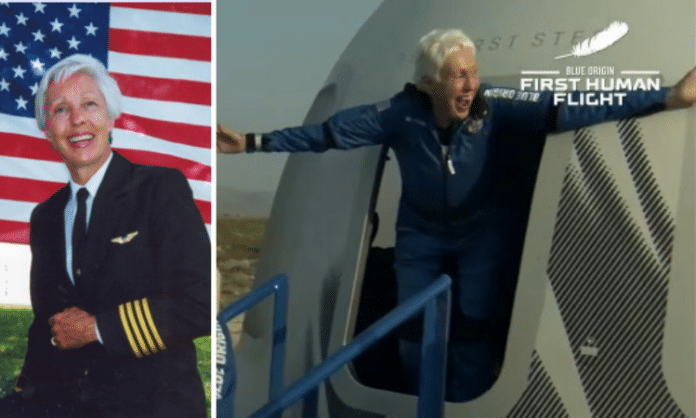 60 years after training to go into space, 82-year-old Wally Funk finally got her chance to go into space when Jeff Bezos accomplished his first successful crewed flight on his rocket in Van Horn, Texas.
"I'm positive – there's no worry. I will get up there somehow." – Wally Funk
After a 10-minute flight, Bezos' spacecraft successfully landed in a Texas desert on July 20 with his hand-picked crew of four. One crew member in particular, Wally Funk, became the oldest person – man or woman – to fly into space.
Funk is an 82-year-old badass who lives in Grapevine, Texas and was an original member of Mercury 13 – a group of 13 American pilot women who were privately trained to become astronauts for America's first human spaceflight program in the early 1960's. The program was scrapped after NASA denied the need for the program and none of the trained pilots were ever able to fly into space – until now.
Funk discovered airplanes at just 1-year-old when her parents took her to a nearby airport and immediately became intrigued. Over 20 years later, she became the youngest participant in Project Mercury which was meant to test whether or not women could become astronauts and this group of women became – you guessed it – the Mercury 13. While the women never did make it into space, Funk persisted and stayed true to her dream and her passion.
 "I'll be flying 'til I die." – Funk
Before Funk's historic trip into space, she still flew planes every Saturday instructing others while sharing her passion and skills. This unstoppable force doesn't look like she's stopping anytime soon – she's a true Texas force to be reckoned with. We can't wait to see what Funk has next in store!
__________________________________________
Featured image a compilation of a screenshot of a Twitter video from Blue Origin and one courtesy of WallyFly.com (Wally Funk's official website)