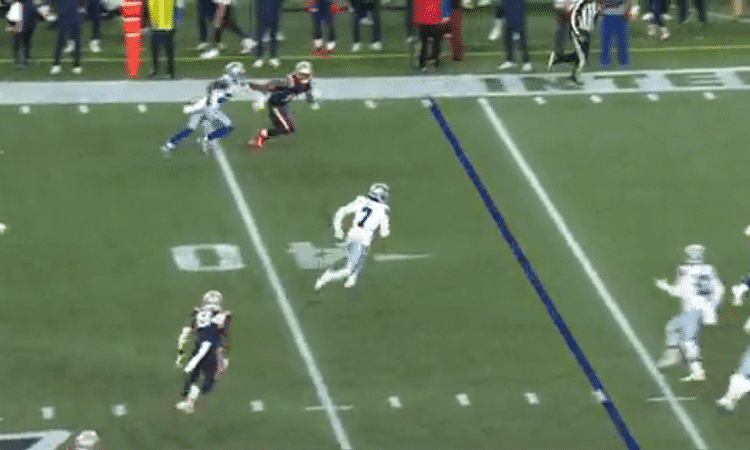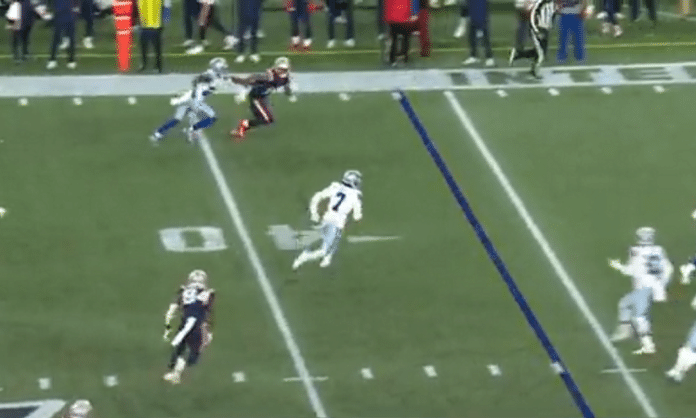 Trevon Diggs is absolutely amazing.
The Cowboys are down 20 – 21 and have just missed a field goal that would have put them in the lead, giving the ball to Mac Jones and the New England Patriots offense. Of course the Patriots want to score to try and widen their lead from a one point game to something more comfortable just in case Dak and the revamped Cowboys offense is able to put things together.
Watch Video Replay of the Interception Return for a Touchdown (i.e. Pick Six)
Trevon Diggs is freaking incredible pic.twitter.com/o6GBWpaGXv

— Ben Brown (@BenBrownPL) October 17, 2021
Trevon Diggs had other plans and picks off a pass from Mac Jones on just the second play of the drive, then returns it for a touchdown putting the Cowboys in the lead 27 – 21.
This makes his seventh interception in the past six games.
Wow.
The Cowboys would go on to win it 35 – 29 after a walkoff TD in overtime by Dak Prescott.
---
Feature image a screenshot of the video embedded above