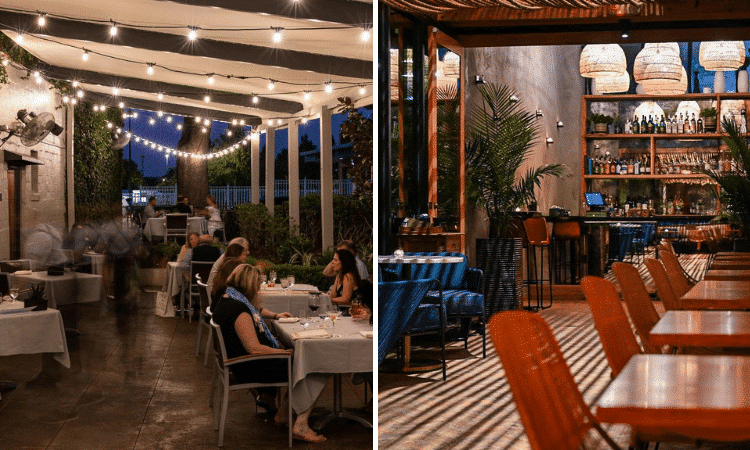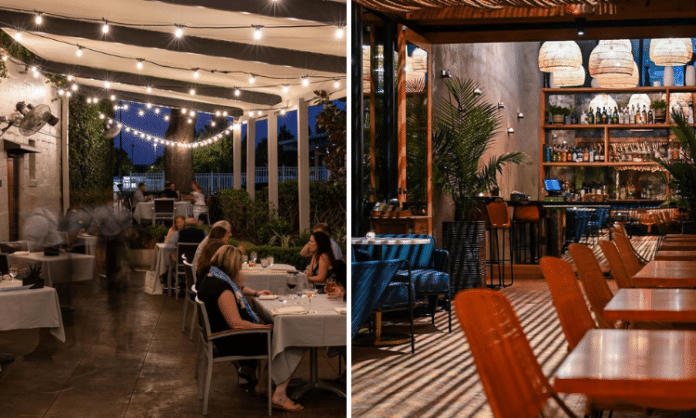 In Houston, it's no secret that the weather can be unpredictable. But, when those perfect patio weather days arrive or you just want to get some fresh air while dining or drinking, don't settle for just any patio. Choose the best patio in Houston! There's surely no shortage of patios around the Houston area but we've made it easy and did our own research to bring you this list of the best patios in Houston.
Views aren't the only things that make a patio experience great. We also considered other factors such as customer service, food quality, and more which you can read more about at the end of this article. Whether it's skyline views, hideaway spots, or luscious greenery – one of these patios is sure to be your next favorite in-town getaway.
Without further ado, here are our picks for the 11 best patios in Houston!
1. Tiny Boxwoods
3614 W Alabama St, Houston, TX 77027
Built in the middle of a beloved River Oaks nursery, this restaurant boasts beautiful and spacious lush grounds and rustic decor. Feel free to take a seat in one of its comfy loungers or tables or even walk around and enjoy the multitude of greenery sprawled across the space. Here, you can enjoy from-scratch food, a full espresso bar, creative cocktails, and even some delectable chocolate chip cookies. Tiny's is also a prime place for private events due to its beautiful backdrop, large area, and the food of course.
2. Backstreet Cafe
1103 S Shepherd Dr, Houston, TX 77019
Known for its diverse menu and distinctive dining space inside a 1930's era house, Backstreet Cafe provides picturesque views everywhere you look – including the patio. The legendary New Orleans-style patio has flowering shrubbery and a lovely fountain that'll make you feel cozy and comfortable. While you're here, enjoy some award-winning eateries and drinks such as Sunday brunch, wine & spirits, and cocktails accompanied by live jazz.
3. B.B. Lemon
1809 Washington Ave, Houston, TX 77007
Enjoy bistro fare while lounging in this spacious, open-air patio that includes string lights, a manicured lawn, and a pristine backdrop. You can also sit at any of the outdoor bar seats while enjoying the classic food and cocktail menu inspired by Houston and New York. B.B. Lemon's patio also has fans and heaters so no matter what time of the year, you can stay comfortable when visiting this patio.
4. Lucille's
5512 La Branch St, Houston, TX 77004
This locally-owned museum-district treasure has a semi-covered patio equipped with picnic tables and high-tops. They are well equipped with heaters and fans so you can comfortably enjoy the patio all year round. You can also enjoy the occasional live jazz alongside an array of fine Southern eats which adds to the cozy, welcoming environment.
5. d'Alba
3715 Alba Rd, Houston, TX 77018
The backyard-style patio at d'Alba hosts flat-screen TVs, a community firepit, and Adirondack chairs that might inspire you to renovate your own backyard. Along with its array of delicious seafood, craft cocktails, wine, and beer – you may find yourself here every weekend.
6. Bludorn
807 Taft St, Houston, TX 77019
This festive 1,800-square-foot patio boasts a luscious landscape full of greenery that can seat 36 people. Enjoy delectable tastes of French-inspired seasonal Gulf Coast dishes, global wines, and handcrafted cocktails. With state-of-the-art fans and heaters, you can enjoy this cozy, elevated environment all year round.
7. La Lucha
1801 N Shepherd Dr #A, Houston, TX 77008
La Lucha's large enclosed patio is the perfect spot to hang with friends. Casual seating and picnic tables are scattered around the space and are accompanied by towering live oak trees that really make you feel at home. While you're here enjoy some Gulf seafood, fried chicken, and more!
8. Gratify
5212 Morningside Dr, Houston, TX 77005
You can find this trendy covered, wraparound patio in Rice Village. Gratify's patio area has comfortable lounge seating that overlooks a lovely community green space that complements its contemporary indoor decor and upscale menu.
9. The Annie Cafe & Bar
1800 Post Oak Blvd Suite 6170, Houston, TX 77056
Annie's stylish dual-level patio has walls of ivy and oversized umbrellas that'll protect you from the Houston sun and give you a sense of coziness and relaxation. Fill up your plate with some Texas-influenced American cuisine created by an award-winning chef including brunch, seafood, dinner, or more paired with wines or cocktails.
10. Ostia
2032 Dunlavy St, Houston, TX 77006
Ostia's small but mighty 600-square-foot patio is filled with beautiful citrus planters, colorful Bougainvillea plants, and other greenery. While enjoying the lovely views of this open-air patio, you can fill up your table with cocktails and Mediterranean-inspired eats.
11. Casa Nomad
600 N Shepherd Dr. Suite 499, Houston, TX 77007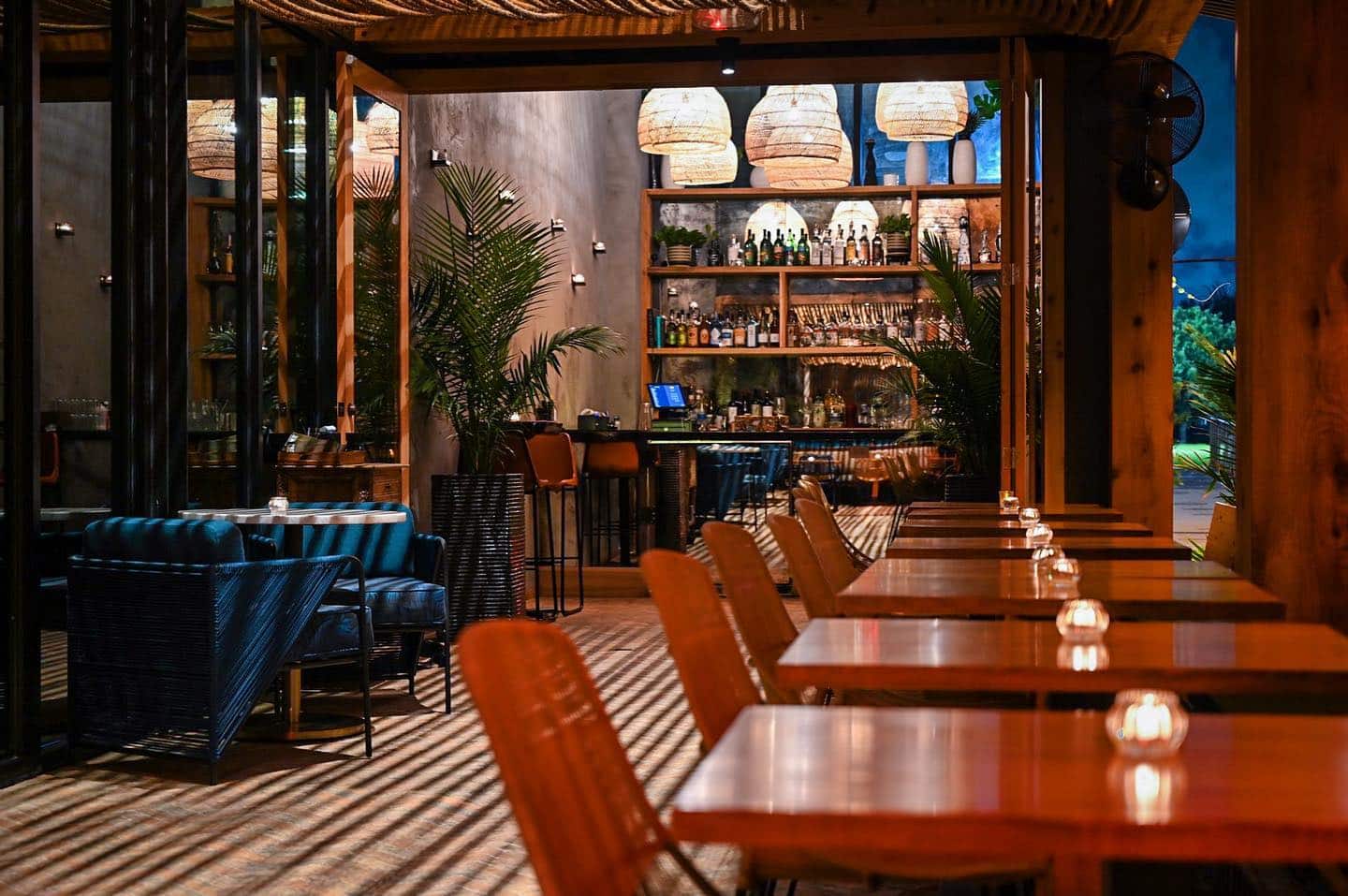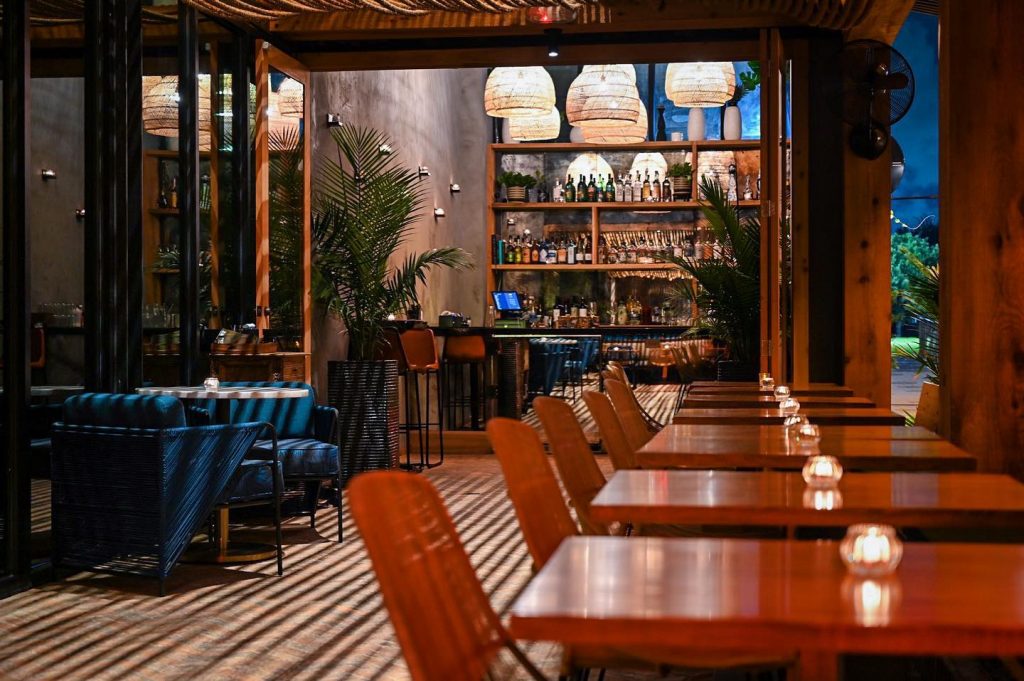 Mexican kitchen & lounge Casa Nomad is a Tulum-inspired upscale patio bar and restaurant. This 800-square-foot space emulates a tropical, boho-chic style with its canopy cover and its "jungle disco" music that accompanies its Mayan-inspired fare.
Did your favorite patio make the list? Are we missing any patios in Houston? Leave a comment below and let us know!
Methodology
Recent online reviews and photos from several sources (Google Business, Facebook, Yelp, and others) helped us determine how to score each patio location. We reviewed and ranked these Houston patios based on several factors:
Patio aesthetics (size, furniture style, layout, patio views, etc.)
Atmosphere (uniqueness, welcoming, liveliness, and location)
Food quality (uniqueness of food, flavor, presentation, pricing vs portion size, etc.)
Service quality (based on recent online reviews)
---
Featured image credit: (Left) Bludorn Facebook, (Right) Casa Nomad Facebook