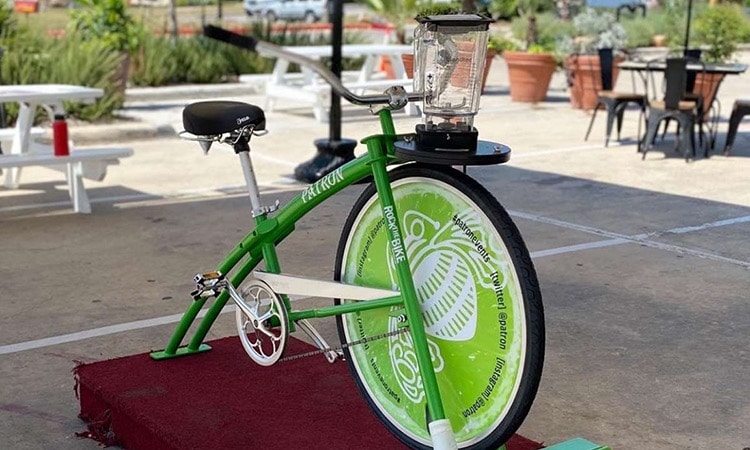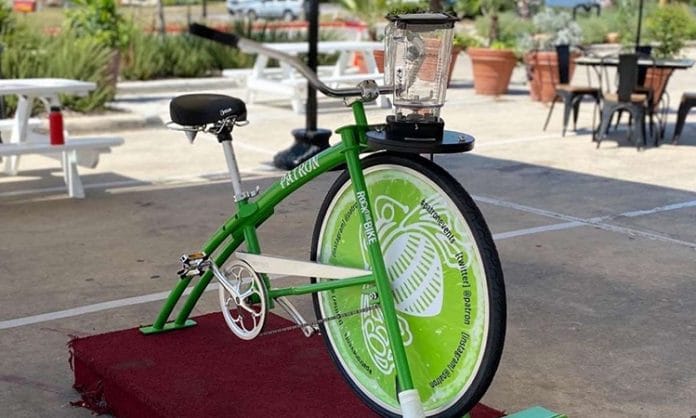 San Antonio is being taken over by a COVID-safe new trend, at least temporarily – margarita blending bikes.
Have you ever heard of blender bikes?
They're stationary bikes that have blenders attached to the handlebars, allowing you to blend your own mixed drinks just by pedaling!
Blender bikes have been popping up everywhere from Seattle to Boston, and now they're taking over Market Square in San Antonio.
La Familia Cortez, who owns San Antonio staples Mi Tierra and La Margarita, just installed two Patron and Casa Noble margarita bikes to help you get your drink on while working up a sweat.
"Just hop on the bike, pick your flavor and our bartender will fill up your blender. From there, you pedal away until your margarita is fully blended!" – La Familia Cortez Spokesperson
The bikes produce a perfectly blended 20 ounce margarita. Blending just one pitcher of margaritas burns off around ten calories, so you won't need to feel guilty about enjoying a round of drinks with your friends.
You can get a twenty-ounce margarita in traditional lime with tasty fruit flavors mixed in for just $10.
Once you're done blending your drink, you can take it to-go and explore historic Market Square, which has lots of shops and restaurants like Jesse's Jewelry and Viva Villa – and is open container certified.
The bikes will be in front of La Margarita in Market Square from 11AM to 6PM on Saturday and 11AM to 4PM on Sunday, so make sure to check them out this weekend!
Why this is a COVID-safe activity
It's located in an open-air space.
Only the bartender touches the pitcher area of the bike.
Bikes are spaced at least 6 feet apart.
Bikes are sanitized after each usage.
Address: 120 Produce Row, San Antonio, TX 78207
Website: https://www.lamargarita.com
Map to La Margarita