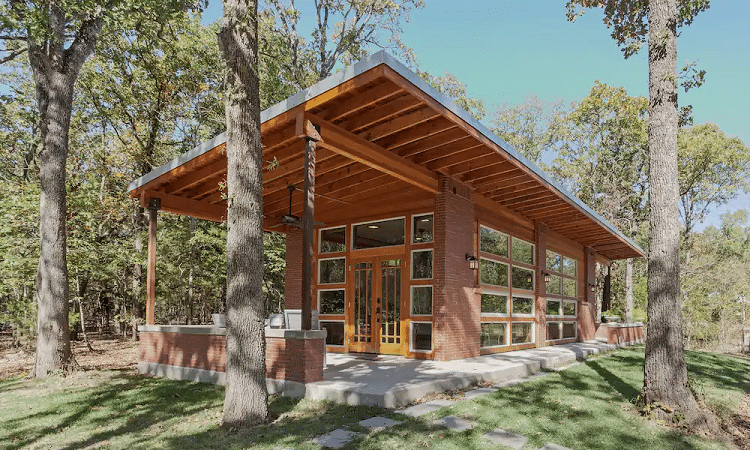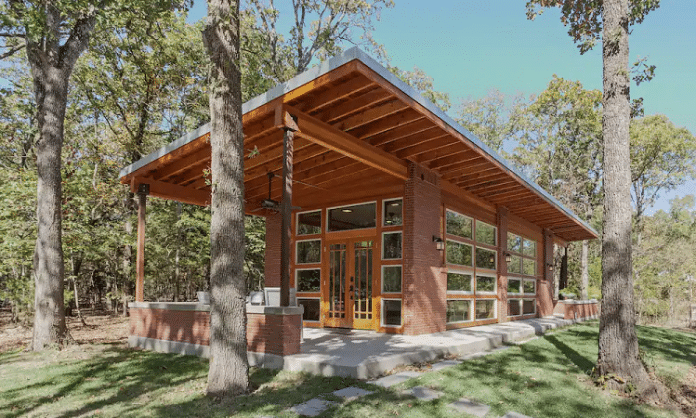 Out to the East of Dallas somewhere in the woods near Royse City, TX sits a "Wright House" cabin, that is a cabin built to resemble Frank Lloyd Wright's famous architectural designs. Architecture buffs love the clean straight lines, art deco aesthetics, and stained glass that make this cabin a one-of-a-kind stay.
We think this cabin makes for a perfect weekend getaway or a nice place to get a little fresh air and tech detox in. While the cabin has several great amenities, it doesn't come with WiFi, allowing you to unplug and enjoy the fresh country air.
The one-bedroom cabin is filled with windows to let the bright sun fill the room, except of course the bedroom and the bathroom, and to give you a view of the gorgeous wooded area that surrounds it.
You'll have a kitchen, fireplace, washing machine, dryer, air conditioning, and a TV on your stay. The main attraction however, sits out on the patio. Here you'll find the hot tub, situated perfectly to take in the scenery while melting away all of the stress and worry that come with living in the massive Dallas – Fort Worth metroplex.
What Texans Are Saying
"We stayed here right after our wedding ceremony. The place was beautiful. The Wright-inspired architecture was the big selling point for us but we really loved the hot tub. Perfect weekend getaway just at the outskirts of DFW." – Gian on AirBnB
The cabin currently has a 4.9 out of 5 star rating on AirBnB with 155 reviews at time of publishing.
It's the perfect place for a little digital detox, a post-wedding staycation, or just because you want to not hear sirens for one night. A weekend stay won't be inexpensive though. Each nightly stay in this glorious cabin runs $252.
To book this digital detoxing, architectural masterpiece, hot tub loving getaway check out the cabin's AirBnB listing.
Why this is COVID-Safe
The cabin is commited to AirBnB's 5-step enhanced cleaning process.
The cabin is operated by a "Superhost" meaning they are highly rated by AirBnB users.
As a one-bedroom cabin you won't be sharing it with anyone else.
The hot tub is outdoors giving you fresh air and a lower probability of contracting the virus.
Featured image via the AirBnB listing (see above)