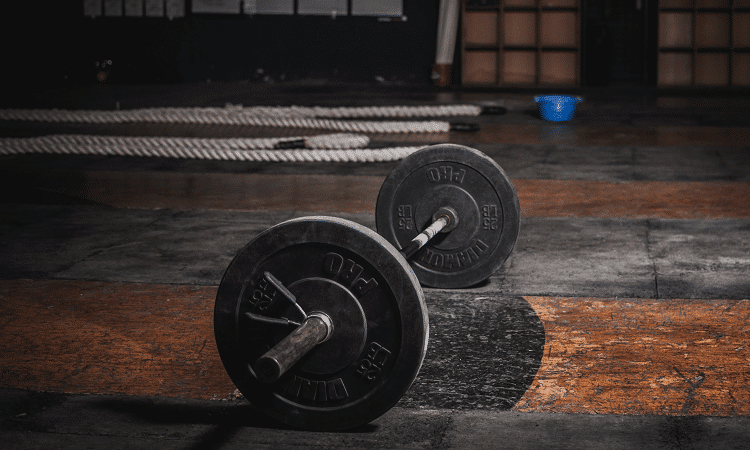 Everything is bigger in Texas, including our muscles apparently.
Texans. We love our Whataburger, brisket, and fried foods – but we also love to lift heavy weights. According to a new study conducted by Lift Vault, Texas has on average the strongest men and women in the United States.
The researchers used the Open Powerlifting database and looked at 5 years of powerlifting data (2016-2020) from every state in the USA in 3 different categories; Squat, Bench Press, and Deadlift.
The researchers only used the best full power performance recorded by a powerlifter each year to remove the possibility of a lifter moving to a new state and skewing the data during a calendar year. Powerlifters also had to be drug tested and over the age of 18 to count towards a state's average for that category for a specified year. Finally only the top 10 results were used in making the yearly average calculations in each category which were used to rank states. Averages were cacluclated for the Wilks coefficent and for weight in each category. The final rankings are based on Wilks with different rankings for each category as well.
Texas came in #1 in all categories of strength measurement
Wilks Score = 546.4
Avg Squat = 687 lbs
Avg Bench Press = 438 lbs
Avg Dead lift = 742 lbs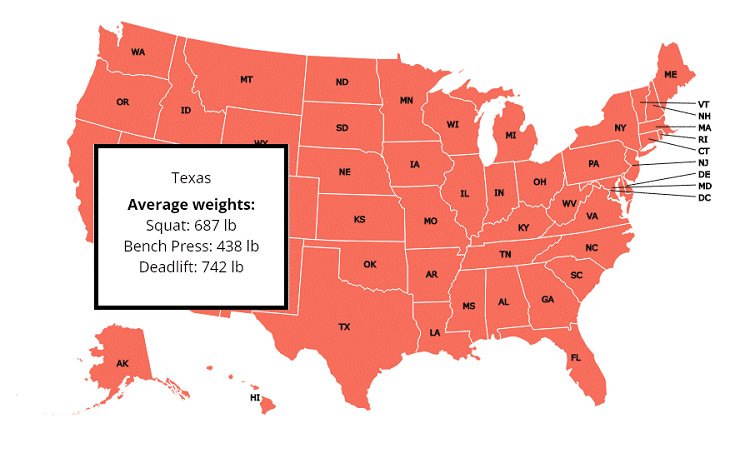 Here are the top 10 states for average bench press (in lbs):
Texas – 438 lbs
Ohio – 437 lbs
Arizona – 415 lbs
Missouri – 412 lbs
Alabama – 411 lbs
Georgia – 402 lbs
Florida – 398 lbs
Arkansas – 394 lbs
Indiana – 392 lbs
New York – 388 lbs
Here are the top 10 states for average squat (in lbs):
Texas – 687 lbs
Ohio – 670 lbs
Georgia – 648 lbs
Alabama – 638 lbs
Mississippi – 633 lbs
Missouri – 633 lbs
New York – 622 lbs
Louisiana – 614 lbs
Arizona – 611 lbs
Maryland – 608 lbs
Here are the top 10 states for average deadlift (in lbs):
Texas – 742 lbs
Ohio – 713 lbs
Georgia – 697 lbs
Missouri – 689 lbs
New York – 687 lbs
Alabama – 686 lbs
Louisiana – 680 lbs
Michigan – 674 lbs
Oregon – 672 lbs
Minnesota – 664 lbs
Texas is home to famous bodybuilding gyms like Metroflex in Arlington, TX and eight time Mr. Olympia winner Ronnie Coleman.
Other states of note: California came in 4th overall (in Wilks score) even though they didn't crack the top 10 of any category. Oklahoma came in 37th overall (in Wilks score). On average Californians weighed 40 lbs less than Texas lifters (167 lbs vs 207 lbs) and Oklahoma lifters weighed 3 lbs more than Texans.
Featured image via Pexels