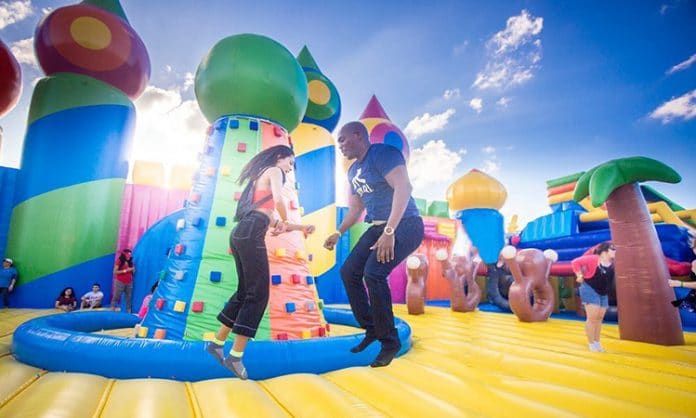 Big Bounce America is making all of our childhood dreams come true! They're bringing a huge inflatable theme park to Texas this spring that's made for both kids and adults.
The theme park will feature four inflatable attractions, including the Guiness-certified world's largest bounce house. It's 32 feet tall and has 13,000 square feet of jumping space. It's so big you could practically get lost in it!
The other attractions are just as awesome. There's a 900 foot long obstacle course, an inflatable sports arena with dodgeball and basketball, and a space-themed bounce house complete with ball pits and slides.
This traveling inflatable theme park will be in Dallas for three weeks from March 21st through April 5th. It's only open on weekends, though, so keep that in mind when making your plans!
After that, the theme park is packing up and heading to Austin. It'll be there for another three weekends to give Austinites a chance to bounce around and have some fun!
Tickets for this event are $35 for adults, $27 for kids, and $17 for toddlers, who must be accompanied by an adult. Tickets include a 3 hour bounce session with your age group in the world's biggest bounce house, plus unlimited access to the three other inflatable attractions.
Make sure you wear comfortable clothes so you can move around freely and socks—you won't be allowed into the bounce houses with bare feet!
Website: https://thebigbounceamerica.com/