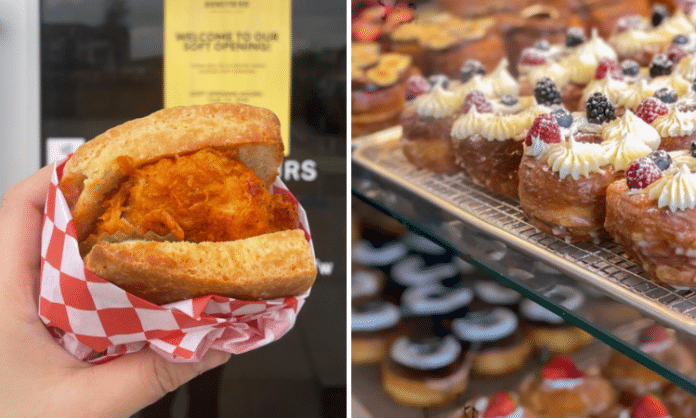 Nashville fried chicken and gourmet donuts have finally made their way to Flower Mound, Texas.
Restaurant-owner and University of Houston graduate Debbie Park is bringing the hot fried chicken craze to Flower Mound through a takeout breakfast restaurant concept. Open from 7am to 7pm daily, Honeybird Sandwiches + Donuts is finally debuting its breakfast sandwiches, lunch fried chicken sandwiches, and one-of-a-kind donuts.
In addition, breakfast biscuits have also become part of the menu in the form of Tillamook cheddar-topped eggs and fried chicken drizzled in honey. For those with a sweet tooth, some of their special donut flavors include cookies and cream, tiramisu, birthday cake and lemon poppyseed.
On top of providing a variety of mouthwatering meals and donuts, Honeybird Sandwiches + Donuts also offers customers the option to conveniently schedule pick-ups for their meals through online means. With this, diners can now enjoy mouthwatering food without having to worry about their own safety. True to their takeout concept, customers can just grab their meals and go.
For more information (or if you're simply hungry and looking to grab a quick and delicious bite), all you have to do is head on over to their official website here.
You can visit them in at 801 International Pkwy Suite No. 520, Flower Mound, TX 75022.

Featured image credit: Honeybird Instagram as embedded above