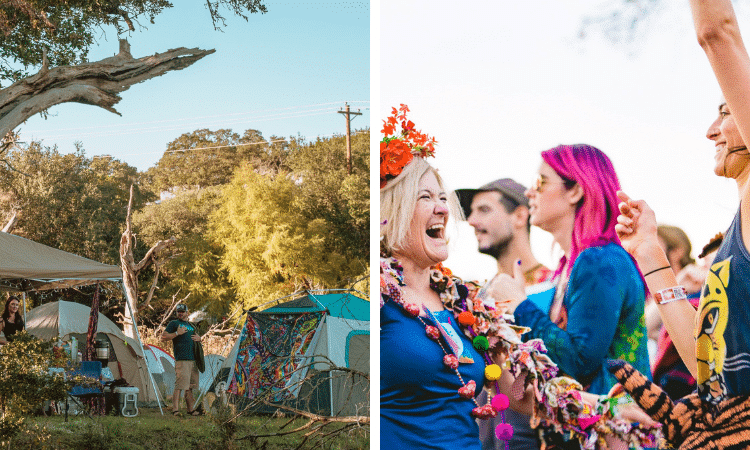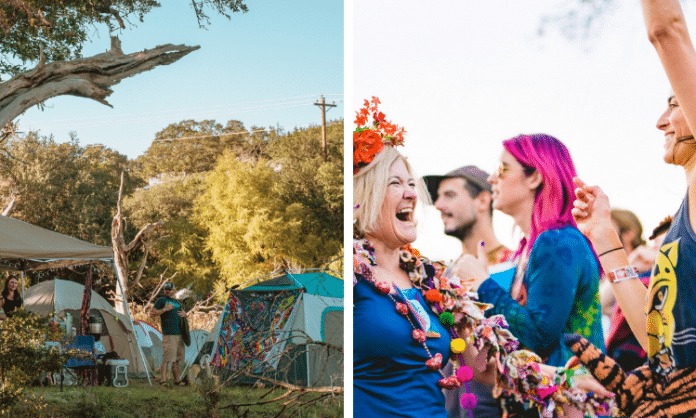 This ultimate music and camping experience is dedicated to providing everyone (families, non-families, adults, and kids) with breathtaking scenes, fun camping activities, and mind-blowing musical performances. 
Do you want to camp out and enjoy days of intimate, interactive art and music? Don't miss listening to your favorite artists play and enjoy the beautiful scenes of Texas nature at this years 12th Annual UTOPIAfest from Thursday October 14 to Saturday October 16.
What began as a simple gathering of music lovers on a ranch in Utopia, Texas has evolved into a community of doers, musicians, and creators. UTOPIAfest is a unique music festival with an ultimate camping experience you, your family, and your friends won't soon forget. This year, UTOPIAfest returns to Reveille Peak Ranch and you will have many options on how to enjoy the weekend.
What UTOPIAfest offers
Aside from beautiful scenery and soul-grabbing music, you will enjoy a curated beverage and culinary experience, art installations, and workshops. Take a sip of Texas-made wine and spirits in an immersive grove and celebrate the spirit of the fest. In addition to the usual BYOB (Bring Your Own Bottle), two no-overlapping main stages, free car camping and parking, there will also be hiking, disc golf offerings, and guided mountain biking. You will have the freedom to roam around the beautiful Texas hills and take some awesome photos to show off and hang in your home.
Activities like craft vending, yoga, and silent disco await you too. You will also gain access to the nearby Highland Lakes for cooling off before the stages kick off each day. Late night jams at Tank Fete will also be accompanying your nights. In addition to a laid-back festival experience, you will also experience presentations and workshops from throughout the weekend including workshops about mandala art, music, songwriting, nature walks, and more!
The fest is always family-friendly and open to festival goers of all ages including a kid zone activation. Budget-friendly ticket prices for teens and your little ones are available. You can even request group discounts by contacting the organizers. You can also the continue the UTOPIAfest magic with a utopian afterparty on Sunday, filled with gourmet food and great music.
Overview:
What: 12th Annual UTOPIAfest: The Return
When: Thursday October 14 – Saturday October 16, 2021

Activities and musical performances occurring at different times throughout the days. See below for details.

Where: Reveille Peak Ranch, 105 Co Rd 114, Burnet, TX 78611
Who: Family friendly (all ages)
Tickets: One to multi-day passes + RV parking passes. You can buy tickets here.
More info: Music, camping, nature activities, art, workshops, silent disco, late night acoustic performances (12am-5am), Texas-made wines, and BYOB.
For more information, visit the official event website here.
Here's the main lineup on the two stages: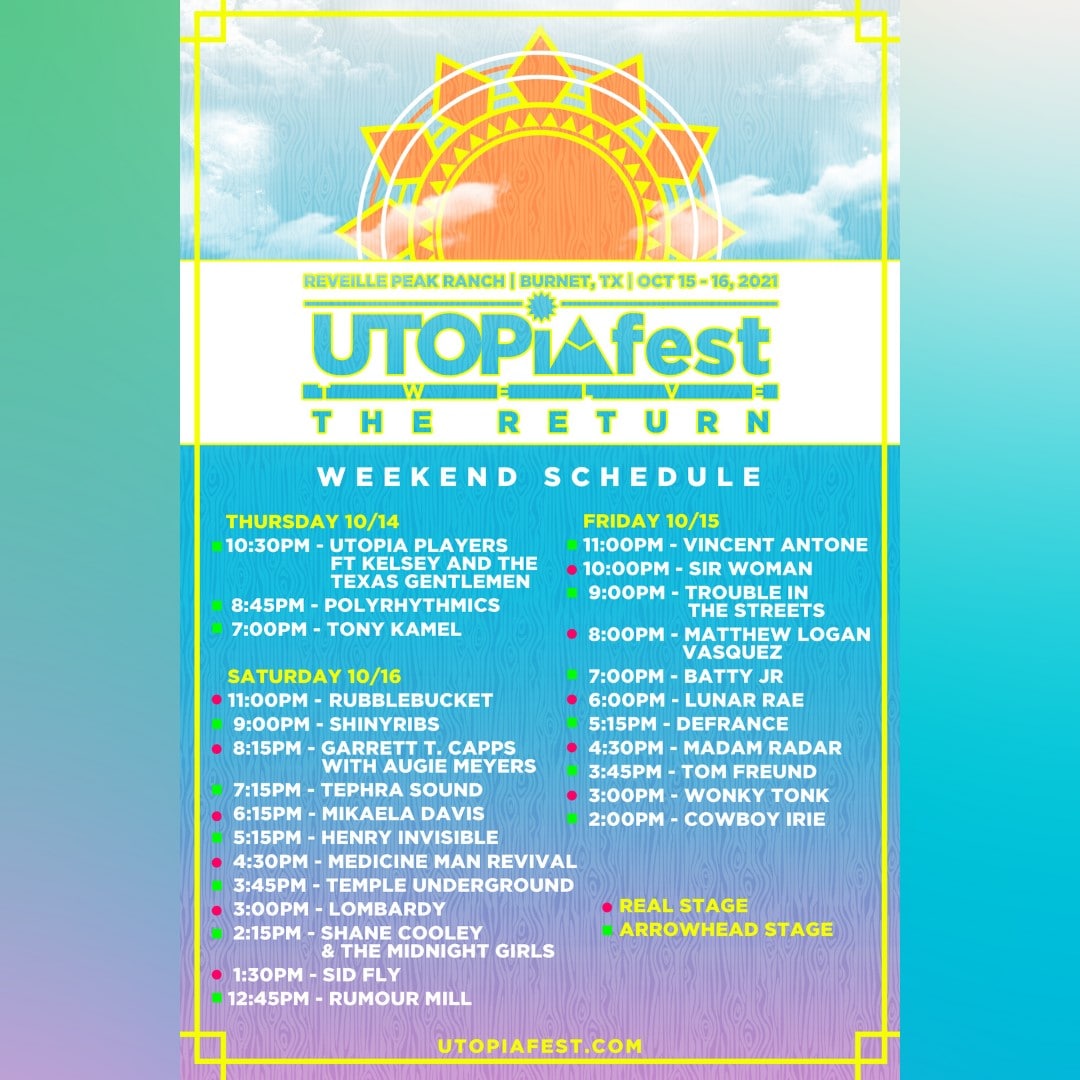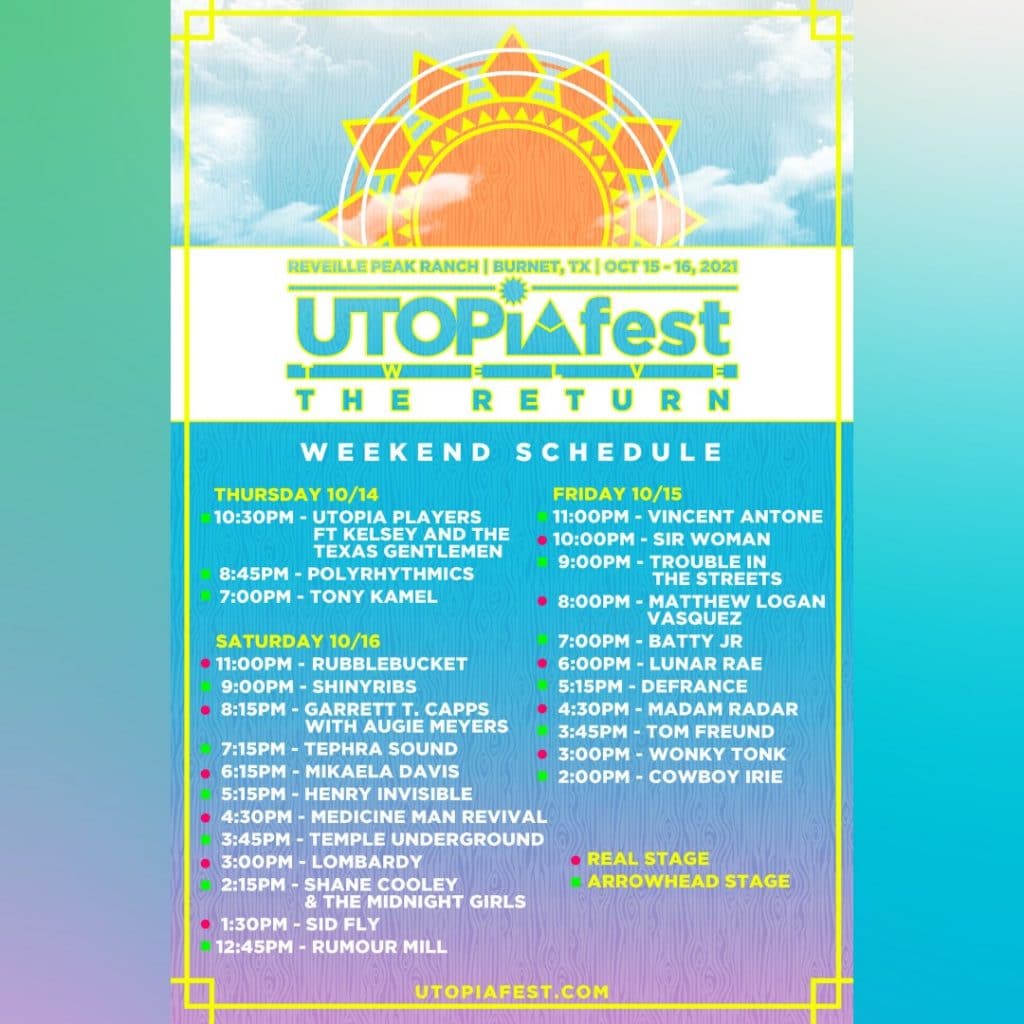 To view the other lineups (including the late night acoustic performances, the silent disco, and the workshop schedule) click here.
Now that you already have a glimpse of the utopia that awaits you in Burnet, TX, do not waste more time. Pack your things and hit the road to enjoy a beautiful weekend at UTOPIAfest 2021!
---
Featured image a collage of photos courtesy of UTOPIAfest