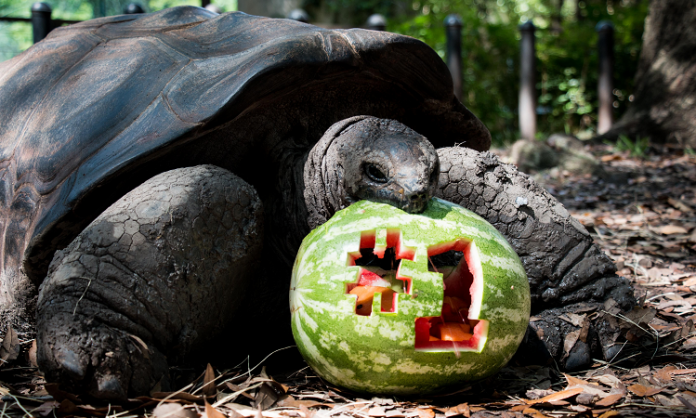 Fort Worth, when you think about the city you might think about cowboy hats, boots, honky tonks, brick streets and rodeos. If you're from the area though you might think of something else – the Fort Worth Zoo. Established in 1909, the Fort Worth Zoo is one of the oldest in the state and for years it has been ranked one of the top Zoos in the country. Now they have a shiny new honor to add to their long and illustrious history – The best Zoo in the USA.
The list was published by USA Today and was created by consulting a panel of 20 experts and then asking the public to help vote for various Zoos across the country. When the dust settled only one Zoo could take the top spot and this year the honor went to the Fort Worth Zoo.
While the Zoo has long been given accolades like being named the #1 attraction in Dallas-Fort Worth by Zagat, this is the first time they have ever topped any list of best zoos beating out other greats such as San Diego Zoo, the Henry Doorly Zoo, and Brevard Zoo.
The accolade comes during the worst global pandemic in a hundred years and as the Zoo is building out a major new addition that will triple the size of their elephant exhibit. To celebrate the zoo gave some of their animals special #1 enrichments shown in the gallery below.
[Gallery] Fort Worth Zoo Animals Celebrate Being the #1 Zoo in the Country
(click a photo to start the gallery)

The experts assembled noted the Fort Worth Zoo's dedication to animal care and enrichment while making major strides in providing meaningful interactions between humans and animals.
Fort Worth wasn't the only Texas Zoo in the USA Today Top 10 list, the Dallas Zoo on the other side of the metroplex came in at #9. Here is the full list of Top 10 best Zoos in order: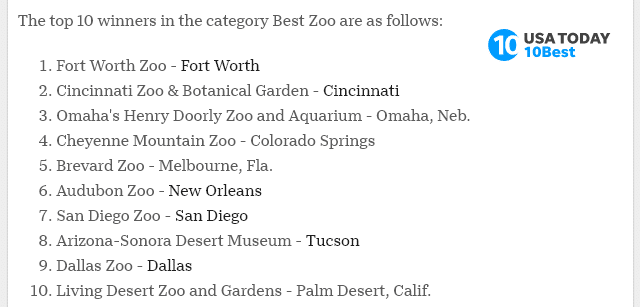 The Fort Worth Zoo sees over 1 million guests each year.
The zoo is currently open, but you do have to make a reservation in advance.
Face masks are required to worn at all times to currently be at the Zoo.
Get tickets here: https://www.fortworthzoo.org/
Map to the Fort Worth Zoo

Animal photos courtesy of the Fort Worth Zoo
USA Today 10 best list a screenshot by Texas is Life with logo added