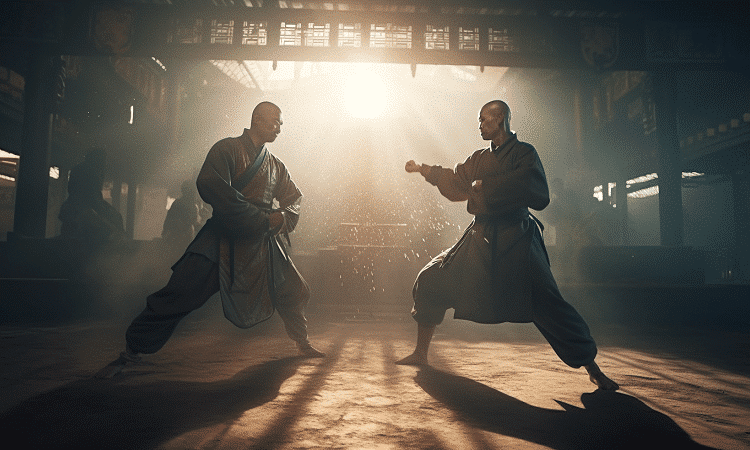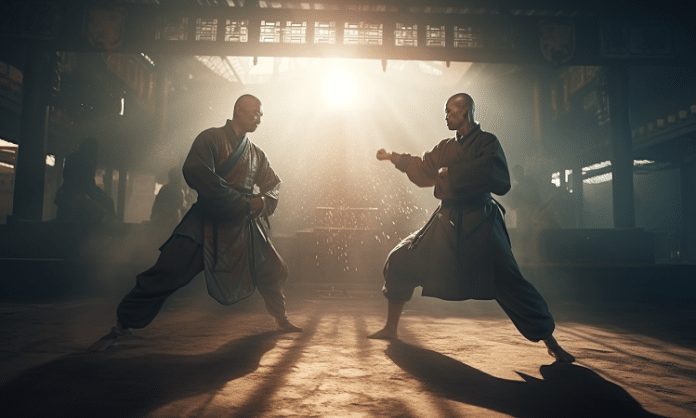 Hidden Texas: This article is part of our series "Hidden Texas" which seeks to illuminate groups and communities in Texas that most often are not recognized and that you probably never see or hear about.
Every spring in Texas the bluebonnets start blooming, Texans start dreaming of bbq, Blue Bell, baseball, and river floating but a small group of Texans and some folks from around the Texas region start thinking about something different – Who has the best Kung Fu skills.
And yes, you can get spectator tickets: https://www.kungfucompetition.com/
Since at least 2013 Kung Fu martial arts schools have been sending their best students to Houston, TX to compete against each other in both skill demonstrations and in sparring with proceeds going to fund a scholarship program. This year we went down to Houston to explore this part of Texas culture, meet some of the contestants, watch in awe of some of incredible skill on display by kids, teenagers, and adults – and to take in the beauty and brutality that is Chinese Martial Arts.
The event was held at the Marriott Westchase hotel in Houston which is near to Houston's Chinatown and which has played host to the event for years now. The competition occupied large parts of the ballrooms, the floors covered in padded carpeting and taped off for various events.
While this is a Chinese Martial Arts event like many things in Texas today it drew competitors from a variety of different ethnic backgrounds all training at a Kung Fu school in Texas or somewhere in the USA.
Competitors competed against each other in divisions broken out by Age and Gender and for sparring also by declared skill level and weight class. The competitions included:
Traditional Kung Fu
Traditional Kung Fu Southern Styles
Wushu
Wushu Southern
Traditional Tai Chi
Competition Tai Chi
There were added categories for sparring for example "Push Hands" which comes from Tai Chi. Then these were broken down by age range, skill level, and weight class.
Our work followed one school the closest out of Dallas, TX. Lee's White Leopard Kung Fu School, a Dallas martial arts school led by the famed Kung Fu Grandmaster Johnny Kwong Ming Lee. Master Johnny Lee has been teaching in Dallas for over 20 years now, he originally immigrated to the USA from China in the 1970's and taught in Louisiana for a while. His school is lined with photos from his early years, photos of him with Chinese-American celebrities like Jackie Chan, and reminders of his schools illustrious track record of training martial arts champions (one of his students won a kickboxing tournament recently too).
By the end of the tournament the school would have 4 Grand Champions and several gold medalists.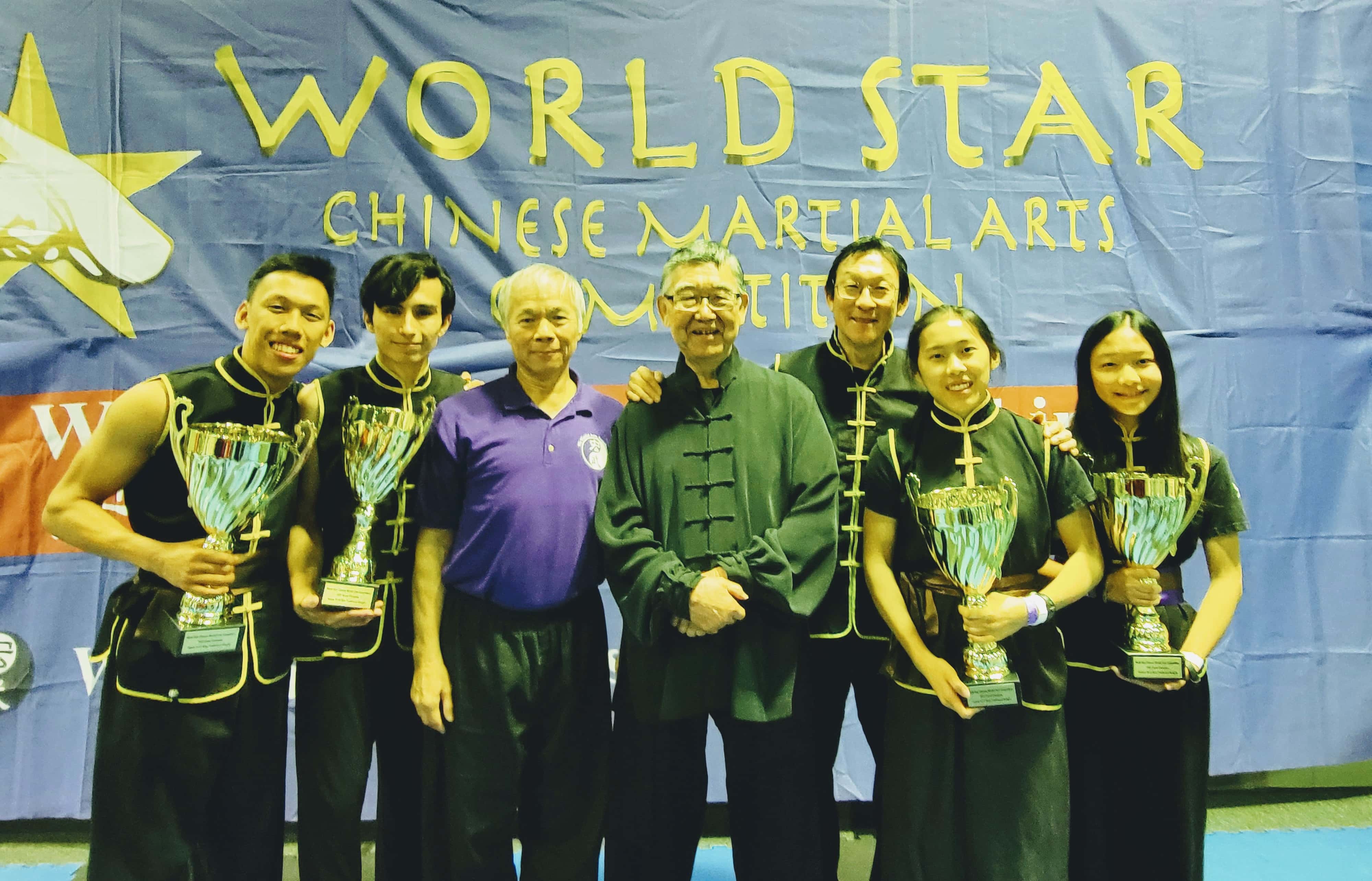 Though it was difficult to keep our focus on any one competition as at any point in time there were about 8 different contests taking place, we did our best to pay attention to what was going on to help you better understand this event in case you wish to spectate in the future.
While their website claims this is a 3-day event, it really all went down on days 2 and 3 (day 1 is for workshops and competitors getting settled in).
It all starts with a scene that brings back memories of classic 1970's Kung Fu movies with all of the competitors from each school filing into the large ballroom as their school is announced. Then the attending Kung Fu grandmasters, sifus, and judges are introduced.
The competition kicked off around 9:30am and after the introduction the kids competitions all began. The event moved in order of the youngest competitors (aged 7-9) to the oldest competitors (46 and up). As you might imagine there were a LOT of kids at this contest but not as many adults (at least competing) meaning the kids portion took a majority of the day before the teenagers and then adults started competing.
Kung Fu Demonstrations
Even if you were there just to spectate however, the youngest kids put on quite a show. Between the demonstrations of Kung Fu techniques and the sparring the kids showed grit, determination, and fortitude at levels you probably would be surprised by.
The teenager competitions are where the skill started to become mind-blowingly awesome with spectacular displays of weapons skills, high flying kicks, and amazing form demonstrations akin to what gymnasts might call a 'floor routine' all with staffs, swords, spears, etc… in their hands.
Some schools and competitors went for more of a dramatic flare to their demonstrations, others tended to stick to their classic Chinese martial arts fundamentals with less flare and more focus.
We found out that the ultimate goal of many of the competitors at this event are to be named Grand Champion in their age and division. This apparently requires routinely scoring highly on multiple different types of demonstrations while also impressing the judges (the requirements to be named Grand Champion are not clearly defined on the website so we are not exactly sure what all it takes). We noticed several of the competitors going after this goal having to do multiple events one after the other, tired, sweating.
Kung Fu Sparring
Over on the sparring side of things there was less flare and frequently less of that Kung Fu style us Americans have come to love. The competitors in sparring all had to wear padded helmets, feet covers, mouth guards, and hand covers. The padded hand covers made it hard to do things like grabbing or using palms and reduced most competitors to punches. Some competitors opted to wear chest padding and shin padding which seemed to make them act less like Kung Fu fighters and more like invincible boxers.
The judges had strict rules on contact, all competitors were instructed to only use medium contact at most and had clear areas of the body where they were not allowed to make contact such as the back of the head. Some moves were also completely banned as they might cause concussions or other serious injuries. One judge even stopped a fight to discuss this when the adults were sparring and expressed the reasons for all of the rules and was cheered by the fighters and the crowd. We also watched as one teenage competitor was disqualified for too hard of a kick to the side after having received a warning already.
The sparring here was meant to be friendly yet aggressive, but also help fighters demonstrate their skill and use their style as best the could given the constraints.
To score the sparring matches a judge was in each corner and would wave a flag at the end showing who they thought won the round. Each match was a best 2 out of 3 rounds and each round was a continuous 2 minutes with breaks only if deemed necessary by the main fight ref.
In many of the sparring matches the rules didn't stop some excellent Kung Fu moves from being showcased. In one event a black belt took on a purple belt and landed excellent kicks while dodging everything else the purple belt tried to throw his way. Still, it seemed the judges didn't score much for style points here and that plus the added padding seemed to make most competitors focus on getting in as many hits as possible or getting their opponent to the ground or out of bounds (this is not a Jiu Jitsu tournament so no ground fight was allowed, this would lead to a stoppage and quick reset of the round).
One of the best things that came out of watching the sparring tournaments was the kids to teenagers learning to get back up after getting knocked down. We witnessed boys and girls of all ages taking a shot (at medium power of course) and going to the ground or getting a little wind knocked out of them. All of them got up, often with the encouragement of their parents, teachers, and classmates and kept fighting. Some of them even won.
If it's Hollywood-style Kung Fu fighting action you want, this probably isn't the event for you to spectate at, though it is there it could be hard to see. While there was the occasional harder than acceptable punch or kick, the judges and the event team did a great job of keeping it to a minimum so there were no major injuries or incidents.
The Push Hands fighting was also intriguing to watch, though it wasn't our main focus. Here the competitors simply tried to move the other over a line (we think, hey we were just watching ok).
Who Should Attend in the Future
This is probably not an event for random third-party spectating. The event is 100% focused on helping students showcase and improve their skills and to highlighting Kung Fu schools around Texas and other parts of the USA.
However, if you have a niece/nephew, a friend, or family member participating it is quite the unique and interesting experience to take in. If you do go you should also know that there are not any spectator seats, you'll be standing most of the time and moving from event to event to follow your student.
Thanks to the Wu Martial Arts Association and Lee's White Leopard Kung Fu for allowing us to attend and write about this event. Y'all are pretty dang talented.
---
Featured photo via MidJourney
Grand Champions photo via Kim Ly