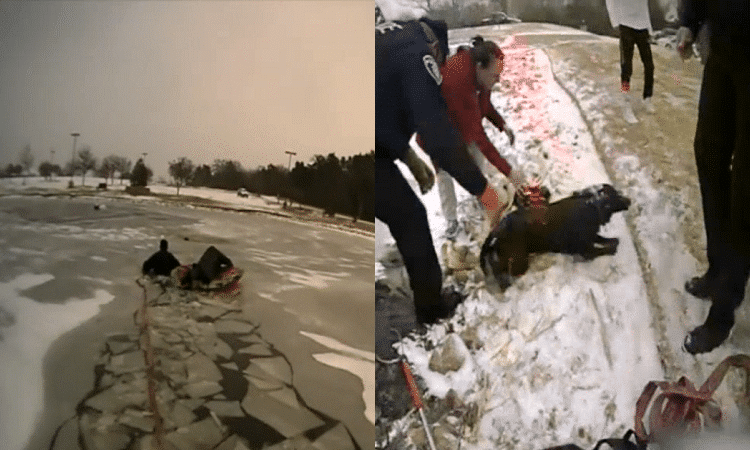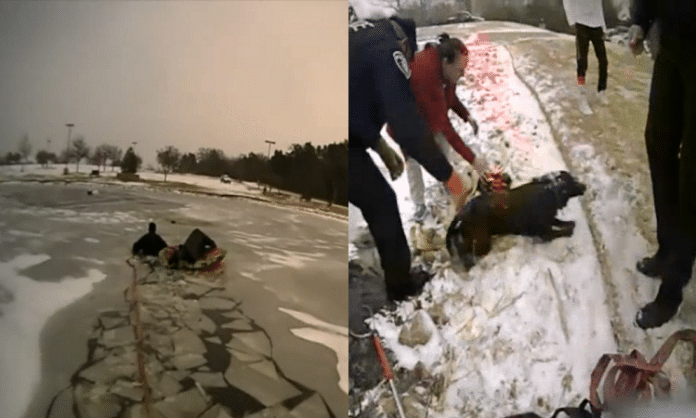 Police officers in Southlake, Texas rescued a black laborador that was trapped on a frozen pond during Winter Storm Uri and it was all captured on a police body cam.
The retriver named Shadow was caught out in the middle of the pond hanging on to a chunk of ice when the officers arrived, most of his body was in the frigid waters of the pond. At first the officers tried calling out to Shadow to get him to swim to them and he let go of his ice and tried to paddle towards his rescuers but got stuck again. Sensing his situation was becoming more dire he started yelping and crying out for help.
One of the Southlake officers then took action and started busting up the ice with a police pole befor wading out into the pond. Slowly, while attached to a rope the officer moved towards where Shadow was stuck while other officers held the rope on shore.
Once he reached the trapped dog the officer was able to get him on to a floation device and called out for the other officers to pull them back to shore. Shadow mdae it to shore, was dried off and returned safely to his family.
Thank you Southlake Department of Public Safety!
Watch the Video

WATCH: Southlake officers rescue dog clinging to sheet of ice in frozen pond: https://t.co/ysKtk7r0yI

— NBC DFW (@NBCDFW) February 18, 2021
Thanks Y'all
This story was originally broken by Holley Ford of NBC 5. Read the NBC 5 article here.
Featured image a compilation of screenshots from the NBC 5 video embedded above