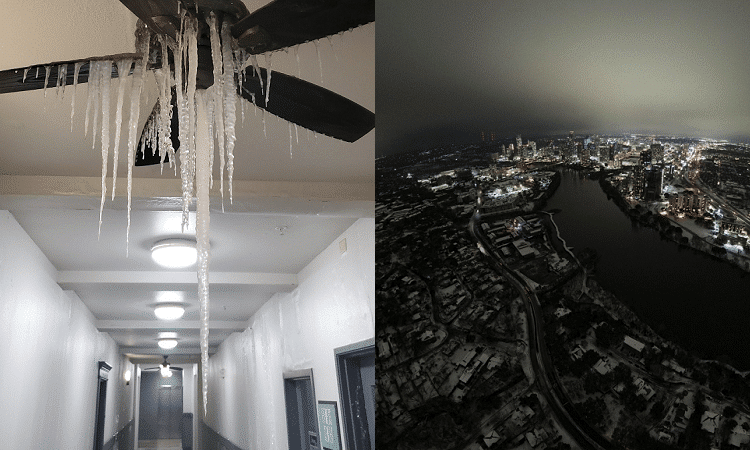 Winter Storm Uri has blanketed nearly the entire state in sub-freezing temps, snow, and ice. Plunging temps pushed millions of Texans into darkness, burst water pipes in homes and businesses, and caused frightening accidents on our streets and highways. Through it all many Texans have kept up their spirits by takings pictures, pulling off stunts, creating memes, and trying to make the best of it all.
From heartbreaking, to hilarious, to breathtaking here is how Texans are experiencing the extreme winter conditions.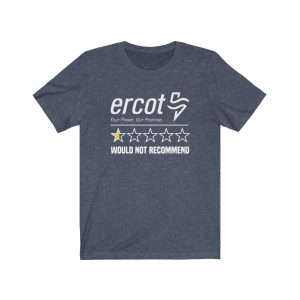 BUY THE ERCOT REVIEW SHIRT HERE
1. Waiting in long lines on snow covered roads to get Whataburger

2. There are icicle ceiling fans in apartment hallways
This is how cold it is at my Apartment.

As a Texan, yes, I'm certainly not built for this. I don't even care. pic.twitter.com/FMt8imglJp

— 𝐓𝐇𝐎𝐌𝐀𝐒 𝐁𝐋𝐀𝐂𝐊 ☩ (@ThomasBlackGG) February 16, 2021
3. Water pipes are busting in homes causing flooding
Water main busted in my attic. Whole house flooded. Fun times. pic.twitter.com/2gcf3G9ec5

— Rae Hoffman (@sugarrae) February 16, 2021
4. Some Texans are doing the "Snow Angel Challenge"

5. In Austin, TX some folks are walking on I-35
I-35 in Austin, 2/16/21. Photo courtesy Nathan Gogo. from texas
6. Playgrounds are covered in ice
Sympathies from Houston. It's terrible here pic.twitter.com/JKY1jn6BIg

— 🌸Beau (@PastureSociety) February 16, 2021
7. Some trucks are being completed burried in snow
8. Can't drive to the H-E-B? No problem just walk it and hang out in line with other Texans
Update: Still no power. It's impossible to drive out of our apartment complex so we started walking the 4-mile round trip to HEB — this is the line wrapping behind the building. pic.twitter.com/AQGUiRwxfm

— alex briseño 😷 (@alex__briseno) February 16, 2021
9. Dads are standing on their frozen pools
please appreciate this photo of my dad standing on top of our frozen pool in dallas, measuring the thickness of the ice with a tape measure 😂 #DallasWeather #dfw pic.twitter.com/DanZ9fpRjc

— diana✨ (@xdianarose) February 17, 2021
10. Some Texans are even playing hockey like some kind of Canadians
🗓 February 15, 2021
📍Knox-Henderson, Dallas.
🌡12°
🎥 @TayStern pic.twitter.com/IpNj5vH61i

— 𝙻𝚊𝚞𝚛𝚊 𝙰. 𝙷𝚊𝚛𝚛𝚒𝚜 (@LauraHarrisNBC5) February 15, 2021
11. Crawfish pots double as great ways to bath your kids with melted snow water
Y'all… I cannot. I'm dying. With no water service, my sister just used their crawfish pot to melt snow and warm up the water in order to give the kids a bath tonight.
😂😂😂#Snowmageddon2021 pic.twitter.com/fjf75lIVB9

— Danielle (@dmanning283) February 18, 2021
12. Some are making large "art" pieces in the snow
🍆🍆 Wild times here in Phallus, Texas. 🍆🍆#dallasaf pic.twitter.com/iiKx6L9h3i

— Central Track (@Central_Track) February 18, 2021
13. Water fountains are freezing over in parks
This is the water fountain at Pensive. It appears the misters on the fountain have frozen. @CityOfDallas @DallasParkRec have been notified. Thanks to a few of you for reporting this! pic.twitter.com/AQyqYp3XrJ

— Northaven Trail (@NorthavenTrail) February 17, 2021
14. Some Texans are using their drones to showcase how the blackouts are impacting residential neighborhoods versus downtown districts like this one in Austin, TX
I took my drone out last night. An island of light (Downtown Austin) amid a sea of blackout… from texas
15. Filling a bathtub with snow to melt and save for toilet flushing is a thing right now
Damn never thought about this. 🤔

Pro tip compliments of my neighbors: if your water is shut off or pipes are frozen, fill your bath tub with snow and use the water for your toilets 🚽

To all my northern friends, don't judge us. We are learning the hard way 😂 pic.twitter.com/dg69dU1mbE

— ⚖️ 💛I HONOR VETERANS (@veterans_i) February 17, 2021
16. Camping in your living room is one way to help stave off the cold
It is 43 degrees inside my apartment and it's looking like I might not have power until tomorrow. I'm losing about a degree every hour or two inside. Luckily I have an all-season tent that (kinda) fits in my living room where I plan to sleep so this is where we're at #TexasFreeze pic.twitter.com/4xEbHNQB6b

— Sarah Asch 🦇 (@sarahradinasch) February 15, 2021
17. Adding an indoor waterfall is as easy as not letting your pipes drip during the freeze.
Shocking! 😱 Turn up the volume!

Pipes busted from freezing. (Denton, Texas)
Please, If you are in Texas and you have not done so, let a couple of faucets drip until the freeze is over! #TexasFreeze #Texas #Denton pic.twitter.com/PE9Fy9jv7w

— Anas Alhajji (@anasalhajji) February 15, 2021
18. Some Texans are taking advantage of frozen public trails for sledding.
Sledding on the trail. 📸 by Justin Epker. pic.twitter.com/vhsY0aAkbU

— Northaven Trail (@NorthavenTrail) February 15, 2021
19. Water pipes in parking garages are bursting, freezing, and trapping cars.
Texas 2021 from texas
20. A few Texans are even breaking out sick snowboarding moves
21. Building massive blanket forts for the family
The evolution of New Alamo, our monstrosity of a blanket fort after 51 hours without power. Currently home to five. from texas
22. Taking a little time to help each other out.
I just skid off the road into some icy mud because of the black ice, and in less than a minute, two different trucks stopped and helped me get my car out of the mud. Texans really the best people, I love it here. pic.twitter.com/O60XQti83W

— TK JoeCrush (@JoeCrush5) February 17, 2021
23. Getting resourceful to get down the ice covered stairs
In San Antonio here. We had nothing else on hand, so we poured grits on our frozen slippery stairs to get traction. It worked. 😎 pic.twitter.com/VIXDWKUk2b

— stimptown 😎🏳️‍🌈💛💚 (@stimptown) February 15, 2021
24. Gawking at once-in-a-lifetime snow on Galveston beach
Oh, you know just your normal snow on the beach in Galveston, Texas. pic.twitter.com/wm9z8gZ1po

— Kevin Lighty – WCIA 3 Chief Meteorologist (@KevinLighty) February 15, 2021
25. Driving through blinding snowy highways
This was Houston, Texas on February 15, 2021. Unreal. pic.twitter.com/QOSDIMikVI

— Daniel Gotera (@DTGoteraKHOU) February 17, 2021
26. Dealing with water freezing in the bathtub
Water stored in the bathtub froze solid last night. That's how it's going in Dallas. pic.twitter.com/cJdUMDT6pN

— Brandon Friedman (@BFriedmanDC) February 16, 2021
27, 28, and 29. Dealing with frozen toilets
Y'all ever seen frozen toilet water pic.twitter.com/WypZBjnMMK

— Ms. Young Professional (@MsYoungProfess) February 16, 2021
hey from me and my LITERAL FROZEN TOILET pic.twitter.com/gvu5hHjYG3

— molls! DM IF UNF (@gldencherry_) February 15, 2021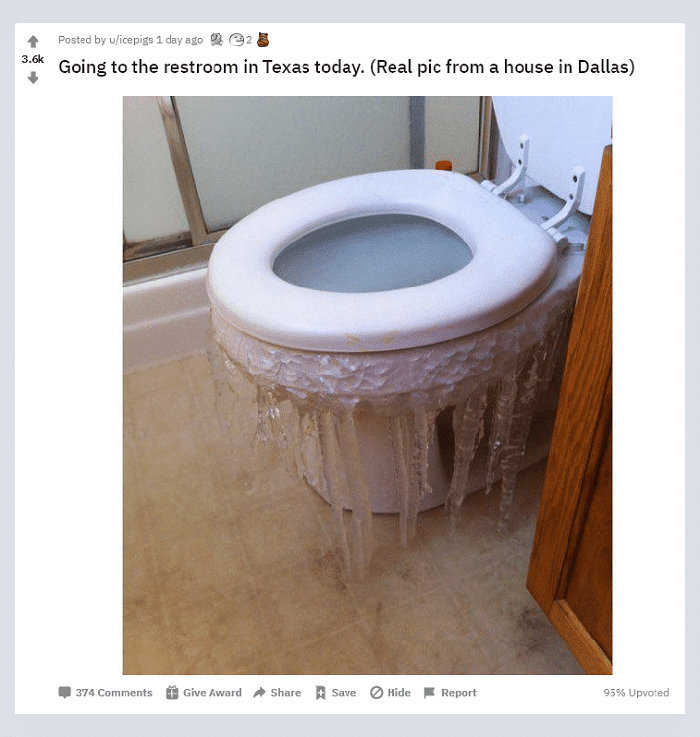 30. Enjoying luxorious frozen hot tubs
Can confirm my hot tub is frozen. pic.twitter.com/wOvqQW8XJC

— A. Money (@amalaz95) February 15, 2021
31. Playing with the family on their frozen pools
My sister's pool in Dallas is completely frozen over! pic.twitter.com/PEsZJQxSHB

— liberalpropaganda (@CRTCHP) February 17, 2021
32. Trying to drip water in the faucet, but it freezes
Stay safe y'all
Frozen faucet at my rental 😧😬❄️ #drip #frozenpipes #houwx #houstonfreeze #houstonpoweroutage #houstonweather pic.twitter.com/mIygHVrfu5

— mb (@michaelbrom) February 17, 2021
33. Building makeshift snow plows
34. Using their expert bbq skills to grill water
Smoked water in texas, his do this just to flush the toilet in this crazy weather. from texas
35. Outdoor waterfall from a third floor apartment pipe bursting.
This is the water pouring out of my third floor apartment. The ceiling collapsed from a broken pipe gushing water. I'm one of the many newly homeless in Dallas. from texas
36. Finally, celebrating when the power comes back on