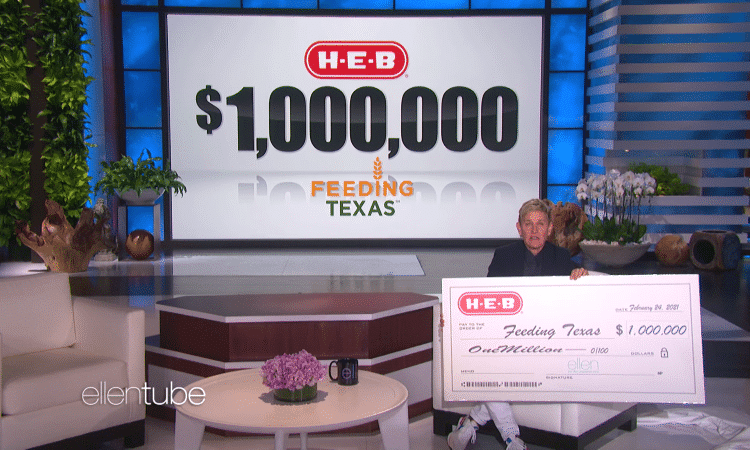 Time and time again, H-E-B proves their love for their fellow Texans and after this recent devastating winter storm, H-E-B further proves this to be true. This grocery store giant has already given away free groceries to Texans when the power went out but they did not stop there. Now, H-E-B is donating $1 million dollars to Texas food banks to help those suffering food loss and hunger from the recent winter storm. See the announcement here:
Today, @HEB announced it will donate $1 million to support Texas food banks! This donation is on top of additional support it has provided to nonprofits to aid in recovery from the winter storm. Customers also can give at https://t.co/2XFoEX8hhl More here: https://t.co/OqktsnOt9J pic.twitter.com/64wbsEiUab

— H-E-B Newsroom (@HEBNewsroom) February 24, 2021
This $1 million dollar donation will be spread across 18 Texas food banks. This donation is in addition to food donations H-E-B has given valued at $100,000. Also, according to an announcement by the grocery giant, it gathered more than 725,000 water bottles (21 trailers full) from its suppliers for those affected by lack of clean, readily available water.
In a recent statement, Winell Herron, H-E-B's president of public affairs, diversity and environmental affairs, had the following to say:
"H-E-B is here for Texas, and we will do everything we can to support those in need across our great state."
H-E-B is also offering a way for its shoppers to help by allowing them to donate online or at the checkout line. These funds will go directly to food banks working with Feeding Texas. You can donate here. 
H-E-B's commitment was also noted on Ellen DeGeneres' talk show. See the video and Facebook post below. 
Featured image a screenshot from Ellen DeGeneres' TV show