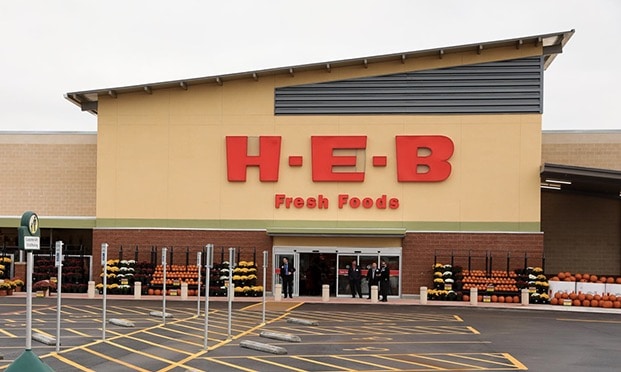 The National Grocer of the Year (2020) is starting 2021 off as a strong contender to repeat and reminding Texans why we love the brand so much.
On Tuesday the 16th as the Winter Storm Uri continued to cause power outages and blackouts across the state's ERCOT grid, customers trying to get supplies at an H-E-B Plus in Leander, TX were caught in a blackout. All of the power in the store went out and a chorus of groans and cursing began.
Customers in the Austin suburb carefully made their way through the dark to the front of the store where they were waved on by cashiers.
Power went out at heb in Leander….instead of everyone leaving empty handed, they just gave it all away….no store does more then my HEB

— ✨S✨ (@shelbylasker) February 16, 2021
According to one of those customers, Shelby Lasker, the cashiers told people to "Go Ahead" and allowed them to leave with their baskets and carts full of supplies.
Another customer at the store, Tim Hennessy, took a photograph of the event and posted it to Facebook which has been shared over 29,000 times. It shows carts full of necessities including milk, diapers, bread, meat, fruits, and vegetables. He has titled it "The Heart of America"
Out in the parking lot full of snow, something folks in central Texas are not used to, things got even more heartwarming. Mr. Hennessy recounted seeing people hold on to grocery bags for others and help each other get unstuck from the snow.
On February 18th H-E-B confirmed via Twitter that the claims being made on social media about this event were indeed true:
Hi Kelly, yes, this is a true story. Thanks!

— H-E-B (@HEB) February 18, 2021
H-E-B is well-known in Texas for their prepardness and it is incredibly likely that the store had already prepped managers across the state on what to do in the event of a full blackout like the Leander, TX store experienced. To Texans it probably doesn't matter if this was spurred by their incredibly levels of being prepared for any situation or if it was a spur of the moment decision by the local management team, the fact is that in any disaster Texans know we can always count on H-E-B to go above and beyond.
Thanks Y'all
This story is based in part on reporting by Eric Webb of the Austin360 and Hannah Knowles of the Washington Post. Read the Austin360 article here. Read the Washington Post article here (subscriber gated).