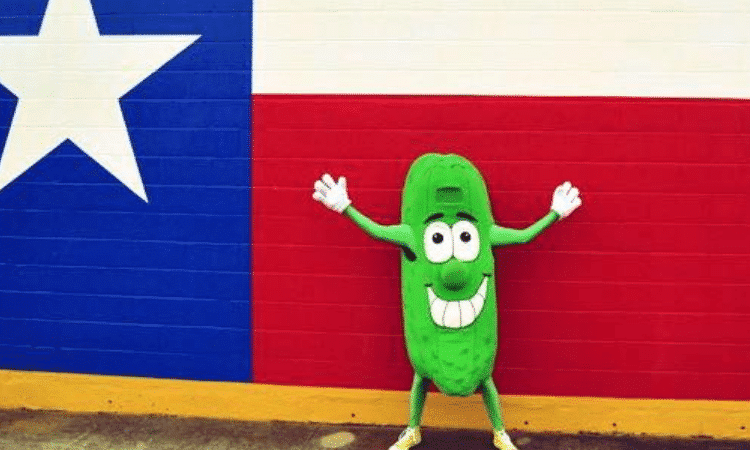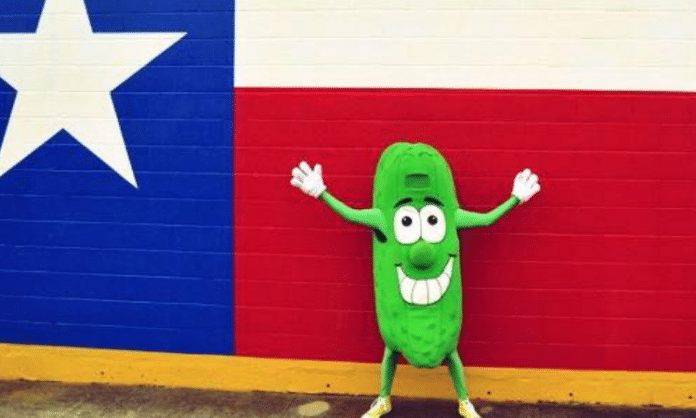 It's a day for pickleheads to embrace their truest selves.
Texans love our pickles. We make our own pickles, fry them, get extras on our Whataburgers, eat them as a movie theater snack, and even drink pickle-flavored beer. So, it shouldn't surprise anyone that there's also a town in Texas with a pickle parade.
That would be the World's Only St. Paddy's Pickle Parade & Palooza in Mansfield, TX to be exact. The annual popular pasttime celebrates the city's historical past in pickles and their pickle factory that produces and packs more pickles than you could point out purposefully. Mansfield, TX and pickles go all the way back to Mildred Dalton in 1926 when she and her family had to plant a pickle patch to make her regionally famous mayonnaise, this would be the beginnings of what we know today as the brand Best Maid.
The plucky pickle party started when the city plunged head first into a pickle-themed parade in 2012 and has grown precipitously from there. The parade includes pickle-themed floats, The Pickle Dude, and a lot of love for pickles.
The Pickle Parade & Palooza is more than just a parade though, it's a two-day long family-friendly party to praise the participation of the pickle life in the Pickle Capital of Texas (Mansfield, TX) with plenty of events, food purveyors, and live entertainment.
Day 1 starts off with a cornhole tournament at 5pm, then beer keg racing at 6pm, and is capped off with a live concert on the main stage at 7pm, this year the concert is Texas country music artist Cody Wayne.
Day 2 kicks off with 5k and 10k races at 8am and live music at 9am, followed by a baby parade at 10am and pet parade at 11am, then the Dallas Cowboys Cheerleaders will perform at 11am, the main event Pickle Parade starts at 1pm, Kevin Fowler will play the main stage at 2:30pm, and the Pickle juice drinking / Pickle eating contests will be at 4:30pm.
Best of all this pickle party and parade is priced particularly perfect at the precise payment of $0
Vitals
Day 1: March 18th, 2022
Day 2: March 19th, 2022
Price: FREE
Where: Mansfield, TX (downtown area)
Website: https://www.pickleparade.org/
Full Event Schedule
D‍ay #1 – Friday, March 18, 2022:
Noon-6 p.m. Run packet pickup – Run United
5-9 p.m. Vendors open
5-9 p.m. Cornhole tournament on Oak and Smith streets
6-7 p.m. Beer Keg races on Main Street
7-9 p.m. Cody Wayne performs on Main Stage on Oak Street (infront of Jalisco's)
D‍ay #2 – Saturday, March 19, 2022:
7 a.m. Late run packet pickup at St. Jude Catholic Church,500 E. Dallas St.
8 a.m. 10k run begins at St. Jude
8:15 a.m. 5k run begins
9 a.m. Kids K begins
9 a.m.-noon Rental Rockers perform on Main Stage on Oak Street
9:30 a.m. Shuttles start running to downtown from Legacy High School, 1263 N. Main St.
10 a.m. Parade lineup begins at St. Jude and surrounding streets
10 a.m. Kids areas open in Mellow Mushroom parking lot and at Oak and Smith streets parking lot
10 a.m.-7 p.m. Vendors open
10 a.m. Community stage opens at Oak and Smith parking lot
10 a.m. Baby Parade on Main Street
10 a.m.-6 p.m. Beer tents open at tire stores
10:30 a.m. Shenaniguns show at Broad and Main streets
11 a.m.-noon Dallas Cowboys Cheerleaders sign autographs at Queens Booth at Main and Oak streets and Announcer Booth at 309 E. Broad St.
11:30 a.m. Pet Parade at the Community Stage at Oak and Smith streets
Noon Shenaniguns show at Broad and Main streets
12:30 p.m. Dallas Cowboys Cheerleaders perform on Main Street
1-2:30 p.m. Pickle Parade begins at St. Jude
2:30-4 p.m. Kevin Fowler performs at Main Stage
3:30 p.m. Shenaniguns show at Broad and Main streets
4:15 p.m. David Cook presentation and Parade Awards at MainStage
4:30 p.m. Pickle Juice drinking, Pickle eating and Pie eating contests at Main Stage
4:45 p.m. Shenaniguns show at Broad and Main streets
5 p.m. Pickle Queens and Consorts perform at Main Stage
5:15-7 p.m. Radio Kaos performs at Main Stage
7:30 p.m. Shuttles stop running from downtown