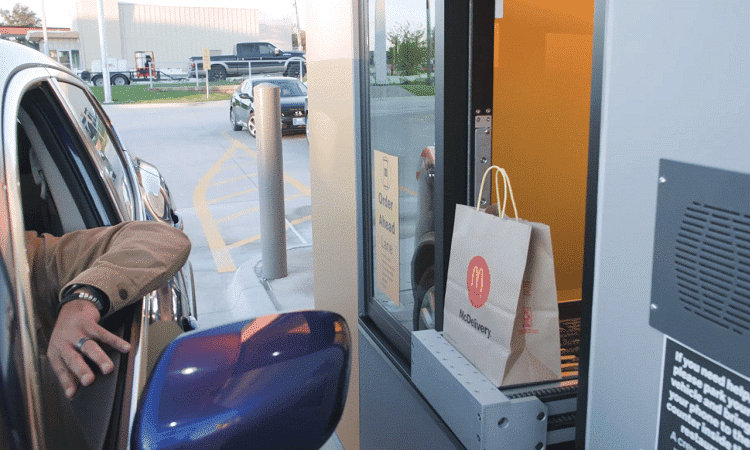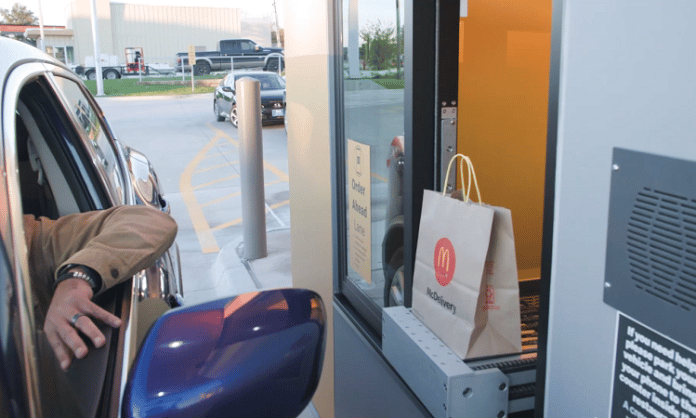 "Would you like less human interaction with that?"
McDonald's is testing a new type of fast food restaurant in White Settlement, TX that eliminates some human labor, eliminates dinning tables, and automates some types of food delivery while working to make others easier.
If you find this McDonald's on something like Google or Apple Maps and you're hoping to sit down for a meal, you're in the wrong place. The restaurant is focused on not serving dine-in customers and only on drive-thru, app delivery, and take out customers. There are no dinning tables inside and a sign above the entrance says "Take Away Only".
One of the new technological features at the test store is an "Order Ahead Lane", a drive-thru lane where those who ordered via the web or an app will have their food delivered to their vehicle via a conveyor system.
The test McDonald's also has new kiosks that accept cash and credit/debit cards for orders, further eliminating the need for cashiers to man registers. In fact in photos and preview videos there isn't a large menu board and cashier anywher inside.
For takeout orders that aren't part of the Order Ahead Lane there's a shelf inside where customers can pickup their orders. Something a lot of diners might be familiar today.
In order to cater to delivery apps the store has dedicated parking space for delivery drivers and space inside where they can quickly pickup their customer's orders and get back out fast.
Most of these changes are not revolutionary to fast food, but they are a large departure from McDonald's standard format which had been drive-thru + inside seating focused until the pandemic. One reason for this might be because of this fact from Restaurant Business Online:
"…with the rise in mobile ordering and delivery, takeout represents somewhere around 90% of a typical McDonald's location's sales."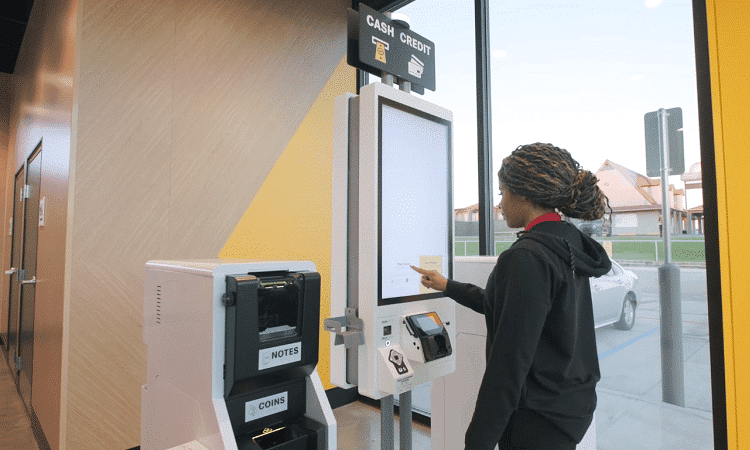 Something the article linked above (and others written about this test) downplays is the elimination of cashiers with the cash-accepting kiosks and human workers at the order ahead pickup window. The local McDonald's ownership running this test released a statement possibly designed to soothe these concerns about the loss of human jobs in the quickservice restaurant space stating:
"The technology in this restaurant not only allows us to serve our customers in new, innovative ways, it gives our restaurant team the ability to concentrate more on order speed and accuracy" – Keith Vanecek, North Texas-based McDonald's Owner
You would be forgiven for translating that into something like: "Our employees can focus more on making food and we will not need cashier or drive-thru staff any longer". It seems farily obvious that this might allow QSR's like McDonald's to reduce headcount of staff if the order ahead and takeout consumer trends continue. The again, some may opt instead to keep headcount and simply focus human labor on the production-side of the restaurant.
Like the trend of robot food delivery inside of sit down restaurants that swept across Texas during the pandemic, tech nerds might want to seek out this McDonald's and see what the near-future of fast food (yeah, even our beloved Whataburger) might look like if only just for the experience.
Vitals
Address: 8540 West Freeway in White Settlement
Marketers might also want to check out this location to start thinking about how these technological shifts might impact other industries as well or how their impact might be felt across restaurant business/marketing disciplines such as restaurant seo, supply, marketing calls to action, store design, etc…
At the end of the day this is just a test store and it is possible that McDonald's does not roll out order ahead conveyors, cash-enabled kiosks, special featues for app delivery drivers, and pickup shelves across the rest of their stores here in Texas or elsewhere.
Map to the McDonald's Test Store in White Settlement, TX: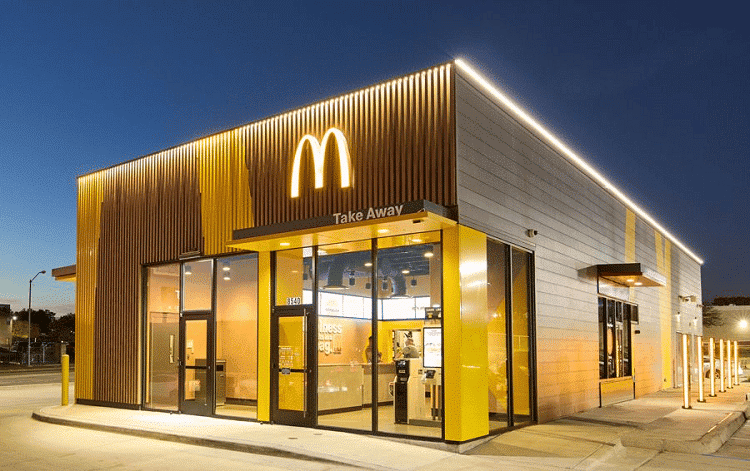 ---
Featured photo and other photos courtesy of McDonald's