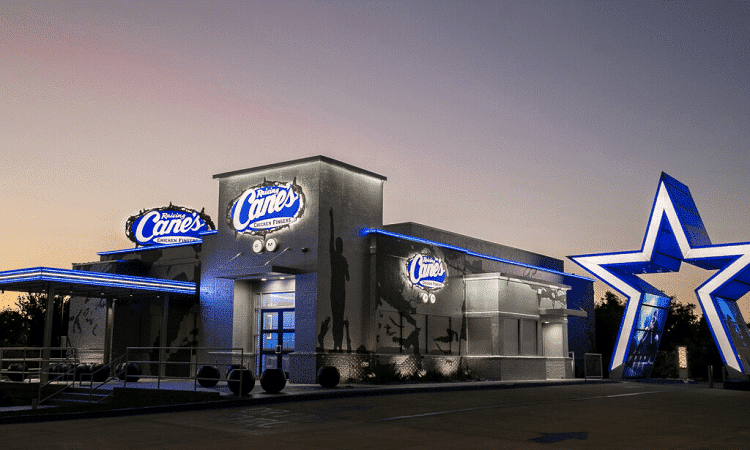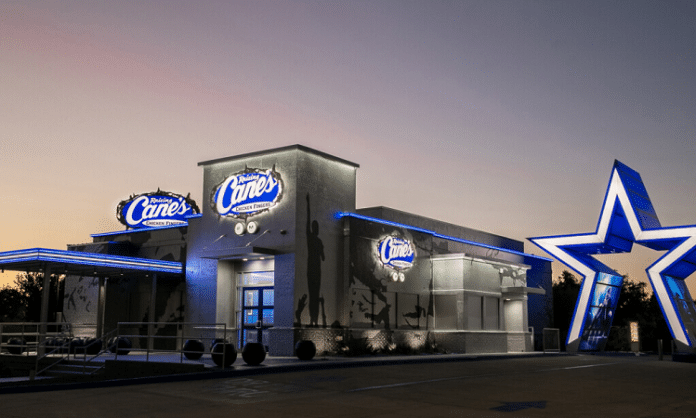 A first-of-its-kind Raising Cane's restaurant will open its doors on Thursday, October 12th, at 2255 W. Northwest Highway in Dallas. The new restaurant is in partnership with Grapevine native and rapper Post Malone and The Dallas Cowboys.
The chicken tender's outpost was inspired by Malone's love of Raising Canes, and he has been a Dallas Cowboys' fan since he was a kid. Malone's partnership with Raising Cane's began after he persuaded founder Todd Graves to open a location that Post designed near his home in Midvale, Utah.
You won't miss the Cowboy-themed restaurant when you are on Northwest Highway or surrounding roads as a 32-foot-tall Dallas Cowboys blue light-rimmed star greets you. This huge star creates an entrance to the drive-thru lane.
Inside, you will be surrounded by blue lighting and Dallas Cowboys memorabilia, a suit of armor, and a vending machine featuring exclusive merchandise, such as socks, drink sleeves, hats, keychains, shirts, and more. The exterior of the restaurant features silhouette images of Post Malone and his iconic on-stage moments.
You may notice upon arriving at the restaurant that Cane's red logo was replaced by the blue Post Malone and Cane's logo on the building and pole signs. Additionally, a wall behind the front counter changes as you step closer from a Raising Cane's and Post Malone logo to an on-stage image of Post Malone.
You will also find a Post Malone fan mailbox inside the restaurant for fan mail, which is regularly picked up and delivered to Post himself.
Displays throughout the Dallas-Cowboy's themed restaurant feature vintage Dallas Cowboys memorabilia, including an early 90s autographed game jersey, custom cleats, and more.
View this post on Instagram
 Vitals
Address: 2255 W Northwest Highway, Dallas, TX 75220
Hours: 9 a.m.- midnight (Sunday-Thursday); 9 a.m.-2 a.m. (Friday and Saturday)
Phone: 214-353-7141
Map to the Dallas Cowboys x Post Malone Raising Cane's
featured image via Raising Cane's