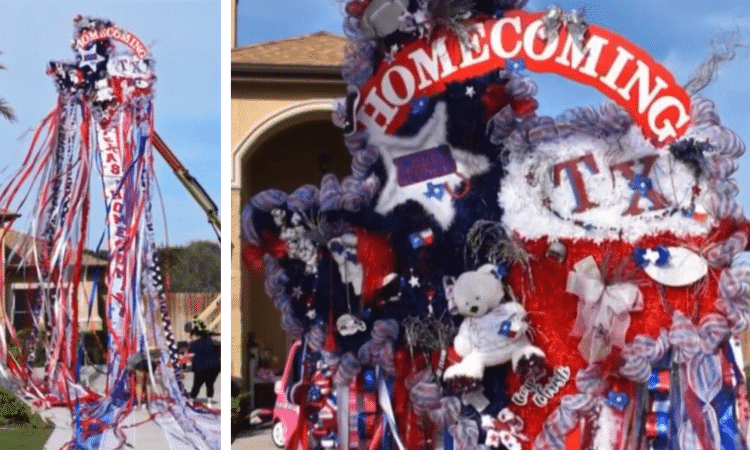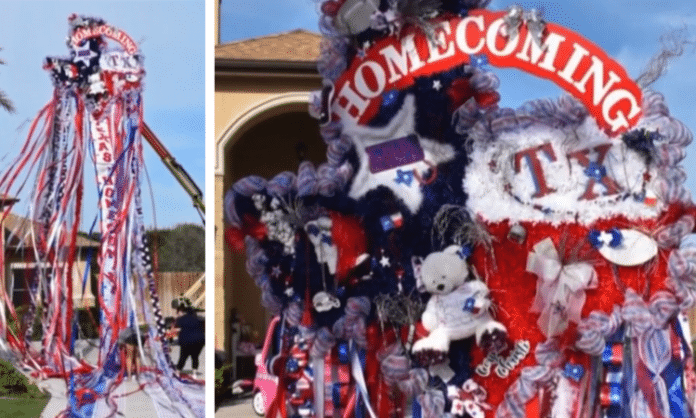 Everything's bigger in Texas – a fact and a way of life that has this Corpus Christi woman on the way to break the record for world's largest mum.
Corpus Christi's Nancy Madsen started out by brainstorming ideas for her ribbons and craft store Oh My Goodness Boutique. After talking with her eldest daughter, they decided to go big and create a world record breaking mum.
 "It took us a 138 hours to complete."
Madsen said it took her and her family 138 hours to complete their nearly seventy eight foot mum that we now deem THE MEGA MUM! Madsen has already sent in the measurements to the Guinness Book of World Records is awaiting their official word.
The previous world record for largest mum was just broken a few weeks ago – in Texas a matter of fact – by Arlington ISD's special education department with a mum nearly 22 feet long. This means that Madsen's mum will be nearly 56 feet longer than the previous record!
Texans know that mums are more than just "decoration" because for us, it's a part of our culture and pride. Roy Miller HS homecoming queen Esmeralda Hill said it best –
"[Mums are about] expressing your school, the colors, where you're coming from, compared to someone that's out of state that's just like, a football game is a football game. But in Texas, the football game is the heart of the school."
Madsen is searching for a new home for her mum that can display it properly. She says that the place that displays her mum needs a space "at least 50 feet in height."
---
Featured image a collage of screenshots from the YouTube video embedded above