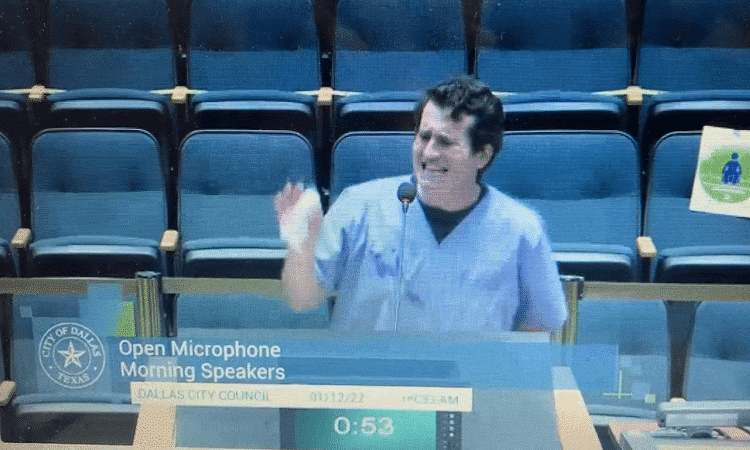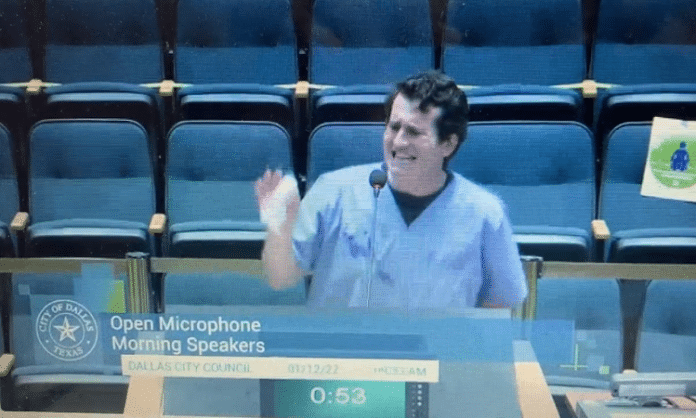 Live music in Dallas is getting weirder than Austin
UPDATE #2: Editor's note on potential violation of our editorial policy – We have continued to research Mr. Stein to determine if he was attempting to simply be comedic or if he he did this as a type of political protest. We have a policy against publishing political or social issues here and if we determine Mr. Stein was doing this as a political stunt in order to push his ideology, will delete this article entirely.
UPDATE: Since publishing Mr. Stein's Instagram following has jumped from approximately 16,000 to 27,600 and his video has racked up over 166,000 views on Instagram and 29,000 on YouTube.
At this morning's Dallas City Council meeting a Dallas resident decided to perform a rap about vaccinations and ended by telling the city council members to "follow my IG".
Seen during this morning's Dallas City Council meeting: a rap during open mic about getting vaccinated. Here's part of it. I missed the part where he squirted hand sanitizer on himself. pic.twitter.com/68iaTFXMas

— Everton Bailey Jr. (@EvertonBailey) January 12, 2022
The extremely bizarre live music performance (if it counts as music) was done by Alex Stein, a one-time reality TV show villain on "The Glass House" in 2012 and graduate of Highland Park High School.
Alex once wanted to be the "most epic villain in reality tv history". Now, it appears he wants to make a name by trolling the Dallas City Council and other local government meetings for the benefit of his 16,000+ Instagram followers and/or to single-handedly destroy humanity's desire to watch live music performances – we're not really sure which to be honest.
Here's the full video from his Instagram if you really want to watch it:
Some have called the song a "banger" and said it "slaps" but most others on Twitter had a far different reaction to the performance, here are some of those reactions.
— 🦩Moguel🦩 (@Mr_MoguelV) January 12, 2022
This makes me want to un-vaccinate myself.

— Jay Patterson (@jaypatterson71) January 12, 2022
the longest minute and 29 seconds of my life

— Anthony Betori (@ABetori) January 12, 2022
ok, I'm anti-'vax singing' now.

— Samantha Swindler (@editorswindler) January 12, 2022
Of course if you enjoyed the performance you should follow "Primetime Stein" as he calls himself on IG, Twitter, or wherever you get your daily dose of horrible things that make you yearn for the end of time itself.
Thanks Y'all:
Huge thanks to Everton Bailey Jr. the Dallas City Hall reporter for the Dallas Morning News for posting this video to Twitter and bringing it to our attention. If you like City Hall stuff follow him on Twitter or consider subscribing to the DMN.
---
Featured photo a screenshot of the video posted by Everton Bailey Jr. on Twitter