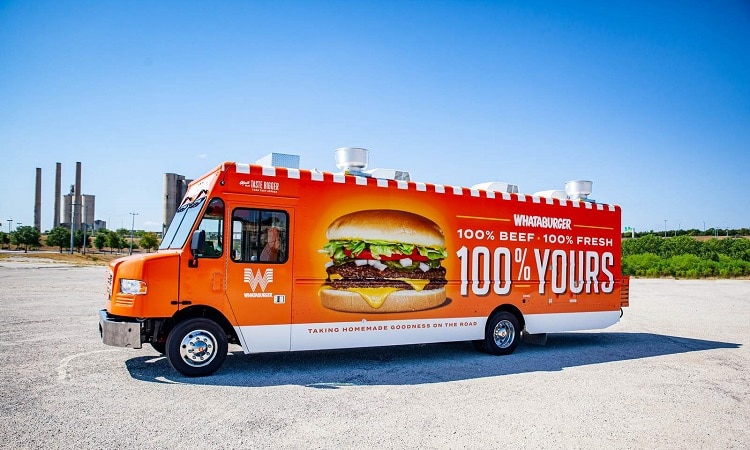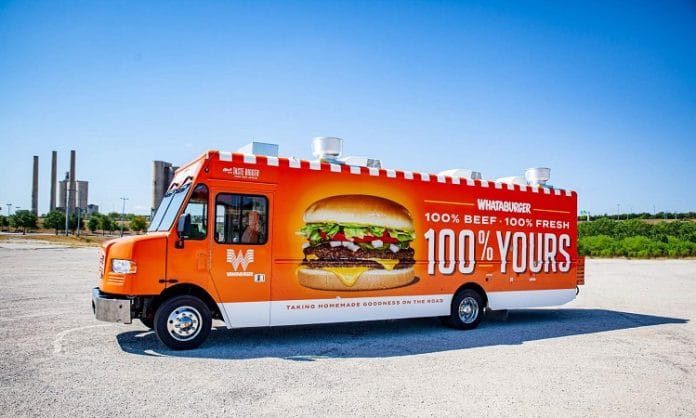 The most favorite fast food restaurant in all of God's country (i.e. Texas) now has a food truck.
Whataburger unveiled their newest addition as part of a celebration for their 70th anniversary during an event for educators on August 6th. The food truck is a marvel coming equipped with a 4 foot grill powered by a 30,000 watt generator, enough power and space to make burgers on par with a normal Whataburger restaurant.
"From all of us to all of you, thank you for the last 70 years" – Whataburger CEO, Ed Nelson
The food truck was brought to life for the San Antonio based restaurant by Cruising Kitchens, a fellow Texas-based company that specializes in building food trucks and it comes with a custom paint job that matches Whataburger's iconic style with matching custom LED lights.
Some have speculated the truck will be used to introduce Whataburger in other states as the Texas favorite begins its latest expansion. Another speculation is that this food truck, or possibly a fleet of similar ones, could be deployed by Whataburger to natural disasters to serve hot meals to those helping or surviving the tragedy, similar to H-E-B's mobile kitchens.
Whataburger Food Truck Gallery

The food truck was originally announced prior to the unveiling as part of a press release on the Whataburger website that included other tasty details from the brand including:
Expansion into Kansas, Missouri, Tennessee
Taking on new Franchisees for the first time in 20 years
Launching a new school focused initiative called "Whataburger Feeding Student Success" which will include a new scholarship fund for students in all Whataburger markets and resource rooms at universities to help feed students in need.
Read the full release here: https://stories.whataburger.com/whataburger-celebrates-70th-anniversary/
On Twitter
*drumroll* We proudly present the Whataburger food truck 🍔🧡

This beauty was unveiled yesterday at an event celebrating San Antonio teachers! We can't wait for our fans across our footprint to see the Whataburger Food Truck! Read more at: https://t.co/NC3IVoIP7G pic.twitter.com/swGF1W9KNl

— Whataburger® (@Whataburger) August 7, 2020
Featured image via Cruising Kitchens
Gallery images via Whataburger's Twitter account @whataburger