First let me say: I love Thanksgiving. In my opinion (and also a fact), Thanksgiving is severely underappreciated. It's like as soon as the clock strikes midnight on November 1, you can hear sleigh bells start ringing in the distance and Mariah Carey's "All I Want For Christmas Is You" awakens from it's hibernation to take over ever single radio station in America. Basically all of America November 1st:
One thing about Thanksgiving that I would change though is the the turkey. Don't get me wrong, turkey is a classic Thanksgiving entrée but classic doesn't always mean good. Sometimes, classic is just a way of saying this is how it's always been done and we're too lazy to question it. Well no more. Listen up ladies and gents, I propose we add a Texas twist on Thanksgiving, toss out that turkey, and spice things up with a Brisket Thanksgiving entrée.
Y'all know we Texans take our brisket seriously so I have carefully selected the top brisket recipes to bring you 15 Mouth-Watering Brisket Recipes to make that switch from turkey 100x easier. As always, I've included a recipe on here for every type of cook because everyone deserves a taste of delicious brisket.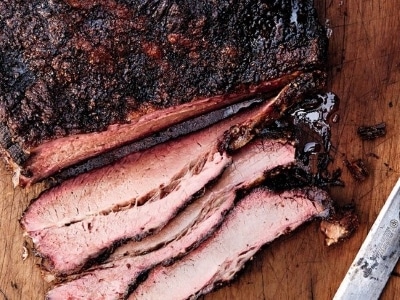 Method: Gas grill + smoke box
This method is simple yet effective and with only 3 ingredients. This recipe is your classic go-to for when you're craving that smoky, familiar Texas-inspired flavor. Or maybe you just tried Northern "smoked brisket" and you want to remember what real brisket is supposed to taste like.
2. Texas Brisket by Paula Deen
Method: Smoker or a gas/charcoal grill
This method is easy and quick (compared to other brisket grilling times). In only 6 hours, you can have a flavorful brisket for the whole family plus leftovers. Spiced with chili powder, cayenne pepper, dried oregano, and brown sugar.
Method: Oven
This rich, juicy dish is flavored with a zesty dry rub and liquid smoke. No grill? No problem! This simple, smoky recipe can be made right in the oven. Now, will it be as good a brisket smoked all day long? Honestly, no. But if you don't have a grill you still deserve some brisket and this a close match.
4. Texas Beef Brisket With Spicy Sauce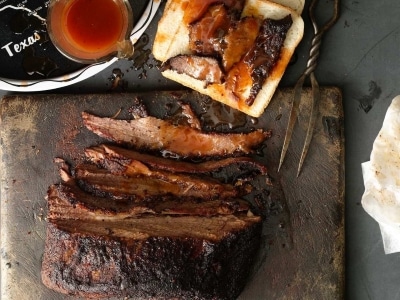 Method: Smoker or a gas/charcoal grill
This brisket and spicy sauce is like a match unseen since Bonnie and Clyde. It's a spicy, tender, melt-in-your-mouth dish. Eat it alone, on a sandwich, or with some tortillas and you have a delicious meal any Texan would be happy to partake in. For those unsure of exactly how to heat indirectly on the grill, this recipe includes a visual guide that should help you get started.
Method: Charcoal grill
This flavorful recipe is has the fastest grilling time on this list. Ideal for a small gathering. Only 20 minute prep and about 2 hour grill time.  With all that extra time, you could focus on more important things like finding those sweatpants with the stretchy waistband before Thanksgiving dinner.
6. Simply the Easiest Beef Brisket
Method: Oven
Made with onions, beer, chili sauce, and brown sugar. Again, this will not be as decadent as brisket done in a smoker but for those without one, this is a great alternative. As the name states, this is recipe is simple and easy with a 10 minute prep and only 4 hour cook time. The perfect amount of time to watch the Titanic and cry because y'all know – they both could've fit on that door. Just sayin'.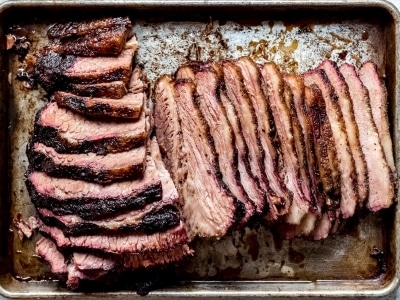 Method: Pellet grill or smoker
This recipe is authentic and simple. Just good ol' wood smoke, a simple spice mix, and perfectly cut beef. You can add a sauce if you'd like but this recipe is so delicious and tender that you don't need one.
Method: Smoker, pellet grill or charcoal grill
This recipe gives you the perfect guide to becoming a brisket "pit master" and creating a delicious high quality brisket with just 3 ingredients. Pure and simple – this brisket is packed with flavor from the smoke of the post oak and apple wood.
9. Homesick Texan's Sunday Brisket
Method: Oven
This tender dish is over-the-top with flavor and includes a special touch of homemade horseradish jalepeño sauce. This dish melts in your mouth and can be easily shredded for use on other food items. Thanksgiving brisket burritos anyone?
10. Easiest Brisket with Caramelized Onions
Method: Slow cooker, oven, or gas/charcoal grill
This recipe is created by a professional chef of over 10 years who understands the importance of simple yet flavorful dishes. Easy enough for a first-time brisket maker so don't feel intimidated. With an only 15 minute prep time, you can get back to binge-watching in no time.
11. Texas-Styled Barbecued Brisket
Method: Charcoal grill
Another simple recipe with only a handful of spices but that does not make any sacrifices on flavor. One reviewer even says she had BBQ sauce she forgot to use because the brisket "was so tasty as it was."
12. Holiday Beef Brisket with Onions
Method: Oven
This recipe adds caramelized onions to enhance the tender, smoky flavor of the brisket. This rich dish also includes concentrated flavors of garlic, paprika, and tomato.
13. Wild-Mushroom Beef Brisket
Method: Oven
I love mushrooms in pasta, pizza, and now – brisket! This flavorful and rich dish adds mushrooms to enhance the flavor and make it even more visually appealing. This is great for large family gatherings and is sure to be the star of any meal (turkey who?)
14. Braised Brisket with Bourbon-Peach Glaze
Method: Oven
This brisket is smothered in stout and bourbon with a peach jam glaze. A savory-sweet nirvana. This tender, juicy recipe will leave you wanting more and is definitely worth the wait.
15. Oven-Barbecued Beef Brisket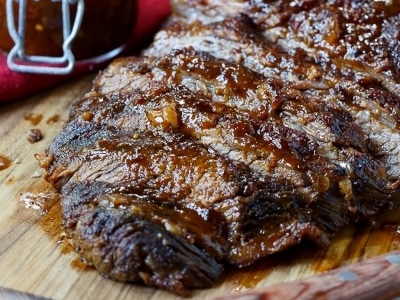 Method: Oven
This delectable brisket is completely wrapped in bacon while being cooked for an additional smokey flavor. The bacon is then used to create a flavorful BBQ sauce. This dish has such strong smokey flavor your guests might think you cooked it in a smoker. Paired with a sweet and spicy BBQ sauce, this tender and juicy brisket will have your guests asking for thirds.
Hopefully by now I have convinced y'all that brisket is the new turkey of Thanksgiving. If you haven't tossed out that boring old turkey yet, what are you waiting for?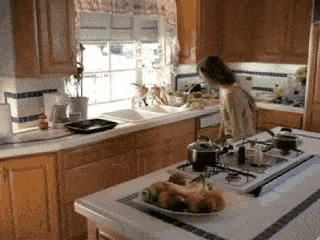 Hungry for more? Check out these other Thanksgiving recipes: